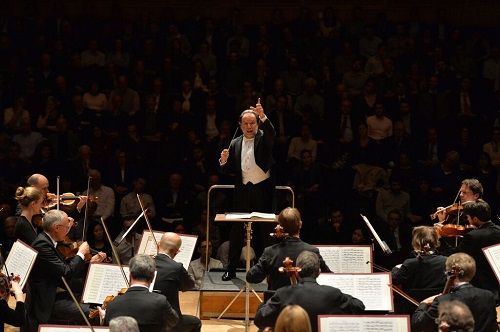 United Kingdom Mozart and Strauss: Christian Tetzlaff (violin), Gewandhausorchester Leipzig/Riccardo Chailly (conductor), Barbican Hall, London, 22.10.2015 (AS)    
Strauss – Macbeth, Op. 23
Mozart – Violin Concerto No 3 in G, K216
Strauss – Also sprach Zarathustra, Op. 30
In the second of three concerts as part of its five-day Autumn residency at the Barbican the Gewandhausorchester Leipzig continued its exploration of the works of Richard Strauss, spiced with concertos by Mozart.
Macbeth is the least favoured of Strauss's tone poems, but Riccardo Chailly and his orchestra made the best possible case for it, and left this listener wondering why it is so neglected. Chailly drew superlative, highly concentrated playing throughout the work, especially in the deep-toned brass section. The degree of drive and tension was built up to an almost uncomfortable, but exciting level: the work's natural energy doesn't let up for the most part until late in the work, where a more reflective mood was successfully achieved.
Exit perhaps two-thirds of the players: we now had an ensemble of chamber orchestra proportions for Mozart's Third Violin Concerto. I rather wish that Christian Tetzlaff hadn't joined in the opening orchestral introduction: his tone rather dominated the texture, and he wasn't absolutely at one with the first violins. No doubt he had previously determined the tempo he wanted, which was a bit on the fast side. And when he launched himself on the solo part a certain nervy, pressurised quality was present, though his playing as such was immaculate technically. It was impressive playing in a way, but rather unsettling.
At the beginning of the second movement the reduced violin section was still able to produce a ravishing tone quality, and fortunately Tetzlaff was much more relaxed, spinning his solo line with warmth and affection. A light and airy performance of the finale, with the two internal changes of tempo and mood nicely pointed, ended a performance that ended a great deal better than it had begun.
What a shame it is that the Barbican doesn't have an organ, and that in Also sprach Zarathustra we had to make do with an electronic instrument. It wasn't so bad, but not like the real thing. Otherwise it was a marvellous performance. Chailly's management of the work's tempo relationships was superb, so that on the one hand the various episodes were strongly characterised, but the work as a whole registered as a single seamless entity. So often things can go downhill after the stupendous opening sunrise (or dawn of human consciousness, or whatever you will), but not here. The passion of the playing, its clarity and the way Chailly shaped the phrasing in such an aristocratic, dignified fashion, while always maintaining a clear sense of logic and line were all exceptional, and evoked memories of the great Strauss interpreters of the past – Strauss himself, Clemens Krauss, Fritz Reiner, Rudolf Kempe. One can't say more than that.
Alan Sanders