United Kingdom  Rossini, Mozart, Schubert. Academy of St Martin in the Fields Chamber Ensemble [Tomo Keller (violin), Harvey de Souza (violin and viola), Robert Smissen (viola), Stephen Orton (cello), Timothy Orpen (clarinet), Lawrence O'Donnell (Bassoon), Stephen Stirling (Horn)] Hall One, King's Place, London. 30.9.2015 (LB)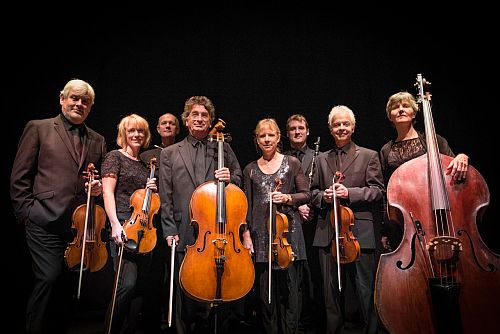 Rossini – String Sonata No.1 in G major
Mozart – Horn Quintet in E flat major K.407
Schubert – Octet in F major D.803
The Academy of St Martin in the Fields, along with its associated chamber ensemble, unquestionably represents one of the United Kingdom's supreme and enduring artistic achievements, but because of the musical establishment's evident unease with its success, and an impaired national business model for the arts that fails to adequately facilitate such superlative artistry, its performances are almost exclusively abroad.
It was fortuitous therefore to be able to hear the Chamber Ensemble open the orchestra's London 2015/16 series at Kings Place this evening, before they depart for a three-week tour of the United States of America.
Although the hall was far from overflowing, it was heartening that the BBC broadcast the concert live on Radio 3, and for those music lovers who were unable to be there, and who have access to the BBC's iPlayer, the ensemble's performance will be available to listen to here for the next 28 days.
The curtain raiser was the first of Rossini's six string sonatas, unusually but skillfully scored for two violins, cello and double bass.
Proceedings began genially enough, until the first exquisitely impetuous second violin solo from Harvey de Souza reminded us that these sonatas are the work of a precocious twelve-year-old Rossini. From this moment on, the players' virtuosity was unleashed to great effect.
Tomo Keller and Harvey de Souza, performing on Guarneri and Bergonzi violins respectively, were exceptionally well matched, their alternating solos fizzing with terrific energy. Stephen Orton also relished his moments in the spotlight, with delicate and expressively crafted cello solos, whilst Lynda Houghton's alert double bass interjections were infused with elegant humour.
Mozart's Horn Quintet is probably the most treasured piece of chamber music in every horn player's repertoire and like the Rossini that preceded it, benefits from an unusual instrumentation, of horn, violin, two violas and cello. Fresh from his exploits in the Rossini, Harvey de Souza joined Robert Smissen as second viola, with cellist Stephen Orton enveloped in the middle of the ensemble, and Tomo Keller and Stephen Sterling at either end of an intimately constructed semi-circle
The assured yet graceful statement of the opening of the first movement Allegro heralded the start of what proved to be a performance of exceptional sensitivity. Stephen Stirling, encouraged by the exemplary string playing of his supportive colleagues, lavished the utmost love and care on every note he played, with impressive sophistication and complexity of phrasing, elegant articulation and an impeccable sense of balance.
Schubert's Octet, of about an hour's duration, can often seem interminable in the wrong hands, but this evening was one of those rare occasions when time flew by, and I for one was left wanting to hear more.
What sets the Academy apart from other ensembles is its exceptional musical intelligence. In a performance that benefitted from real depth of knowledge, consummate technical command and an almost tangible sense of purpose, there was never any reason to doubt the musical choices the ensemble made. One felt completely at ease; able to sit back and enjoy the performance, safe in the knowledge that Schubert had found principled and imaginative interpreters of his music.
Leon Bosch