United Kingdom Puccini, La bohème: Soloists, Chorus and Orchestra of English National Opera / Xian Zhang (conductor). London Coliseum, 16.10.2015. (JPr)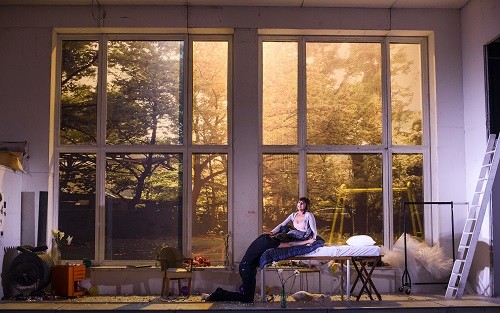 Production:
Director: Benedict Andrews
Set Designer: Johannes Schütz
Costume Designer: Victoria Behr
Lighting Designer: Jon Clark
Associate Director: Ran Arthur Braun
Translator: Amanda Holden
Co-production with Dutch National Opera, Amsterdam
Cast includes:
Mimì: Corinne Winters
Rodolfo: Zach Borichevsky
Marcello: Duncan Rock
Musetta: Rhian Lois
Colline: Nicholas Masters
Schaunard: Ashley Riches
Benoit/Alcindoro: Simon Butteriss
Why, oh why, did ENO in these straightened times feel the need to ditch Jonathan Miller's 2009 La bohème for this production first seen in Amsterdam? The John Copley staging at Covent Garden lasted 41 years but I doubt this one at London's other major opera house will last 41 months … and only then if they don't attempt a revival too soon! I love ENO and have done for nearly all of its own 41 years in its present incarnation, but I cannot remember a more dispiriting evening at the London Coliseum – even worse than their recent foray into some other Puccini, The Girl of the Golden West.
Sir Jonathan Miller (who strangely was praised in the current ENO programme by Christopher Cook as directing 'some of the most thoughtful of all recent productions of Puccini's La bohème') originally explained about his version that for him 'Puccini's operas are really rather like movies, and La bohème is the most natural and believable of them all. I want to make it as much like a movie as it could possibly be. I'm basing the artists' relationship on the movie Withnail and I – shabby, upper class boys who think squalor is very romantic.' As wonderful as that production was it was slightly flawed because there was never enough squalor on show to link his Paris with seedy, hedonistic or drug-fuelled late-1960s' London and his bohemians appeared to be – rather than the film's unemployed actors in Camden Town – students from wealthy families on a gap year. Benedict Andrews seems to have read that and so he presents us Withnail and I as remade by a University Film Society. He updates the action to the twenty-first century and to up the 'squalor' quotient he has Rodolfo and Mimì express their love at first touch by sharing a needle and shooting up heroin. Ok, I can accept Rodolfo and Mimì might not just be on a romantic 'high' but when Rodolfo sings to his companions who are ready to celebrate Christmas Eve how he only has a 'few lines to finish' – wouldn't anyone think more about cocaine than heroin?
It appears Mimì is hanging around in the vestibule of the bohemians' ground(!) floor studio apartment right from the start because she is clearly in need of a fix as she knows drugs are available there: I suspect her drug use is more the cause of her eventual death than TB. I always thought she is supposed to live in the same building as Rodolfo and his friends? Even Amanda Holden's clunky translation has undergone revisions so that Mimì no longer wants a bonnet but a pink wig and Musetta gets gloves for her rather than the muff she eventually actually gives her before she dies. Despite this – for some reason – these modern figures need candles and heating from an old-fashioned stove!
Johannes Schütz's sets are too sterile and I am not sure where we actually are. When well-dressed school children are seen playing outside the large windows (why?) in Act IV I thought of somewhere in west London – Withnail meets TV's Made in Chelsea perhaps? My mind was wandering and I especially wondered whether ENO deliberately tracked down the four tallest bohemians I have ever seen and how Rodolfo looked like Jack Whitehall from TV's Bad Education and Marcello was a dead-ringer for Prince Harry? There was little furniture in the large apartment and only one upper-level bedroom. In fact Mimì is comforted as she begins to fade away on a mattress just put on a table.
After Act I the curtain comes down for an interminable time only to reveal the two drugged-addled lovers still on the floor. They seem to make a remarkable recovery as the staging has been dismantled and is manhandled about to create the hustle and bustle of street life and the Café Momus. This is very poorly 'choreographed' and a bit of a muddle to say the least. Act III on a virtually bare – but suitably snowy – stage is more successful and the most atmospheric and appropriate of the four acts. Once again the curtain comes down for too long before we are back in the student digs with Rodolfo bemoaning his lot at his typewriter. I suppose someone this century might still use one but it remained part of the confusion that if you update timeless tales such as La bohème about four poor but happy bohemians – the poet Rodolfo, the painter Marcello, the musician Schaunard, and the philosopher Colline – in an old attic you mustn't be half-hearted about it.
I could have endured this more had it been well cast, wonderfully sung and efficiently conducted … but it wasn't. I remember the wonderful cast ENO fielded for the final revival (can it be resurrected?) of Jonathan Miller's La bohème in 2014 yet not one reappeared here. The orchestra cannot be faulted but most of the singers were cast adrift by the uninspired conducting of Xian Zhang who seems to have some pedigree in the symphonic repertoire but I wonder how much opera experience she has. There was precious little grandeur, passion or pathos and tempi slowed down disastrously for nearly every pivotal aria or duet.
What expression there was came from Corinne Winters' Mimì who deserved a better production. Someone near me was wiping away tears from their eyes as she died so she got through to one person at least. The end should never fail but I didn't really care for any of the characters I had been introduced to and Mimì's demise and the grief of her friends was never going to affect me emotionally, not least, because her fellow American, Zach Borichevsky, botched his final cries of 'Mimì… Mimì!'. He undoubtedly has the potential to be a fine singer but he sounded too thin from the start and whilst he could force out some top notes his technique elsewhere was found wanting so he is far from the finished article. I'm also not certain whether Rhian Lois was right for Musetta: I cannot find much to criticise in her acting and singing, yet my opinion – for what any of it is worth – is that her voice is possibly too light for Musetta when I would have preferred a more robust and sexier sound in this 'tart with a heart' role.
The best of the rest was Duncan Rock's Marcello though he was not that distinguishable vocally from the similarly rather lightweight Ashley Riches (Schaunard) and Nicholas Masters (Colline). I never really believed how tormented Marcello was by Musetta but there seemed a fleetingly appealing camaraderie between all the bohemians and the paint squirting and pillow fighting antics in Act IV were some of the more 'real' moments in this disappointing La bohème. I suspect Simon Butteriss in the duel – but on this occasion mostly indistinguishable – roles of Benoit/Alcindoro decided he was above most of what was going on around him and drew more attention to himself than these vignettes demand and so tended to unbalance any ensembles he was involved in.
I would never suggest to anybody not to go to something as this approach to La bohème might appeal to you but I hope my opinion – as someone who has gone to this opera for nearly four decades – might represent the thoughts of the audience ENO might hope to be retaining whilst attracting a new, younger one to its shows. From the number of empty seats there were for this first night there might not be enough of either now to fill the huge London Coliseum. There were hints that it was all a bit underprepared and I am sure this La bohème will improve as the run progresses.
Jim Pritchard
For information about future English National Opera performances visit www.eno.org.