Argentina Verdi, Don Carlo: Soloists, Chorus and Orchestra of Teatro Colón. Conductor: Ira Levin, Teatro Colón, Buenos Aires. 23.9.2015. (JSJ)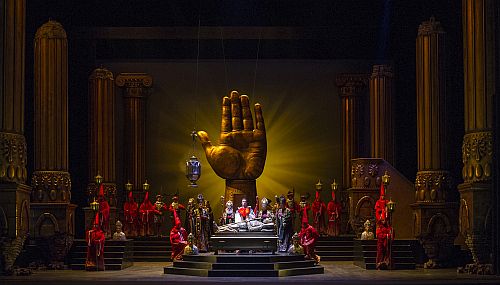 Cast:
Don Carlos: José Bros / Gustavo López Manzitti
Elisabeth de Valois: Tamar Iveri / Haydée Dabusti
Princess Eboli: Béatrice Uria Monzon / María Luján Mirabelli
Rodrigo: Fabián Veloz / Alejandro Meerapfel
Philip II Rey de España: Alexander Vinogradov / Lucas Debevec Mayer
Grand Inquisitor: Alexei Tanovitski / Emiliano Bulacios
Monk: Lucas Debevec Mayer / Carlos Esquivel
Thibault: Rocío Giordano
Voice from Heaven: Marisú Pavón
Count Lerma: Arnaldo Quiroga
Royal Herald: Iván Maier
Production:
Director/sets/costumes: Eugenio Zanetti
Lighting: Eli Sirlin
Chorus: Miguel Martínez
Don Carlo is arguably Verdi's greatest work, not least in terms of scale if not also musically. Following in his oeuvre six years after La forza del destino, it was written as a five act work in French for the Paris Opera, where it premiered in 1867. However, it was reduced to four acts in the Italian version with ultimately several sets of revisions over the next two decades, with the 1884 version being the one presented here.
The storyline, set in the 16th century, is based on a play of the same name by Friedrich Schiller and focusses on the conflicts and intrigues in the Spanish court after the king Philip II had married his son Carlos's intended bride Elizabeth de Valois. War, love, jealousy and the brooding presence of the church all feature in this dark and musically inventive work.
Its scale indicates a grand presentation and this it received in this new production by Eugenio Zanetti at the Teatro Colón. A large scale set with large columns capable of moving quickly between scenes and acts created a sense of place. This was supported with the rich period costumes, also by Zanetti. But there were some unsatisfactory elements such as out of place giant hand in the back of the monastery and as if the score needed an addition a monotonous tolling bell at the start.
Ira Levin once again led an outstanding reading with an augmented orchestra, in full command of the many facets and changing moods. The chorus too were on good form.
A change in the casting, notified about six week before the start, was the withdrawal, apparently for health reasons, of Ramón Vargas, who is a noted proponent of the role of Don Carlo. His place was taken by the Catalan tenor José Bros, a relative newcomer to the role according to his biography, but though exhibiting good line lacks the depth that is necessary. The young Russian Alexander Vinogradov presented a regal Philip and compatriot Alexei Tanovitski was a convincing Grand Inquisitor, with good contrast in their wonderful Act 3 exchange. Georgian soprano Tamar Iveri as Elizabeth made a lacklustre start but soon found her form and Béatrice Uria Monzon was a strong, if not always sensual Eboli. Lucas Debevec Mayer was correct as the monk and the other smaller parts were all well played.
But the star of the night was undoubtedly Argentine Fabián Veloz as Posa, who goes from strength to strength as a Verdian baritone with good timbre and volume.
Jonathan Spencer Jones