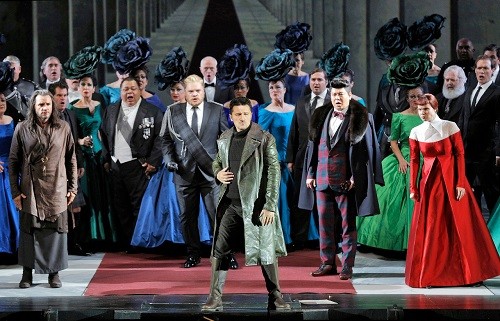 United States Donizetti, Lucia di Lammermoor: Soloists, Chorus and Orchestra of San Francisco Opera, Nicola Luisotti (conductor), War Memorial Opera House, San Francisco. 10.10.2015 (HS)   
Cast:
Lucia di Lammermoor: Nadine Sierra
Edgardo: Piotr Beczala
Enrico: Brian Mulligan
Raimondo: Nicolas Testé
Alisa: Zanda Švēde
Normanno: AJ Glueckert
Arturo: Chong Wang
Technical:
Director: Michael Cavanagh
Scenic and Projection Designer: Erhard Rom
Costume Designer: Mattie Ullrich
Lighting Designer: Gary Marder
Chorus Director: Ian Robertson
It took a day of reflection to figure out why San Francisco Opera's current production of Donizetti's Lucia di Lammermoor left me underwhelmed. All hands provided beautiful singing. The orchestra played with incisiveness and clarity, and the company's music director, Nicola Luisotti, achieved ideal balances between the orchestra and those on stage. The sets, all gray stone and sharp angles, were appropriately foreboding; they set off the bright colors of the party scenes and copious splashes of blood in Lucia's famous mad scene.  It was professionally crafted all around. What was missing were those extra sparks that lift opera from "well sung" to "riveting."
Start with Luisotti's conducting. Careful support was there, but for a conductor who often goes for the jugular there was little sense of urgency. That was evident in Act I, when the throbbing chords in the cabaletta of Lucia's "Regnava nel silenzio" just strummed away without pressing the tempo. "Sulla tomba"— the heart-wrenching duet that follows between Lucia and her inamorato, Edgardo, in which they pledge their troth in defiance of her family's expectations— seemed matter-of-fact.
Soprano Nadine Sierra, a former Adler Fellow in the company's development program, was singing the title role for the second time since her debut in the part earlier this year in Zurich. She a late substitution for Diana Damrau, who was on forced vocal rest. Sierra displayed precise coloratura and fresh tone, but didn't share Damrau's fiery personality.
Sierra portrayed a young girl who was already slipping away from reality from the very beginning, psychologically battered by every man she encounters. Edgardo leaves her for a secret mission, her father forces her into a marriage with the wealthy Arturo to save his family fortune (in this production, portrayed as a crumbling, 21st-century business). Arturo treats her imperiously.
She had some stunning moments, especially with the delicate ornamentation in the mad scene. Having finally snapped and stabbed Arturo to death, revealed in a blood-splashed bedroom, she matched tones exquisitely with principal flute Julie McKenzie (who was given a stage bow alongside Luisotti). But when the music called for her to ride over ensembles, as in the iconic septet, she could only muster enough to weave through the texture audibly but not impressively.
As her suitor, tenor Piotr Beczala showed how it should be done. His lyric sound could acquire the "ping" necessary to project ardor effortlessly without forcing it, and his phrasing made the text spring to life. He was the passionate, headstrong character that an audience can fall in love with, all the while annoying every other character on stage. It helped immeasurably that two of his big arias dominate the final scene: both "Tombe degli avi miei" and "Tu che a Dio spiegasti l'ali" helped bring proceedings to a strong finish.
Baritone Brian Mulligan, fresh from a triumph as Sweeney Todd, rolled out resonant sounds as Lord Enrico Ashton, Lucia's brother. If he sounded a bit subdued, he portrayed a family leader in a financial crisis trying to hold things together by hook or by crook. His scenes with Beczala, however, really took off. The Wolf-Crag scene overflowed with testosterone and valiant singing as Enrico challenges Edgardo to a duel, the two circling a raised square on a bare stage like a pair of Ultimate Fighting Championship combatants.
The smaller roles were also well handled, especially mezzo-soprano Zanda Švēde as Alisa, Lucia's handmaid. The current Adler Fellow revealed a rich-textured voice that melded seamlessly with Sierra's in duets. As Normanno, Enrico's right-hand man, tenor AJ Glueckert (a former Adler Fellow) fit his voice into the matrix ideally and looked appropriately smarmy. Tenor Chong Wang (also a current Adler Fellow), clad in a dark plaid tuxedo, reveled in the character's imperiousness. Bass Nicolas Testé leavened sternness with warmth as Raimondo, the Calvinist priest who liaises with both Lucia and Enrico.
The chorus, men dressed in business suits, women in primary-colored gowns and oversized flower-shaped fascinators, delivered their moments incisively. The production, inspired by the Gubbio mausoleum in Umbria, updates the original opera's 17th-century Scotland to a dystopian futuristic Scotland, in which country, corporate business and family overlap. The living area of the "castle" resembles a tycoon's office. The hard lines of concrete walls and an obelisk dominate the cemetery scenes. Ghosts of recently departed characters appear as they are mentioned; I'm not sure the payoff (Lucia's ghost appearing to Edgardo at the end after he kills himself) was quite worth all that.
There are times when the updating worked. Arturo certainly comes off as the sleaze he is rather than an innocent bystander, and Enrico's motivations are made clearer than they usually are in historically accurate settings. In the end, this production has rewards, especially in the quality of the voices that spark moments when it does all come together.
Harvey Steiman