United States Gilbert & Sullivan: The Pirates of Penzance, Soloists, MasterVoices, Orchestra of St. Luke's, Ted Sperling (conductor), New York City Center, New York, 15.10.2015 (RP)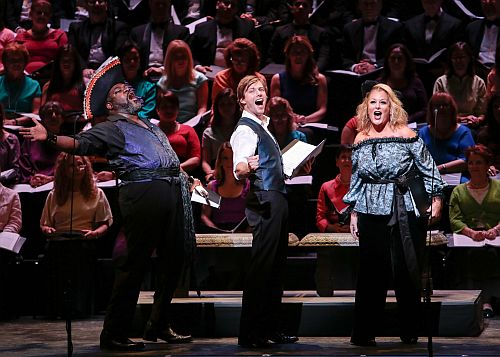 Cast:
Major General Stanley: Douglas Hodge
The Pirate King: Phillip Boykin
Frederic: Hunter Parrish
Sergeant of Police: David Garrison
Mabel: Julia Udine
Ruth: Deborah Voigt
Samuel: Zachary James
Edith: Betsy Wolfe
Kate: Montego Glover
Production:
Director: Ted Sperling
Choreography and Associate Direction: Gustavo Zajac
Set Design: David Korins
Lighting Designer: Frances Aronson
Costume Consulting: Tracy Christensen
I'll wager a bet that one is unlikely to soon come across such luxury casting for the choral bits in Gilbert & Sullivan's The Pirates of Penzance than with MasterVoices (formerly The Collegiate Chorale) on stage. As befits a concert version produced by the chorus under the baton of its Artistic Director, Ted Sperling, MasterVoices performed with style and energy throughout the show. They were as engaged dramatically as they were musically. "Hail Poetry," sung as the pirates released the fair maidens, bathed the hall in glorious sound. The men sang with gusto "Come friends who plough the seas," better known to US audiences as "Hail, hail, the gang's all here," and the familiar tune brought a collective smile to the audience's faces. Equally fine was the Orchestra of St. Luke's in the pit. The overture, with all those familiar tunes, was just grand.
In a production with more than its share of star turns, it was the bands of pirates and police that together with the chorus were the glue. Half of the appeal was the wonderful mix of types, shapes and sizes that gelled into a cohesive whole. They sang just fine, but it was their stagecraft that was pure magic. Did they just get more rehearsal time than the leads? If so, it showed. Furthermore, these merry bands had a Pirate King and a Sergeant of Police worthy of leading them in their escapades.
Phillip Boykin was a flamboyant, larger-than-life Pirate King. His antics could be toned down a tad, but he is an entertainer. His vibrant bass baritone wrapped itself marvelously around the rousing "Oh, Better Far to Live and Die a Pirate King," and he showed a true delight in the text. David Garrison as the Sergeant of Police may be less vocally endowed, but he knows his way around a Gilbert & Sullivan song. His comic touch was achieved through understatement, which made it all the more potent in this ensemble.
Douglas Hodge was a model Major General, born to deliver a patter song. It wasn't just the genuine English accent: Hodge was at one with the style. His delivery, expert timing and the twinkle in his eye put him in a league of his own in this cast.
The young lovers were a sadly mismatched pair. Julia Udine was just a perfect Mabel, deftly negotiating the coloratura demands of her arias and lovely to behold. One glimpse of her and Frederic instantly realized that Ruth had pulled the wool over his eyes when it comes to female beauty. Hunter Parrish is possessed of every attribute that a Frederic should have, save one – a voice. He was simply out of his league vocally: inaudible, crooning his arias and adrift in the ensembles.
Which leads us to Deborah Voigt as Ruth, a role not usually associated with a megawatt diva. Far more glamorous vocally and physically than the average maid of all work, Voigt doesn't have the delicious way with Gilbert's text as do true Savoyards, but she does have a beautiful, burnished sound from top to bottom. Only in the ensembles did she get the slightest of chances to let it soar. Paired with a Frederic possessed of so slight of voice, she was a sensitive colleague, but performing with her hands tied behind her back so to speak. With a different Frederic, Voigt and Boykin could have made "Away, Away! My Heart's on Fire" into the delicious romp that it should be. She also got the chance to show off a few dance steps, little called for in her forays as Brunnhilde, Ariadne, Aida and the like.
Semi-staged concert versions of operas and musicals come with known risks, and this performance did not surmount all of them. The chief problem was permitting the leads to use scores. With some they were merely a prop, with others a crutch. That is a wall between performer and audience that is hard to bridge. Amateur Gilbert & Sullivan troupes around the world manage to memorize their parts; surely seasoned professionals can be held to the same standard. And please don't tell me they are too busy. This is New York City  ̶  countless singers would grab at such a chance.
Rick Perdian