United Kingdom Prokofiev, Romeo and Juliet (Rudolf Nureyev Production): Dancers of English National Ballet and the English National Ballet Philharmonic / Gavin Sutherland (conductor). Milton Keynes Theatre, Milton Keynes, 22.10.2015. (JPr)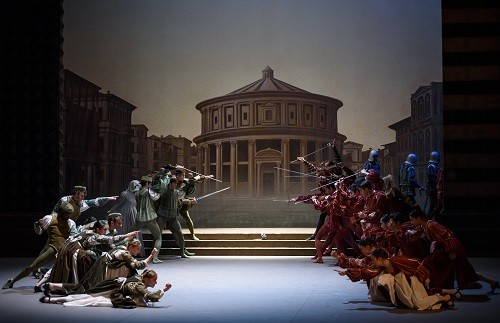 Production:
Choreography – Rudolf Nureyev
Sets and Costumes – Ezio Frigerio
Lighting – Tharon Musser
Cast:
Juliet – Erina Takahashi
Romeo – Isaac Hernández
Mercutio – Cesar Corrales
Benvolio – James Forbat
Tybalt – James Streeter
Paris – Daniele Silingardi
Lord Capulet – Fabian Reimar
Lady Capulet – Stina Quagebeur
Nurse – Tamarin Stott
Rosaline – Madison Keesler
Friar Lawrence/Escalus, Prince of Verona – Michael Coleman
Not too long ago I reviewed Derek Deane's 'in the round' version of Romeo and Juliet for English National Ballet writing how it is 'a tame Disneyfied version where there is sword fighting but few seem to get hurt, the "Harlots" lift their skirts only briefly and are more like gypsies from Carmen and there is little genuine feel of the real splendour – or the death and decay – of a "real" renaissance Italian city. To put it more bluntly … it is not Nureyev's wonderful 1977 Romeo and Juliet the staging that I returned to time and again in my formative ballet years. This is still, I believe, in English National Ballet's repertory and would be a stunning showcase for their current wonderful roster of dancers.' I doubt anything I wrote made a difference but ENB – which for me, under Tamara Rojo's leadership is currently Britain's premier company – has brought this wonderful production back on tour to Bristol, Milton Keynes, Southampton and Manchester but sadly London misses out on this occasion … and indeed it was that stunning showcase I predicted!
Apparently Rudolf Nureyev's zeroed in on the following quotation from Act I of Shakespeare's play 'Some consequence, yet hanging in the stars. Shall bitterly begin his fearful date. With this night's revels and expire the term.' Nureyev choreographed his version of Romeo and Juliet for London Festival Ballet (the former name of English National Ballet) 38 years ago and I was there on the first night – where have those intervening years gone? Nureyev was almost 40 and for some his physical artistry was not what his was; yet for many like me what he still had then – and for many years thereafter – was the ability to always be dramatically compelling and someone who could transcend even the most modest showcase for his talents.
His ballet was conceived on a grand operatic scale and there is so much going on from the first moment till the last. It is all framed by Ezio Frigerio's magnificent red and orange sets which – despite being slightly cramped on the Milton Keynes Theatre stage which doesn't appear to have great depth to it – are still realistically monumental. There is a melancholy start which establishes Nureyev's themes for this version of a story we believe we all know. Despite being deeply romantic its primary concern is that predetermined fate cannot be avoided. The first thing we see are four scrambling figures of fate who are playing dice with people's lives and then a cart rolls by piled high with the corpses of plague victims. It is not long before Romeo gives a coin to a beggar who immediately dies … Nureyev's Verona is a fated place. At the Capulets' ball the dancers seem to form a blindfolded Rota Fortunae or wheel of fortune and just before the bedroom pas de deux Juliet appears to be ravaged by a very Shakespearian hooded death figure. Throughout this Romeo and Juliet there is a struggle for the lovers' souls between the spirits of love and death.
This Verona is filled with sex, violence and vendetta. It is also quite bawdy, and men posture, brawl and pursue young women lustily. This extends to Juliet's Nurse (the superb Tamarin Stott) who usually is a rather prim and prissy figure but here is first seen being groped by a servant; Juliet catches her with her skirts round her waist and in an instance we appreciated Juliet's innocence and her own future sexual awakening.
There is huge scope in this Romeo and Juliet for great dramatic projection as Nureyev gives splendid opportunities to those who often are mere cyphers with little to do in this ballet such as Lady Capulet (Stina Quagebeur) and Paris (Daniele Silingardi). What we also get is not just the CliffNotes but a plausible story – a play without words. This cannot be highlighted better than by the illustration of how a letter carried by Friar John from Friar Lawrence never gets to Romeo to explain how Juliet is only asleep and not dead. At about the same time Juliet has a life and death solo when she 'debates' whether to take the potion or commit suicide. As she is brandishing her dead cousin Tybalt's dagger the hilt appears to her like the sign of the cross and she takes this as a 'sign' to drink the sleeping draft. There are just so many similarly sublime moments in this version which has been affectionately restaged by Élisabeth Maurine and Lionel Delanoë and makes for a powerfully atmospheric piece with is haunting, amusing, captivating and deeply affecting by turns.
The company of English National Ballet were performing far from their regular London home at the Coliseum yet oozed energy, discipline, hard-work, commitment and pride. There were a number of strong performances and James Streeter's mean, manic and brutish Tybalt stood out especially. Everyone seemed to know why there were on stage and this extended even to non-dancing characters such as a priest and Paris's young page. Isaac Hernández and Erina Takahashi carry the dancing as Romeo and Juliet and both were revelatory making me want to see more of both dancers as soon as possible. Hernández's Romeo was dreamily elegant but no street-fighter and for that the eye was caught by Cesar Corrales's swarthy and bullish Mercutio. Kudos also to the swordplay which was some of the best I have seen on stage whether in straight theatre, opera or ballet.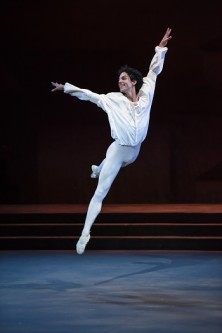 Isaac Hernández had a hint of Nureyev's slight physique about him and acted and danced extremely well. His line was pure and lean, his leaps – though not the biggest on this evidence – had ease and élan and his spins were accurate and impressively speedy. Nureyev's steps have occasionally been described as over-elaborate and fussy but Hernandez brought them all off without any awkwardness whatsoever. He was the epitome of a young boy in the flush of being in love for the first time.
The heroine was Erina Takahashi and her innocence, beauty and charm carried the characterisation. She had sleek elegance, technical precision, and the difficult set pieces held no fears for her: there was a real sense that she was in love with Romeo from the moment of their first encounter at the ball. Nureyev gave them intricate and extremely physically convoluted duets that have rarely seemed as wonderfully natural as they did here since those memorable 1977 performances from the legendary Russian and his partner Patricia Ruanne. Takahashi's Juliet becomes emotional connected with her Romeo through all the climbing over his shoulders, hanging upside down and intertwining herself with him she has to do and this conveys more passion and tenderness than it might sound. I am not too proud to admit that her wailing at the end when she wakes in the crypt and finds Romeo dead beside her, brought a tear to my eye.
I recent saw the live cinema transmission of Kenneth MacMillan's famous Royal Ballet Romeo and Juliet and that seems like one long extended duet in comparison because it simply concentrates on the two principals and eschews much of Nureyev's background colour, narrative cohesiveness and verisimilitude. It was not helped by having a Romeo and Juliet who might have danced well yet 'couldn't act their way out of a paper bag' and had none of the dramatic plausibility of English National Ballet's splendid Isaac Hernández and Erina Takahashi.
My almost final words go to Gavin Sutherland whose conducting swept along his excellent English National Ballet Philharmonic with great distinction for an exhilarating account of Prokofiev's score. He clearly delineated its entire colourful palette and it was the perfect accompaniment to Shakespeare's timeless tragedy and the remarkable vision of the much-missed legend that was Rudolf Nureyev.
My final words are can we please have Rudolf Nureyev's enchanting 1975 Sleeping Beauty back soon too?
Jim Pritchard
For details of all English National Ballet's forthcoming performances visit www.ballet.org.uk.