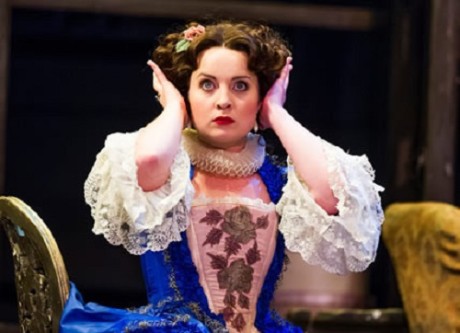 United Kingdom Rossini, The Barber of Seville:  Soloists , Chorus  and Orchestra of Opera North, Stuart Stratford (conductor), Leeds Grand Theatre, Leeds, 7.10.2015 (JL)  
Rossini, The Barber of Seville
Cast:
Rosina:  Katie Bray
Count Almaviva:  Nicholas Watts
Figaro: Gavan Ring
Doctor Bartolo:  Eric Roberts
Don Basilio:  Alastair Miles
Berta:  Victoria Sharp
Fiorello: Nicholas Butterfield
Production:
Director: Giles Havergal
Set & Costumes: Russell Craig
Lighting Designer: Gerry Jenkinson
If it ain't broke don't fix it.   Clearly that is the principle behind a production that can successfully be wheeled out intermittently over a period of thirty years and ensure generous ticket sales every time.   Any opera company is lucky to have such productions in its locker and Opera North has them. This year it is Giles Havergal's  Barber of Seville, last year it was Phyllida Lloyd's La bohème, almost as old.
What is the secret? In both these cases, two of the most popular operas in the  repertoire,  it seems to be that the narrative is told in a straightforward way with absolute focus on the characters and  the unfolding action without obtrusive, overly innovative production tricks.  Anything "new" about them was presented in a low key way. La Boheme was transferred from the 1890s to the 1950s and The Barber of Seville is presented as a play within a play but with very little distraction.  The Barber's costumes are of the relevant 18th century period and the "audience" consists of a few  people in Victorian dress that sit on both sides of the stage but almost out of sight in the wings.  Their main function is a useful one in that they lead applause at the end of standard numbers, acting as cheerleaders or warm-up people in a live TV show. This helps to get the audience going.
In realising this age old production, Opera North has hit on a formula much aspired to by football managers: build a team that combines young up-and-coming talent with  experienced  actor-singers who  provide stability and spread confidence.
In the latter category the current performance has, in the two low-voiced male roles,  veterans of renown who have played their respective roles  many times. Baritone Eric Roberts as the lusting old guardian of Rosina, a role he has honed to perfection, and Alastair Miles, a bass of global reputation as the scheming  music master Don Basilio; both combine buffo acting skills with agility of voice.
Gavan Ring, however, as  the man who can outscheme them all, had not played the role of Figaro last year when he declared that doing so was a priority ambition. He fitted the role as hand to glove, giving a confident impression he had been doing it for years served by fine baritone voice.  In spite of the costume, his timeless portrayal could easily have transferred to a 1950s British movie as the archetypal spiv.
Nicholas Watts as Almaviva wooed Rosina with a youthful, airy tenor voice.  His stage presence was suitably commanding although if he loosens up more, I am sure he will be able to pull off  the comedy with more confident vigour.
Katie Bray as Rosina was a revelation. Young she may be, but she is not without experience  and it showed.  Playing the role successfully is a multi-skilled task  that requires conveying  a  dual personality that combines innocent, exploited girl with one of natural manipulative know-how, has a  mezzo voice that can cope with  hair raising coloratura runs and tongue twisting patter, and  has unerring comic timing.  On top of that she has to look the part.
Many singers have the talent and training to fulfill most of those requirements, but not so many are born with the gift of comedic timing. When "Lindoro" reveals himself as Count Almaviva, he takes off his cloak to show himself, as proof, in his aristocratic finery. Rosina gawps expressionless for a moment, then switches her face to the audience with a sudden ecstatic grin, thus wordlessly declaring "that's a far better catch than I thought!". Laughter erupts. You can only pull that off with a natural  gift for comic timing and Katie Bray has it.
Incidentally, in Beaumarchais' original play, Rosina faints at that moment, which is not so funny.
The role of Berta the housekeeper is not one that gives the singer much of a chance to get off the ground.  Victoria Sharp made the most of it, and in one of her rare moments in the  blockbusting ensemble at the end of Act One she rode over the combined musical forces with a magnificently shattering high C.
It is in that chorus that any ensemble imperfections could so easily be exposed. It only takes one of the cast to fall a fraction behind in the speedy patter and the whole effect can start to sound fudged. There were no worries here.  All were well drilled although it may have sounded better in Italian rather than the English of this production.
Conductor Stuart Stratford made his contribution to the principle of focusing on character and drama by ensuring  the orchestra  maintained a relatively unobtrusive accompanying role in this highly successful revival.
John Leeman