Canada  Bach/Stokowski, Paganini, Beethoven: Tianwa Yang (violin), Vancouver Symphony Orchestra, Carlos Miguel Prieto (conductor), Orpheum Theatre, Vancouver, 3.10.2015 (GN)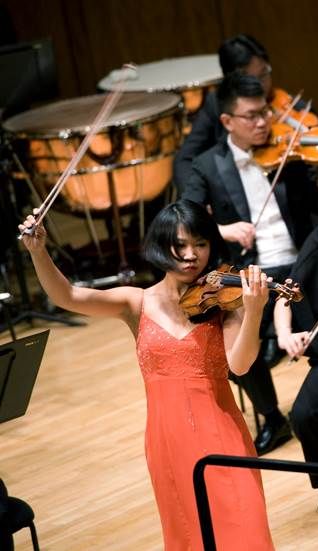 Bach/Stokowski: Passacaglia and Fugue in C minor, BWV 582
Paganini: Violin Concerto No. 2 in B minor, Op. 7, 'La Campanella'
Beethoven: Symphony No. 8 in F Major, Op. 93
Violinist Tianwa Yang at 28 has gained considerable exposure from her recordings for Naxos, her most enterprising project being the complete violin compositions of Pablo Sarasate, now in its 9th volume. This has received the highest praise and is often cited as a model of 'the art of the violin' for its technical accuracy, perception and emotional commitment. She recently received the ECHO Klassic 2015 award as Violin Instrumentalist of the Year for her recording of Ysaÿe's Sonatas for Solo Violin, which follows on acclaimed discs of Wolfgang Rihm and Astor Piazzolla. Her only recording of 'conventional' repertoire appears to be the two Mendelssohn violin concertos, released in 2013. All of these exploits may seem somewhat strange for a violinist who moved from Beijing to Karlsruhe 12 years ago to study the core of German chamber music; who cites her most influential teacher as cellist Anner Bylsma and her most revered ensemble as the Busch Quartet; and who prizes recent chamber collaborations with artists such as violinist Christian Tetzlaff and cellist Maximilian Hornung (interview forthcoming).  
So just where do we move for this concert: to the German Romantics or perhaps Paganini? Yes, Paganini's Violin Concerto No. 2  ̶  another unusual choice for an artist who recoils at being called a virtuoso and had not actually performed these concertos since her teens. For this Canadian tour, she was asked to perform No. 1 in Winnipeg and No. 2 in Vancouver.
How did it go? In a word, splendidly: I have seldom enjoyed this concerto so much! Yang literally dove into it, letting loose her spontaneous creativity and bringing out the work's wit, play and sheer capriciousness. At the same time, nothing was overdone; the violinist's sheer delight in the music always communicated itself and carried things forward. The playing was also very human: sometimes fragile, sometimes thoughtful, sometimes buoyantly seductive but always fully felt. For once, I detected no 'kitsch' in the sentimental little reveries: in the big theme of the last movement, there was lovely poise and restraint, and it was genuinely affecting. The violinist's narrative was engrossing enough that I really did not pay much attention to the staggering technical requirements needed to bring this off. Things seemed to evolve naturally: the incredibly clean precision in the very high notes, the adventurous light bowing and lyrical sense, the disarmingly fluent 'slides' and the almost gun-shot fire of her pizzicato passages in the last movement (commanding, yet both bizarre and witty). Tianwa Yang was certainly technically and artistically striking on many levels. Yet the secret of this performance was that she took the work fully to heart. Conductor Carlos Miguel Prieto's opening ritornello ushered in orchestral playing that was precise and elegant overall, never overblown. The soloist and ensemble coordinated admirably, and the famous question-and-answer passages later on were realized most effectively.
The remaining pieces on the programme were comparatively slight. The orchestral transcription of Bach's Passacaglia and Fugue in C minor was a reasonably attractive opener, but it did not achieve full Stokowskian 'bite'. Beethoven's 8th Symphony was attentively presented, but I felt real sparks flying only sporadically: for example, at the end of the first movement and the beginning of the last. The conducting had a rhythmic awareness throughout, with an almost balletic feeling at points. However, Prieto failed to push lyrical string phrases strongly enough in the Tempo di Menuetto, and did not succeed in getting the orchestra to play sufficiently quietly in the Finale to bring full strength to its contrasts. This was certainly pleasant but not much more. I have little doubt that most everyone went home thinking about the Paganini.
Geoffrey Newman
Previously published in slight altered form on http://www.vanclassicalmusic.com