United States Verdi, Otello: Soloists, Chorus and Orchestra of the Metropolitan Opera, New York / Yannick Nézet-Séguin (conductor). Broadcast to the Empire Cinema, Basildon, Essex, 17.10.2015. (JPr)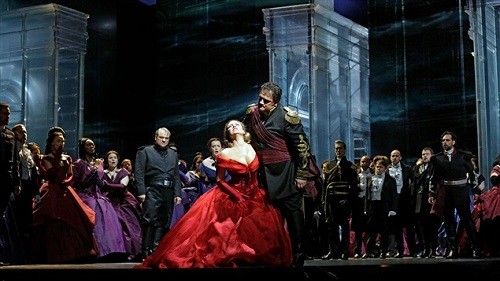 Verdi, Otello
Cast:
Montano: Jeff Mattsey
Cassio: Dimitri Pittas
Iago: Željko Lučić
Roderigo: Chad Shelton
Otello: Aleksandrs Antonenko
Desdemona: Sonya Yoncheva
Emilia: Jennifer Johnson Cano
A Herald: Tyler Duncan
Lodovico: Günther Groissböck
Production:
Director: Bartlett Sher
Sets Designer: Es Devlin
Costume Designer: Catherine Zuber
Lighting Designer: Donald Holder
Projection Designer: Luke Halls
LIVE IN HD Director: Gary Halvorson
LIVE IN HD Host: Eric Owens
This new production by Met favourite Barlett Sher replaces the venerable 1994 Elijah Moshinsky staging I reported on when it was broadcast to cinemas in 2012 (review). It is very clear what the Met is up to and this famous institution is trying to eliminate the need for a huge number of backstage staff who were often seen dismantling and setting up ancient pieces of scenery during the intervals of these Met transmissions. Here Es Devlin uses basically a single set and some video, though it was not quite as simple as that because the 'set' such as it was involved a number of large mobile translucent (Perspex?) walls that hinted at one moment of a large outdoor palace courtyard and the next, a much more intimate bedroom. It also allowed more realistic chances to be concealed or overheard.
All the suggested shifting locations worked particularly well in Act II after all the misplaced handkerchief business: it suggested a greater passage of time for Iago to spread his seeds of doubt about Desdemona's faithfulness before he tries to convince Otello that Cassio, a young captain, is her lover by recounting his supposed erotic dream. Bartlett Sher said in an interval interview with the nervous looking Live in HD host Eric Owens how his concept was inspired. Apparently Arrigo Boito, the librettist, was talking once to Verdi and suggested that a particular chorus would not be needed because 'you will put a fist through the glass prism we have put our hero in.'
What Bartlett Sher presents is a psychological, somewhat intimate, character study of jealousy and betrayal rather than the exploration of the outsider that is the basis of Shakespeare's original play. The original Othello/Otello in Shakespeare is an 'outsider' because he is a Moor appointed by Venice to be the governor of Cyprus and his ensign Iago, a hateful, envious and manipulative man, is not happy about this to say the least. He begins plotting against Cassio, who has been promoted to Captain instead of him, and also Otello himself by impugning the innocence of his new bride, Desdemona, by suggesting they are having an affair. Because of Iago's mind games Otello flips – rather too conveniently but this is opera after all – from a valiant commander into a paranoid, broken, pitiable figure … or at least he should – but more of this later.
The chorus were often rooted to the spot and stared straight ahead as if they were just a framing device for the ensuing plot. Bartlett Sher seemed to want to concentrate on a drama of human experience and one man's fall from grace. He appeared concerned only with the leading characters and his hyperactive set. From Catherine Zuber's costumes I understood we somewhere in the Mediterranean around the time of the opera's composition in 1887. Although they didn't look quite so good in this cinema broadcast because of Gary Halvorson's typical close-up direction, I suspect in the theatre Luke Halls's frequent projections of stormy seas would have added a lot to the relatively dark and foreboding atmosphere of the stage pictures.
Publicity before the first night of the new Otello centred on the break from the usual tradition of having a white singer in blackface in the title role. I don't want to debate this issue here but what this usually achieves is to highlight Otello's difference to all those surrounding him, a crucial aspect of the story. Without it he just becomes a fairly 'stock' character, someone lacking emotional strength and easily influenced. It was not that there was no make-up because if you look at photos of Aleksandrs Antonenko he doesn't look as swarthy as he appeared here as Otello. Whilst I could not believe in Antonenko as Otello the general in Act I, his interpretation gained strength as his character descended into the humiliation, despair and forgiveness he needed for his final moments and his 'Niun mi tema! was as good as it gets. I suppose in the end it all comes down to how you finish not how you start, but Otello's downward spiral was not convincingly portrayed. Also I had some doubts about Antonenko's voice that – as for all the singers – would only be dispelled by hearing the opera in the theatre. At times he sounded like a solid lyrical tenor manufacturing a darker sound, whilst near the end his voice sounded more like a baritone than a tenor.
Sonya Yoncheva making her role debut as Desdemona had a gloriously warm and rich voice which reminded my companion of Rita Tebaldi. There was a sincerity, a pureness of timbre and the flexibility of phrasing was exactly what singing Verdi requires. However like Aleksandrs Antonenko her acting was not entirely convincing and her Desdemona did not go through much of a 'journey'. She surely should have appeared more naïve to begin with, which would have made her plight more affecting as she sang her plaintive 'Willow Song' and faced death towards the end of Act IV. When asked how she made this character her own Sonya Yoncheva suggested that she did not believe Desdemona was a victim but someone strong and noble with feelings that she has the courage to speak out about.
The best of the trio of leading characters was Željko Lučić's opulently sung Iago, mainly because he seemed a better actor and probably because he was just recreating his own 'take' on Iago regardless of any direction he might have been given. He was evil incarnate and the only truly believable character in this Otello. His baritone had exactly the right Verdian ring and emotional bite: 'Credo' was almost messianic in its poisonous hatred and all his conniving and insinuating totally convinced me. Verdi does not give anyone else much to work with and Dmitri Pittas's Cassio was a suitably reckless and innocent patsy with a bright but tight-sounding voice; Chad Shelton was a bit of a cypher as Roderigo and Günther Groissböck a rather dour Lodovico. However, Jennifer Johnson Cano stood out as a concerned and caring Emilia and made this small role seem much more important than it is. The Met chorus were their usual clarion selves even if they were not, as suggested earlier, as animated as they usually appear.
If things were rather static at times on stage nothing stood still in the pit where Yannick Nézet-Séguin never allowed dramatic tension to flag in the arc from the thunderous opening storm to the heartrending poignancy of Otello's 'un altro bacio' ('Another kiss') as he dies and the curtain descended.
Jim Pritchard
Check out your local cinema listings as the Metropolitan Opera's Live in HD 2015-16 season continues.