United Kingdom Various composers, No Lander:  Riccardo Buscarini/TIR Danza/Artstrust Productions, The Place, London, 28.10.2015 (J.O'D)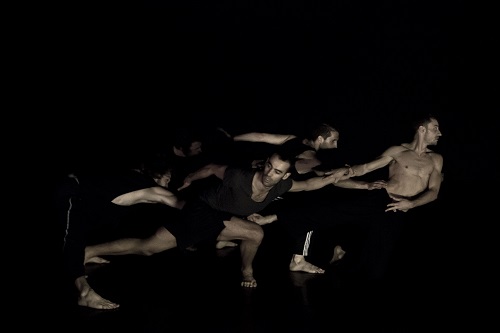 Performers: Andrew Gardiner, Josh Jones, Marc Stevenson, Lewis Wilkins, Ben Wisken
Concept/Choreography: Riccardo Buscarini
Music: Domenico Angarano, Vocals by Salvatore De Cicco; Michael Levy, Nero's Lyre (Lament for Solo Lyre in the Ancient Greek Phrygian Mode)
Rehearsal Director: Mariana Camiloti
Production Manager & Lighting Designer: Michael Mannion
Lighting Advisor: Alessandra Bertolini
Sound Artist:  Domenico Angarano
Styling in collaboration with  Annette Malone
Producer: Martin Collins, Artstrust Productions
As the audience takes its seats, the five performers of No Lander lie in semi-darkness on the stage floor. No sooner have you become aware of them, than you see that these barefoot young men in practice clothes of rigorous black have already begun, slowly and in silence, to roll and twist and stretch. Some of them lift the black rubber floor covering itself to roll under it, causing the raised areas to resemble waves at night. It is an appropriate start for a piece described by choreographer Riccardo Buscarini as 'a melancholic and subtle meditation on the themes of Homer's Odyssey'.
Groups of young men, in practice clothes or other kinds of costume, are frequently seen on today's dance stage. No Lander bears a relation to Joe Moran's Assembly, performed at The Place in 2014, and to Alexander Whitley's The Murmuring for BalletBoyz at Sadler's Wells the same year. Where it differs is in its presentation of movement as metaphor. Their bare feet and practice clothes make them extremely present, but for the hour over which the piece casts its spell these five men are as remote as figures out of myth.
The floor is the key. None of the luxuriously sweeping or arching gestures occurs very far from it for very long. The floor allows the men to extend their bodies in searching examination of how the body, anchored for example by one, outspread palm, can extend, and turn on itself, and fold over itself. The floor also provides some of the sound that accompanies the movement. A microphone, set close to it, picks up and amplifies the dancers' rhythmically beating heels and toes, tapping fingers. At one point it amplifies the clicking tongue of one of them.
Full use is made of changes of lighting, changes of pace, and of five as a number that can be restlessly divided into four and one; three and two; two, two and one. The men group and regroup in these combinations. To the sound of a lyre, they cross the stage with linked hands, stopping on the way to form organic tableaux vivants suggestive of seafaring exploration. Four of them use their bodies to imprison the fifth. (The sailors, binding Odysseus to the mast?) Duets show the influence of martial arts, or are performed by dancers with eyes constantly covered by a hand of their partner's. (A reference, as elsewhere, to the blindness of the Cyclops?) The most startling combination is that in which two pairs of dancers become scuttling, bicephalous creatures whose confrontation forms a charged and unexpected climax.
The piece ends as it had begun with semi-darkness and figures rolling slowly in it. Again, some of these figures lift the floor as they roll. One of the men, though, kneels at the front of the stage in brighter light. He seems to be trying, with his hands and with great concentration, to give mass and shape to some invisible material or substance on the ground around him. You think of The Wasteland: 'These fragments I have shored against my ruins.' Having succeeded at his task, or having given up on it, this man, too (Odysseus himself?), lies down as if to sleep.
John O'Dwyer