The 10th Malcolm Arnold Festival Opens with a Flourish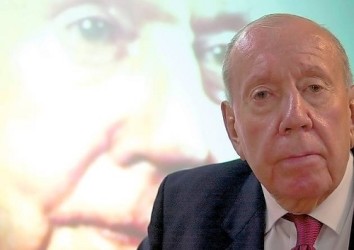 Northampton was blessed during the last century with being the birthplace of three of the UK's finest composers: William Alwyn (1905–1985), Malcolm Arnold (1921–2006) and Edmund Rubbra (1901–1986) – between them the composers of 25 numbered symphonies. It's quite a record for a county town with a population of only 212,000. Only one of them (Arnold) has, to date, achieved an annual festival in Northampton although there have been occasional Alwyn festivals in East Anglia; indeed one took place only recently  (7-10 October 2015) courtesy of the indefatigable Andrew Knowles who I was delighted to meet at this Arnold weekend.
Malcolm Arnold was something of a champion of Rubbra having conducted Rubbra's Symphonies 3 and 4 with the BBC Northern Orchestra in the 1960s. Those two Third Programme broadcasts really should be commercially issued. I am not aware of other links between Arnold and Alwyn except that the two of them contributed with prolific opulence to the world of film music. Mrs Alwyn (Doreen Carwithen) gets a look in this year with her Masefield overture ODTAA on the Sunday evening. The same concert also sports Alwyn's march – True Glory. No Rubbra though. If Alwyn is more than fortunate in Andrew Knowles then Arnold should be beaming down in delight in the work of Paul Harris who has been the moving force behind ten years' worth of ambitious and achieving Arnold festivals. There will be more to come in 2016 which sees the tenth year since his death and the 95th since his birth.
First Day of Festival
(1) Festival Launch-
Arnold. Tim Rice: Children's massed choirs from Northampton County, Malcolm Arnold Academy, Parklands Primary and Upton Grange Primary schools, Northampton County Youth Brass Band, Ben Hoffnung (Fanfare), Simon Toyne (Song), Brad Turnbull (Padstow) (conductors), Royal & Derngate, Northampton, 17.10.2015 (RB)
Arnold: Hoffnung Fanfare for 36 trumpets
Arnold: The Song of Freedom
Arnold: The Padstow Lifeboat 
I am told that Sir Tim Rice launched the Festival this year which reflects equal credit on him and on the Festival. I say 'told'  because I arrived to collect my tickets relying on the website which told me the launch concert started at 11.00am. In fact it started at 10.30am so I missed the introductory Hoffnung Fanfare for 36 trumpeters and perhaps ten minutes of The Song of Freedom.  I was delighted to hear the Fanfare: it was repeated at the end of the concert. As rumoured there were in fact about sixty trumpets and they made a most glorious barbed assault from their positions in two levels and crowded flanking boxes above the concert stage. I had wondered if the fanfare would be a Hoffnung festival send-up. No such thing. This was written in 1960 for Hoffnung's memorial concert at the RFH. There was no doubting Arnold's friendship and admiration for Hoffnung. The work deserves to rank high in the British fanfare repertoire alongside examples by Walton and Bliss. The music was that tricky blend of grand and sincere and most artfully achieved. The poignancy was underscored by the fact that it was conducted by Ben Hoffnung, Gerard's son.
Things were problematic with The Song of Freedom. The youth brass band and school choirs made a great sound, but the young singers were rather overwhelmed by the band. From my position in the hall I could hear only the odd word and this was an issue of volume not enunciation. The words are idealistic – not that I have a problem with that; I love John Ireland's The Things Shall Be and why should not children embrace ideals. Who else? I would have liked to have heard a lot more of what was sung – the words were not printed in the programme – but what was really needed was perhaps double the number of young singers and possibly placing then in front of the brass band. The band itself was a crack outfit and clearly very well coached. They treated us to Arnold's The Padstow Lifeboat complete with that insistent and baleful foghorn effect which continues to remind me of damp holidays in Treyarnon and Constantine and the nearby Trevose foghorn. The march at times seems to pay tribute to Sousa but avoids too close an entanglement. It's atmosphere belongs with the Cornish Dances rather than anything lighter or less atmospheric.
(2) Afternoon Choral and Orchestral Concert 
Arnold, Jacob, Hadley, Britten:  Godwine Choir. Stacey Watton (conductor);  Yu Mien-Sun and Rita Lam (violins), Orchestra of the Birmingham Conservatoire. Alex Davan-Wetton (conductor), St Matthew's Church, Northampton,  17.10.2015 (RB)
Arnold: Psalm 150 (Laudate Dominum)
Jacob: Pilgrims' Way from Highways
Hadley: My Beloved Spake
Britten:  Rejoice in the Lamb Op 30
Arnold: John Clare Cantata Op 52
Arnold: Concerto for 2 Violins and Strings Op 77
The concert took place in the grand context of the blonde-stone parish church of St Matthews. OK, the wooden chairs were rather unforgiving but I have found worse. I was delighted to discover that this was Walter Hussey's church, the person who commissioned Finzi's Lo the Full Final Sacrifice. I learnt from a free leaflet that from circa 1943 he and his predecessors had commissioned various choral pieces. We heard two of them. We started with the astonishingly original Arnold Laudate Dominum which is full of intricately contrived beauty. The organ part is most surprising and attractively original. Let's please hear this piece from choirs across the UK. After this came music of two of his teachers: Gordon Jacob's attractive but comparatively staid Pilgrims' Way (I would like to hear the rest of the suite: Highways) and Hadley's typically rapturous My Beloved Spake; we really need to hear more Hadley.
Then came a most attentive performance of Britten's Rejoice in the Lamb – the longest of the choral pieces and also a Hussey commission.  These were well prepared and delightful performances by a young 20-strong choir with four good soloists in the Britten. The 'stage' cleared for the Arnold Double Violin Concerto. Rather like the Arnold John Field Fantasy later in the day this performance in effect had me hearing the work for the first time yet I knew it – or thought I did – from several recorded performances. The two soloists lit up their soaringly complementary contributions. The work's links with the serious aspects of the mid-period symphonies (4-6) came home to me with a thump. Finally the choir returned to join the string orchestra (20 people) for John Gibbons' arrangement of Arnold's Clare cantata originally written for choir and piano duet. It worked very well indeed and deserves to give the piece (short poems by Northampton poet John Clare – ultimately as mentally troubled as Arnold) might even give the piece the 'legs' to attract concert performances. Strangely enough you would have thought that the piano duet forces would have made performances easier. Gibbons' re-imagining of the piano lines was most sensitively done. Its sound placed it in succession to Moeran's choral suites.
(3) Early Evening Lecture-Recital
Arnold:  James Bowers (tenor), Alice Pinto (piano), Jonathan Howse and Charlotte Swift (clarinets), Alice Kent (double bass). Royal & Derngate, Northampton, 16:15 17.10.2015 (RB)
Arnold: Three Fantasies for piano op 129
Arnold:  Divertimento for two clarinets op 135
Arnold:  Fantasy for Double Bass (completed by Matthew Taylor)
Arnold: 'Contrasts' op 134 (originally for tenor and strings but here arranged for tenor and piano)
Alice Pinto, gifted presenter and pianist returned for her third lecture recital. She spoke about the different facets of 'late' music and quoted from Said and Adorno to good and stimulating effect. She certainly made a good case for this music which is often not the most ingratiating.
Arnold's mindset had changed with age and medical condition so that although carefree moments glinted they rarely shone full-on. Her performances of the three eerie little Fantasies were memorable as was tenor James Bowers' singing of the songs in Contrasts. Here is a tenor who colours in the character and ideas behind the words while well on top of the technical demands.
I thought the piano's role was more commanding than Pinto had led us to believe. I want to hear Contrasts and the Fantasies again; for me they were discoveries. It was good to hear the premiere of the now completed Fantasy for Double Bass but I found it a tough listen'/ Likewise the haltingly episodic Divertimento for Two Clarinets. Both works were most expertly and committedly performed.
(4) Malcolm Arnold the Charmer
Arnold:  Jenny Dyson with Beatrice Hubble (oboe), Caroline Waddington (clarinet) and Silvia Lucas (piano), Cecilia Macfarlane's Dance School, Royal & Derngate, Northampton,  17.10.2015 (RB)
Arnold: Suite Bourgeoise
Arnold: Fantasy for flute
Arnold: Divertimento
Arnold: Grand Fantasia – ballet
Jenny Dyson, with Beatrice Hubble (oboe), Caroline Waddington (clarinet) and Silvia Lucas (piano) led a programme of instrumental music from another Arnold altogether. This was Malcolm the charmer, the light-hearted, the mercurial, the sometimes shallow, sometimes deep. It was performed in what amounts to the two storeyed lobby of the theatre. Spotlessly done it was god to hear the Suite Bourgeoise, Divertimento, Fantasy for flute (a work of the engaging 1960s rather than the tormented 1970s). A newly created and often inventively witty ballet accompanied Arnold's Grand Fantasia. The unaffected choreography married well with the music.
(5) Evening Concert
Arnold:  Peter Donohoe (piano) BBC Concert Orchestra / Martin Yates (conductor), Royal & Derngate, Northampton, 17.10.2015 (RB)
Arnold: Philharmonic Concerto Op 120
Arnold: Fantasy on a theme of John Field
Arnold: The Fair Field overture
Arnold: Symphony No 7 Op 113
This orchestra and its conductor are stalwarts of the English Music Festival; amd it is a pleasure to see them stretching their wings. Except for the Fairfield Overture this programme is replicated on their recentish Dutton Epoch CD (http://www.musicweb-international.com/classrev/2015/Mar/Arnold_sy7_CDLX7318.htm)
A far from full audience (less than half capacity I would guess) encountered some fairly unusual Arnold which is to be broadcast on 20 October on Radio 3 (and on BBC i-player thereafter). The Philharmonic Concerto was written for Haitink to take with him and with the LPO to the USA in 1976 to celebrate the Centennial. This three movement display piece blew away any cobwebs in the first movement which to my ears sounded rather dense and unaffecting. The tender second movement worked well as did the uproar of the third which sounded less opaque than the first. Along the way Arnold paid a pretty frank tribute to Roy Harris's Third Symphony – presumably a deliberate homage.
The Field Fantasy I have heard many times before in various recordings commercial and private. It has never gelled with me. This performance with the sturdy and visionary Peter Donohoe, in unshakable command, who introduced the piece with the BBC announcer, was a revelation. It was played with Russian imperial hauteur, sounding like an escapee from the Tchaikovsky piano concertos (which Donohoe recorded for EMI in the 1980s) with infusions of Shostakovich, whirlwind fury and of course Field's peaceful demeanour along the way. Although the mood was disrupted by audience noise several times this was a very special performance and one I will never forget. The noise was such that Donohoe shot steely gimlet glances at the offending box and at one point stopped only to resume when silence temporarily returned. As it turned out, at the end of the evening Donohoe and the orchestra gave us a second and no less molten performance but this time after the offenders had left the building. I was delighted to hear the piece again as were the audience who despite their small numbers roared their approval. I should just mentioned that as an encore Donhoe played the time-stilling Field's Seventh Nocturne which also had its unwelcome audience obbligato.
The Seventh Symphony is a tough listen. Two very extended and substantial movements are followed by a shorter finale. It was the first time I had heard it live. The first and second movements had their moments of tenderness but they were overcast especially in the second by music that seems to depict a red mist of fury. It's quite a horrifying contrast. The writing is otherwise full of memorable effects including a ghoulish-sounding cow bell – what pastures do these cows graze, I wonder. There's the famous Chieftains and tin-whistle episode in the finale which just ends. This is a piece where my impressions remain of work-in-progress. It was preceded by The Fairfield Overture populated with the sway of fairground waltzer machines and rabble-risen Beckus dissolutes.
Rob Barnett