United Kingdom  Donnacha Dennehy and Enda Walsh, The Last Hotel: Soloists, Actor and The Crash Ensemble / André de Ridder (conductor), Linbury Studio Theatre, London, 9.10.2015. (JPr)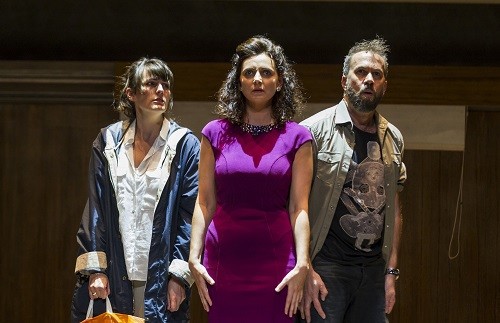 Donnacha Dennehy and Enda Walsh, The Last Hotel
Performers:
Woman: Aoife Miskelly
Husband: Robin Adams
Wife: Katherine Manley
Caretaker: Mikel Murfi
Production:
Designer: Jamie Vartan
Lighting designer: Adam Silverman
Sound designs: David Sheppard and Helen Atkinson
Associate director: Sophie Motley
Going to this new chamber opera on this particular day was quite appropriate because if you looked at the news you might have seen something about an Essex school where a few parents were complaining about pupils being asked to write a suicidal character's final diary entry. The work concerned is a play on the GCSE English Literature syllabus and is J B Priestley's famous An Inspector Calls (recently seen on TV in a new dramatized version). These same pupils – whom these over-protective parents want to cocoon for some reason – probably have had to pull themselves away from alarmingly violent video games to read the text. The idea was to consider the motivation of Eva (the young woman who takes her own life) and the responsibility of the other characters in the tragedy. The themes of Life and Death are recurrent themes in Art and must be discussed. If there are issues with Priestley's play then Shakespeare's Romeo and Juliet with its under-age sex is certainly a no-go area … and don't forget his Richard III who murdered his nephews!
Premièred at this past summer's Edinburgh International Festival, composer Donnacha Dennehy and librettist Enda Walsh's The Last Hotel concerns the assisted suicide of a woman who seems to have everything going for her – success and family – yet pays another couple to end her life in a rundown two-star Irish hotel with one floor and one room. That's about it for eighty minutes apart from a buffet and a karaoke/disco (the first time B*Witched's 'C'est la Vie' will have been heard at the Royal Opera House?) and a silent caretaker who clambers and fusses around. He was portrayed by Mikel Murfi – a previous collaborator of Enda Walsh – but nothing would have been lost he hadn't been there. Thinking about the furore regarding An Inspector Calls what was missing was any real sense of the Woman's motivation to end it all. The husband dreams of a kitchen extension and building houses on the proceeds of others' deaths. His timid wife is locked in a loveless marriage and does not have the courage to stand up to him and so is an unwilling participant.
I know why the Husband and Wife are there but why the Woman is I was never sure. Enda Walsh's own synopsis hints how this outwardly prospering Irish woman with her own PR company was publicising a newly built housing estate when she had a small breakdown at the reception. It was there she met the Husband because he was the engineer who fitted the houses with gas. The Woman gets phone messages from her ungrateful family, which wouldn't help someone with a fragile state of mind. Towards the end Enda Walsh's somewhat banal libretto takes a surprisingly metaphysical turn. The Wife and the Woman have the best moments and the role of the Husband is underwritten. Claudia Boyle's Woman has a final lament before she decides to proceed with her plans which is so fine that my mind turned to what this piece would sound like if filleted and performed as a song cycle with chamber orchestra reflecting on the need to be loved, abandonment, loneliness and death. I suspect it would be brilliant, however, there is not much money to be made out of new opera … and there would be even less for an orchestral song setting, though Dennehy has written these in the past!
In an introduction in the programme John Fallas considers the influences on Donnacha Dennehy's compositions as minimalists including Steve Reich, Philip Glass and Louis Andriessen as well as Ireland's own musical traditions. Having during the week listened to some Britten, Tippett and Mahler I found his increasingly tension-filled, angular, highly energetic and somewhat savage score more mainstream than I might have expected. By the end it was having a visceral effect on me and I especially liked its more haunting, introspective moments. The 12-piece Crash Ensemble which included electric guitar and accordion and rampant percussion played remarkably well under André de Ridder's propulsive conducting. In the best way it can, the music often expressed the emptions the characters were either too introverted to express – or possibly Enda Walsh's libretto was unable to convey.
Jamie Varten's set opened up all of the Linbury's soon to be revamped performing space and hinted at the overall shabbiness of an establishment where guests come to kill themselves. The action – such as it was – concentrated on a central square area with some atmospheric lighting from Adam Silverman. Enda Walsh's direction involved a lot of internalising, emoting and mime and did not always successfully merge the theatre with the music of The Last Hotel. Despite the grim subject matter there was room for humour in a Woody Allen way which Walsh's libretto never successfully mined. People in the Linbury Studio Theatre laughed occasionally though I was never sure what they actually found funny.
Worst of all was the dialogue spoken in the vernacular, but of course characters sang with well-schooled voices sounding totally at odds with their speaking voices. The vocal writing tested Robin Adams's self-assured Husband with his short fuse and Claudia Boyle's chicly dressed but otherwise featureless Woman to the extremes of their highest registers. They tackled this all fearlessly but seemed over-stretched at times. It is perhaps is not a coincidence that the Wife – who is the most sympathetic of the trio – is the most sympathetically written for and Katherine Manley's was a vocally assured, well-observed and compelling performance.
We are shown a rehearsal for how the Wife will be despatched but not the final deed thankfully. A last scene takes us to a car ferry sailing back from Ireland and the Wife sings about a light from the hotel room where it was done being visible over the water. The Husband and Wife have kissed and rekindled their love; they have their money and she will get her new kitchen. The voices of the Wife and the ghostly Woman intertwine in a remarkably meditative and elegiac apotheosis as The Last Hotel fades away. I suspect Landmark Productions and Wide Open Opera were trying to contribute to the current debate about assisted suicide though I am not certain this flawed but intriguing chamber opera added anything but I recommend others to go and make up their own minds.
Jim Pritchard
For more about The Last Hotel and its future performances (including those in New York in January 2016) visit http://thelasthotel.ie/.