United States Tharp: Twyla Tharp 50th Anniversary Tour: Preludes and Fugues, Yowzie: Twyla Tharp Company, Wallis Annenberg Center for the Performing Arts, Beverly Hills, 1.10.2015 (JRo)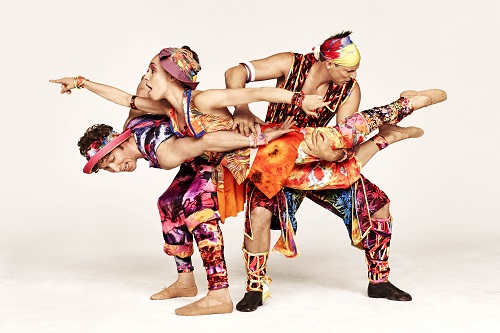 Production:
Choreography: Twyla Tharp
Music: First Fanfare and Second Fanfare: John Zorn
             Preludes and Fugues: Johann Sebastian Bach, The Well-Tempered Clavier
             Yowzie: Henry Butler/Steven Bernstein
Sets and Costumes: Santo Loquasto
Lighting: James Ingalls
Dancers:
John Selya, Rika Okamoto, Matthew Dibble, Ron Todorowski, Daniel Baker, Amy Ruggiero, Ramona Kelley, Nicholas Coppula, Eva Trapp, Savannah Lowery, Reed Tankersley, Kaitlyn Gilliland, Eric Otto
There is no choreographer who draws meaning from the simplest gestures as well as the masterful Twyla Tharp. No one gets more out of a flexed foot, the cock of a head, or the pitch of a shoulder. It's the way she achieves these seemingly effortless gestures that is at the root of her genius. Her works, as exemplified by her newest dances, Preludes and Fugues and Yowzie – created for the 50th Anniversary Tour – exist in that special space between classical ballet and contemporary movement. They combine the refinement of ballet with a modern dance vocabulary in a way that seems perennially fresh, spontaneous, and uncluttered.
In the new works, as in all her creations, her ability to surprise and delight is ever present. One might attribute it to her use of contrast: she is a master of opposites. There is tension and release – tension as defined by the rigor of classical ballet steps, release as the body relaxes into the jazzy gestures of everyday life. It is this insertion of the everyday into ballet language that creates a sense of wonder and emphasizes our common humanity. Though a dancer demonstrates technical mastery within the structure of a Tharp ballet, he or she can also shrug it off and look like the rest of us – shaking knees, dangling arms, shimmying torsos. It's as if an old tin coffee pot, placed on a lavish dinner table set with sterling silver, appears to belong there.
The first Tharp ballet I ever saw drew audible intakes of breath from the audience for precisely this reason. Mikhail Barishnikov, dancing with American Ballet Theatre in the 1970s, was astonishing audiences in classical roles with his prodigious technique. Then, in 1976, he performed in Tharp's Push Comes to Shove. His body moved with the ease of Fred Astaire.  Deadpan but hilarious, he was as human as Charlie Chaplin, and he was suddenly one of us.
The Wallis Annenberg's Bram Goldsmith Theater proves an excellent and intimate venue for Tharp's marvelous dancers – John Selya, Rika Okamoto, Matthew Dibble, Ron Todorowski, Daniel Baker, and Amy Ruggiero – to name only half of this cohesive troupe. It takes dancers of immense skill and musicality to pull off a work by Twyla Tharp. There is an overarching lyrical sweep to the movements, despite sudden juxtapositions, which can only be achieved by really listening to the score. And Tharp chooses her music wisely. After a brief introductory Fanfare with music by the witty John Zorn, we are immersed in Bach's The Well-Tempered Clavier – excerpts of which comprise the score for Preludes and Fugues. Tharp states in the program: "Simply put, Preludes and Fugues is the world as it ought to be, Yowzie as it is. The Fanfares celebrate both."
Awash in Bach's music, with elegant and muted costumes by Santo Loquasto and subtle lighting by James Ingalls, we enter "the world as it ought to be" in the company of a delightful and superbly talented group of dancers. The dances combine virtuosity with a kind of impish glee.  Nothing feels forced. There are no unnecessary contortions or excesses. What we have is Tharp's understanding of the human body and how it works, much like the visual artist who understands anatomy, so necessary if one is to abstract form to create new layers of meaning.
In one section, couples dance in ballroom-style partnerships, dipping and sweeping in circles. In a staccato section, a couple hops up and down until the girl climbs on the boy's back like two children at play. It feels like one suspended giggle. In the background, another pair cavorts, playing a Tharp version of "flying angel." Fouettés alternate with judo kicks, classic ballet exercises are interrupted by playful skipping or, in one case, shaking and shimmying. Towards the end, holding hands in a circle dance, the dancers seem peaceful, as if they are simultaneously emitting a collective sigh of contentment.
Each ballet begins with a fanfare. The Second Fanfare, also set to music by Zorn, is performed in front of translucent red sheeting. Under clever lighting, the dancers bob and dart across the stage, creating a pattern of silhouettes in front of the drape; now and then they cross behind it, producing the effect of shadow puppets. Their silhouettes – with funny hats, spiky hair, and floppy clothes – lead us into Yowzie and the zany world "as it is."
Set to a compilation of jazz tunes arranged by Henry Butler and Steven Bernstein, Yowzie opens on a rollicking, but immensely human, "drunken" pas-de-deux, performed with uncanny brilliance by Rika Okamoto and Matthew Dibble. The cast is dressed in a mélange of costumes – a touch of tie-dyed American hippie, a bit of vaudevillian clown, a rift on haute couture, and an amalgam of what looks like Southeast Asian, Indian, and Mayan bits and pieces – creating a colorful parade of cartoon fashion. Loquasto also designed a vivid abstract painting, hung high and serving as an immense backdrop, much like a billboard with the feel of James Rosenquist.
As for the dancing, there are pratfalls, ragtime struts, slow motion sequences, bursts of jitterbug, boxing thrusts, LSD tripping, flirting, vamping, abandonment and loss, and imaginative choreography as only Twyla Tharp can create. It's all heartwarming and glad-making, even when we recognize the frailty of human existence within this circus of life. We feel the pleasure and pain of being alive. So take someone you love and head to the Wallis for one of the most exhilarating and poignant productions you'll see all year.
Jane Rosenberg