United Kingdom Bizet, Carmen: Soloists and Royal Opera Chorus, Orchestra of the Royal Opera House / Bertrand de Billy (conductor). Royal Opera House, Covent Garden, London. 19.10.2015 (JPr)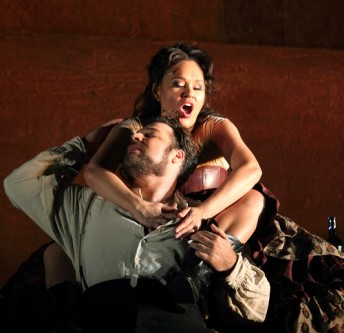 Bizet, Carmen
Cast:
Carmen: Elena Maximova
Don José: Bryan Hymel
Escamillo: Alexander Vinogradov
Micaëla: Nicole Car
Frasquita: Vlada Borovko
Mercédès: Michèle Losier
Le Dancaïre: Grant Doyle
Le Remendado: Timothy Robinson
Zuniga: Nicolas Courjal
Moralès: Samuel Dale Johnson
Production:
Director: Francesca Zambello
Revival director: Duncan Macfarland
Designs: Tanya McCallin
Lighting design: Paule Constable
Choreography: Arthur Pita (revived by Sirena Tocco)
Fight director: Mike Loades (revived by Natalie Dakin)
I start with the quote from the beginning of my review in 2006 when Francesca Zambello's production first appeared – 'A chicken, a donkey and a beautiful black stallion … what no bull? Well quite a lot actually. Raymond Gubbay's "in-the-round" crowd-pleasing extravaganzas at the Royal Albert Hall have had quite an effect on Covent Garden … Carmen [has] tried to bring some of that "spectacle" to the Royal Opera House stage. No expense spared, never have one extra chorus member or actor when you can have two.' It is now 2015 and Carmen has long passed the 500 mark in its long history of performances at Covent Garden (only the second opera to do so), it – and this staging's – popularity is enduring. Only one question remains … where are those chickens mentioned in the cast sheet, I have seen this Carmen a few times but never spotted them?
Once again, this Spanish-themed opera by Bizet, a French composer, has a multi-national cast led by a Russian mezzo-soprano and an American tenor, backed-up by more Russian singers and others from Australia and Canada. Including the conductor there were two Frenchmen and only one solitary Brit – Timothy Robinson as Le Remendado – though I was recently reminded by a singer that Stanislavsky considered there are no small parts, only small actors.
Thanks to the revival director, Duncan Macfarland, most of the four acts all worked better than it seemed to before and he has brought a slice of real life to Seville. Act I takes place against the backdrop of Tanya McCallin's stage deep ochre-coloured adobe walls that create the town square with an orange tree at its centre, and a long, narrow, water trough stage right. During the scene-painting prelude to Act I there is a flash-forward as we see Don José somewhat Florestan-like in his cell before being hung. For me there have always been hints of Goya, despite the mid-nineteenth century look to the costumes. I have commented before about how many people there are milling around; too many cigarette girls, all the smoke, but little sense that we were in a real Spanish location. However all doubts now vanished because thanks to Duncan Macfarland's revival it was clear that a lot of work had gone into giving every single person on stage their own 'character' … everyone seemed to know what their purpose for being there was and they stuck to it wonderfully. This extended especially to the children who have annoyed me before with their antics but all concerned from the Royal Opera House Youth Opera Company were enjoying themselves immensely and were supremely accomplished.
The inn, the mountains and outside the bullring settings are all efficiently achieved by a rearrangement of the essentially tripartite, large and suitably dusty 'walls'. Lillas Pastia's tavern seems as ever to be the Iberian equivalent of the 'Queen Vic' where everyone appears to be having a good time but an argument ending in a punch-up can be expected at any moment. Into this Escamillo enters on his tall black stallion and later the smugglers leave carrying their crates of 'Explosivos'! The Act III encampment has genuine fires and Paule Constable's atmospheric lighting helps a lot to depict a mountain pass with some smugglers abseiling down the 'cliff face' stage left. The fight between Don José and Escamillo needed more work and has never looked more like 'handbags at dawn' than it did here. The last act is fairly traditional and even the cartwheeling and somersaulting Billy Elliott wannabe seemed more integrated into what we seeing and the procession appeared to have more of a spectacle to it. Eventually Carmen enters on horseback, a large Madonna figure is brought on stage to be venerated and everyone goes into the bullring to leave Carmen and Don José to play out the last moments of their characters' doomed affair.
There are a number of significant moments that continually catch the eye starting with Carmen's intimate caressing of herself, as well as, the flower she will throw at Don José who is just the 'victim' she sets her sights on from their first encounter. In Act II she wraps her legs around his head and lifts her skirt over it and the erotic simplicity of the gesture involves everyone in their passion – as does a comparable moment of them alone in Act IV draw you into what fate has in store for her … or at least it should, but more of that later. I also noticed a couple of other wonderful things for the first time, such as, when Micaëla halts at the rear of stage to check that Don José reads the letter she has brought him from his mother. Before exiting, she overhears him exclaiming he will marry her … that is until Carmen bewitches him! Then in Act II one of the gypsies swoons at the feet of the torero Escamillo. These small incidents –  together with everything else I have praised – suggests great care has been taken with this fifth revival and this Carmen will undoubtedly be back again.
You might be getting the impression that everything was perfect and it was up to a point – for me that 'point' was Bryan Hymel's 'Flower Song' near the end of Act II. I am certain he was not 100% and will give him the benefit of the doubt. I was enjoying his sturdy vocalism up till then but something went awry during this pivotal aria and for whatever reason I thought his acting and singing never seemed to recover. So much so, that his final confrontation with Carmen in Act IV – when he should explode and appear on the verge of insanity – was a damp squib. This Carmen would never have allowed this Don José to overpower and kill her … she would have swatted him like a midge.
Elena Maximova was the embodiment of Carmen as the immoral, captivating and sexually rapacious gypsy girl of any heterosexual male's dreams. Every movement, look and lift of her skirt, was calculated for maximum impact on the idiot of the species. Like most of her colleagues Maximova's French diction was not the best but she is a genuine mezzo-soprano and I liked the sultry smokiness of her voice that was never better than in the Habanera. Carmen's final exhortation 'Jamais Carmen ne cédera!  Libre elle est née et libre elle mourra!' ('No, no!  Carmen will not give way! Free she is born and free she dies!') should always be the perfect summation of all that has gone before: while there was great chemistry with Bryan Hymel to begin with, it had dissipated by this point in Act IV and this fatal denouement failed to register significantly.
The only singer totally at ease in French was Nicolas Courjal returning to this production as the randy lieutenant Zuniga. The most complete characterisation was Nicole Car's beguilingly innocent Micaëla; her subtlety nuanced phrasing brought pathos and emotional resonance to her purely sung contributions. Alexander Vinogradov looked more comfortable on his horse than some of his predecessors and his 'Toreador, en garde!' was suitably full of braggadocio and inflated self-importance. It had that typically dark sound of a Russian bass but overall he was one of the better recent Escamillos. The smaller roles were as well-prepared as everything else seemed to have been: Vlada Borovko and Michèle Losier were a pair of high-spirited foils for Carmen as Frasquita and Mercédès, with Grant Doyle and Timothy Robinson having fun as the conspiring smugglers, Le Dancaïre and Le Remendado.
Paris-born Bertrand de Billy was also returning to this Carmen and – as he should – appeared to have the music in his blood. For the most part he brought out the best in his orchestra and a perfect balance and ensemble between stage and pit. There was plenty of Spanish sun, passion and 'blood and sand' in his helter-skelter account that brought the opera to a close about 15 minutes short of the advertised running time. I felt he lost a little confidence in his singers after the interval and both for them and him things will settle down during the remaining 12 performances with their varied casts (and a change of conductor) including two outings by Jonas Kaufmann returning as the all-too-easily seduced young corporal Don José.
Jim Pritchard
For more information about this Carmen and any Royal Opera performances visit www.roh.org.uk.