Germany Mozart, Le Nozze di Figaro: Staatsoper Berlin Orchestra and Chorus, Gustavo Dudamel (conductor), Schiller Theater, Berlin, 13.11.2015 (JMI)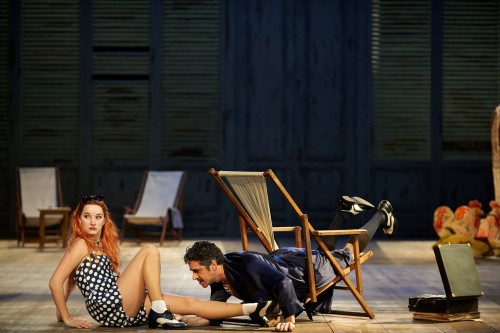 Mozart, Le Nozze di Figaro
New Production:
Direction: Jürgen Flimm with Gudrun Hartmann
Sets: Magdalena Gut
Costumes: Ursula Kudrna
Lighting: Olaf Freese
Cast:
Figaro: Lauri Vasar
Susanna: Anna Prohaska
Countess: Dorothea Röschmann
Count: Ildebrando D'Arcangelo
Cherubino: Marianne Crebassa
Marcellina: Katherina Kammerloher
Don Bartolo: Otto Katzameier
Barbarina: Sonia Grané
Basilio: Florian Hoffmann
Don Curzio: Peter Maus
Antonio: Olaf Bär
This new production is by Jürgen Flimm, the artistic director of the Staatsoper Berlin. He is also a renowned director whose production of Wozzeck at La Scala has been unanimously praised. The action has been moved to the 1920s and Count Almaviva's summer house where, during the overture, we observe the arrival of the Almavivas and their entourage. The production follows the path of good humour, with the Count cast as an immature Latin lover, one who reminds me a lot of Adriano Celentano and his films. In fact, Count Almaviva eventually becomes the real protagonist here. Another striking aspect of the production is the almost constant presence on stage of Cherubino and Barbarina, the latter played as a pretty teenager ready to meet anyone and everyone. The direction of the actors is excellent, and the audience has a very good time.
The stage is basically the same for the first three acts: a large salon that opens up at the back in the final act to present a sloping countryside. The costumes are always attractive and appropriate, and those for the chorus are particularly fun.
A big attraction of these performances is the presence on the podium of Gustavo Dudamel, conducting a new production in Berlin for the first time. Mr. Dudamel's conducting was careful, attentive to detail and, above all, very friendly to the singers, who were never covered. This Nozze di Figaro was characterized by the immense care with which the recitatives were handled, and it set an example for any other performance of the opera. I suspect that this treatment of the recitatives has much to do with the presence of Gustavo Dudamel. As usual, the orchestra was excellent.
Ildebrando D'Arcangelo was an exceptional Count Almaviva or, rather, an exceptional interpreter of Count Almaviva the Latin Lover as envisioned by Jürgen Flimm. His mastery of recitatives was exceptional, and his aria was impressive.
Figaro was, for my taste, the least convincing member of the cast: baritone Lauri Vasar's voice has less weight than what this character demands. His singing was a little monotonous, and he had a tendency to sing forte.
Soprano Anna Prohaska has become one of the public's favourite artists at the Berlin Staatsoper, and she reconfirmed this here. Her Susanna was superior in terms both of singing and acting.
Soprano Dorothea Röschmann was well-suited to the role of Countess. There's no question that she has been one of the leading Mozart sopranos in recent years, and she continues to offer impeccable style and a beautiful voice in the middle range. Her high notes are tighter now, but she knows it and used some alternatives to avoid them in Act II. Her rendering of "Porgi amor" was excellent, but in "Dove sono" her sounds were too open at the high notes. Her recitatives were ideal.
The audience loved mezzo soprano Marianne Crebassa as Cherubino. As I mentioned, her presence on stage is almost constant, and she gave a terrific performance. I was really impressed by her singing in "Non so più" but less so with "Voi che sapete." She is a very promising young singer.
Katharina Kammerloher was a rather young and vocally fresh Marcellina, more than is usual in the character. She had the disadvantage of not being very credible, given her age, as the mother of Figaro; and the advantage of being able to sing the aria "Il capro è la  capretta," where she was at her best. Otto Katzameier was a rather modest Don Bartolo. Young soprano Sonia Grané was a fine Barbarina, a credible performer in what is in this case a demanding role.
In the less important characters Florian Hoffmann was a serviceable Basilio, while Peter Maus was a correct Don Curzio. Veteran baritone Olaf Bär was Antonio, and his voice is now rather small.
José Mª. Irurzun