Switzerland  Benjamin Britten: A Midsummer Night's Dream, Chorus of the Geneva Grand Théâtre (Chorus Master: Alan Woodbridge), Maîtrise du Conservatoire Populaire de Musique de Genève (direction: Magali Dami and Serge Ild), Orchestre de la Suisse Romande, Steven Sloane (conductor), Grand Théâtre de Genève, 20.11.2015  (AL)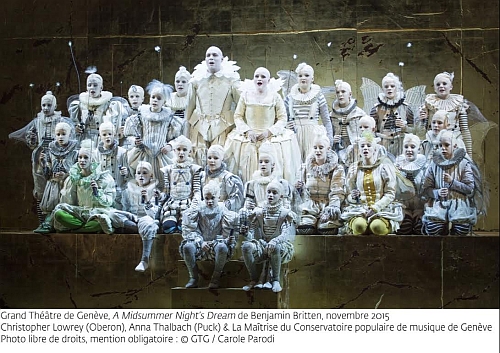 Cast:
Oberon: Christopher Lowrey
Tytania: Bernarda Bobro
Puck: Anna Thalbach
Theseus: Brandon Cedel
Hippolyta: Dana Beth Miller
Lysander: Shawn Mathey
Demetrius: Stephan Genz
Hermia: Stephanie Lauricella
Helena: Mary Feminear
Bottom: Alexey Tikhomirov
Quince: Paul Whelan
Flute: Stuart Patterson
Snug: Bengt-Ola Morgny
Snout: Erlend Tvinnereim
Starveling: Michel de Souza
Production:
Director: Katharina Thalbach
Sets and Costumes: Ezio Toffolutti
Choregraphy: Darie Cardyn
Lighting: Ezio Toffolutti and Simon Trottet
Which matters most: Shakespeare or Britten, story or music, staging or singers?
Yesterday evening at the premiere of A Midsummer Night's Dream, these questions became irrelevant. There was much unity and harmony among the participants, and the winners were in the audience. This was a labor of love. This was opera as it should be.
Much was due to the imaginative staging of Katharina Thalbach, daughter of Swiss director Benno Besson, and to the sensual, shapely settings of Ezio Toffolutti. Thalbach's obvious care for the special character of the work was notable. She used lots of clever touches to ensure that everyone was well defined. There was action but not saturation, and a good balance between fun and tenderness. One particularly appealing scene came at the beginning of Act III when Oberon expressed regret that things had gone so far.
Much was due to the solid conducting of Steven Sloane. The orchestra played well for him. While premieres sometimes display signs of a work in progress, the music here was delivered with confidence and well defined. Unusually for such a big hall, the individual contributions of the musicians could be enjoyed, from the trumpet to the cembalo/celesta performed by the multi-talented Chorus Master, Alan Woodbridge. I could not see who played the flute, but the solos in the third act were done with authority. The opera includes many ensembles, and all of them worked well together.
And much was due to the balanced casting. All the couples were nicely matched (with perhaps particular strength in the Hermia of Stephanie Lauricella). The Act III reconciliation quartet had a Mozartian feeling; the exchanges of Oberon and Tytania had a Purcellian clarity and poise; and Bottom and his friends displayed a Gilbert and Sullivan glee. The children of the Maîtrise du Conservatoire Populaire de Musique sang well and enjoyed being on stage; their concluding chorus with Oberon and Tytania was lovely. The sonorous Alexey Tikhomirov who sang Bottom may be Russian, but his English and everyone else's was fine. Anna Talbach, daughter of the producer, was expressive and fun as Puck.
A few patrons did not resume their seats after the interval. Perhaps they were expecting Puccinian feelings or Wagnerian bombastic music and were confused by the subtlety of Britten's multi-layered writing. The vast majority of the audience greeted the artists with unusual enthusiasm. As was the case when I attended the premiere of Lulu at the Met, the arrivals on stage of the conductor and director were met with genuine enthusiasm.
The work will be repeated until the end of the month. Do not miss it. This may be simply the most satisfying production of the Grand Théâtre in recent years.
Antoine Lévy-Leboyer