United States Bellini: Norma, LA Opera, James Conlon (conductor), Dorothy Chandler Pavilion, Los Angeles, 21.11.2015 (JRo)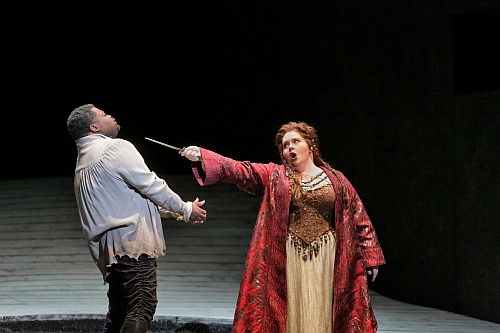 Cast:
Norma: Angela Meade
Adalgisa: Jamie Barto
Pollione: Russell Thomas
Oroveso: Morris Robinson
Clotilde: Lacey Jo Benter
Flavio: Rafael Moras
Production:
Librettist: Felice Romani
Conductor: James Conlon
Director: Anne Bogart
Set Designer: Neil Patel
Costume Designer: James Schuette
Lighting Designer: Duane Schuler
Chorus Director: Grant Gershon
Choreographer: Barry O'Hanlon
Last night in Los Angeles, Angela Meade, in the title role of the Druid high priestess, and Jamie Barton as Adalgisa sang Bellini's bel canto masterpiece to sublime effect. If the staging seemed a bit flat, the celestial singing of Meade more than compensated for the scenic and dramatic deficiencies. Notoriously demanding for a soprano, Norma's part requires elaborate ornamentation, tender lyric grace, and unforced vocal power. In the second half of the twentieth century, Callas and Sutherland set the standard for the role. Meade may, in fact, become the Norma for this century.
There is minimal action in the opera. Most scenes take place in and around a Druidic temple in Gaul in 50 BC. And although there is talk of rebellion against the Roman occupying force, there are no violent clashes. Even the romantic triangle of Norma, Pollione, the Roman proconsul, and the young priestess Adalgisa offers little in the way of steamy embraces. These are priestesses, after all, who have taken vows of chastity. In order to turn the static into the active requires sensitive staging, superb direction, and, above all, singers of the highest quality.
The singing delivered from start to finish. Meade floated dreamily through one of opera's most famous arias for soprano, "Casta Diva" – a prayer to the chaste goddess – translating its sounds and colors into nocturnal sighs.
Every Norma needs an Adalgisa who can match her vocal power and agility, and Meade was complemented superbly by Jamie Barton. Their Act II duet, "Mira, O Norma," after Norma has pleaded with Adalgisa to flee to Rome with Pollione and become stepmother to her children, was the kind of music making one dreams of. Elsewhere  ̶  in her earlier solo of Act I, in her duet with Pollione, and in her Act I scene with Norma when she confesses her love for Pollione  ̶  her voice exuded a buttery warmth and sumptuous tone.
In the moments that follow Adalgisa's confession, when the women discover that they are both in love with Pollione, Russell Thomas as the Roman proconsul joined them in an impassioned trio. It was the perfect marriage of orchestra and voice as Thomas matched the power of the formidable Meade and Barton. The character of Pollione, an un-heroic, fickle lover, is far less nuanced than the soprano roles, but Thomas and his ringing tenor managed to bring a tortured yet determined quality to the part, whether in his scenes with his friend, Flavio, or in his anguished duets with Adalgisa or Norma.
In Felice Romani's libretto, which is based on a play by Alexandre Soumet, themes of love, betrayal, and forgiveness arise; but it is through forgiveness that the opera reaches its emotional heights. Norma forgives Adalgisa, realizing that she is the innocent victim of Pollione's deceit. Adalgisa, who loves Norma like a mother, turns her back on Pollione and blooms with tenderness towards Norma. Here we have a story of sisterhood – perhaps the first feminist opera. And Norma, jilted by the father of her children, attempts, like Medea, to kill them. Unlike Medea, Norma's rage is tempered by reason. How can she kill the innocent victims of Pollione's deceit? In sparing them, she must to some extent forgive her lover. And at the opera's conclusion, their rekindled love, thanks to Norma's forgiveness of Pollione, gives them the strength to face the flames together as human sacrifices.
Before she mounted the pyre, Norma asked her father, Oroveso, to guard her children and forgive her sins. Sung majestically by Morris Robinson, Oroveso was an imposing presence with the charisma to convince us of his stature as Archdruid. Robinson's lustrous bass shone through in his scenes with the LA Opera Chorus, who delivered the beauty of Bellini's score in all its potency.
The one element that detracted from the quality of this cast was the awkwardness of the staging and direction by Anne Bogart. Though attractive, the abstract set proved difficult for the soloists and chorus to navigate. A handsome but severely raked floor, with a circular hole in the middle for the Druid priestesses to congregate and for Norma's children to inhabit, made relaxed movement nearly impossible. Consequently, everyone advanced cautiously, like chess pieces on a board. The only real action came from a group of female dancers dressed in Isadora Duncan-like white robes. Compelling at first, the choreography soon deteriorated into cliché and distraction. High buildings on either side of the stage, one representing a wooden Druid structure with tall timbers leaning against it, the other a Roman guardhouse, added to a feeling of spatial compression – another element impinging on the movement of the cast.
Costumes were an amalgam of styles: gold helmets and breastplates for the Roman soldiers, an unfortunate rubbery leather overcoat with epaulets for Pollione, long robes for the Druids, and gowns for Norma and Adalgisa that were tightly cinched at the waist with gold material resembling chain-mail. No one seemed particularly at home in the costumes, and this may have added to a certain lack of grace on the part of the singers.
Though the sets by Neil Patel were trying hard to veer away from the cliché of omnipresent Mother Nature, they were perhaps too sterile for this passionate story. Had the lighting of Duane Schuler been warmer and used to more dramatic effect, it might have helped frame the action more profoundly.
Nevertheless, Angela Meade and company, with the orchestra under Maestro Conlon, were lit from within with enough fire to make this a stirring and memorable night of bel canto at its finest.
Jane Rosenberg