Switzerland Puccini: La Bohème: Soloists, Chorus of the Zurich Opera, Philharmonia Zurich, conductor: Giampaolo Bisanti, Zurich Opera, Zurich. 1.11.2015 (JR)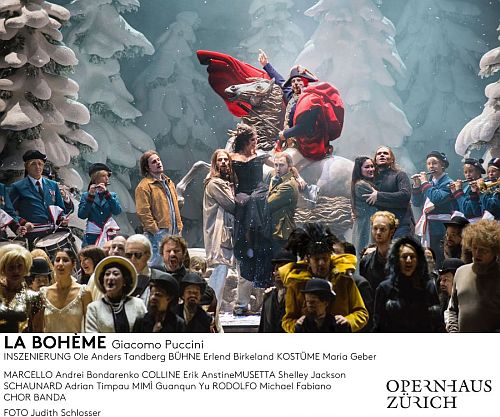 Production:
Director – Ole Anders Tandberg
Sets – Erlend Birkeland
Costumes – Maria Geber
Lighting – Franck Evin
Chorus – Ernst Raffelsberger
Dramaturgy – Fabio Dietsche
Cast:
Rodolfo – Michael Fabiano
Marcello – Andrei Bondarenko
Schaunard – Adrian Timpau
Colline – Erik Anstine
Mimi – Guanqun Yu
Musetta – Shelley Jackson
Benoit – Pavel Daniluk
Alcindoro  – Valerij Murga
Parpignol – Tae-Jun Park
Sergente – Charles Dekeyser
Doganiere  – Bastian Thomas Kohl
The critics will, I suspect, not be seeing eye to eye over Ole Anders Tandberg's new production of La Bohème for Zurich Opera. It's one to love or hate, but before I come to discuss the production, let's start with something less controversial, the voices.
Michael Fabiano is a much-heralded American tenor, who has sung or is about to sing many of the major tenor roles at some of the world's leading opera houses so I was keen to hear what the fuss is all about. (He will, incidentally, return to Zurich to sing the Duke in Rigoletto). His voice certainly suits Italian opera, his tenor is loud (sometimes too loud for a small house), firm and accurate – I missed though some beauty of tone and character. Guanqun Yu has a pure angelic voice at the top but little volume at lower registers, still it's well suited to Liu in Turandot which she sang at the Bregenz Festival and to the role of Mimi. She was evidently surprised at the (fairly) warm reception she received at the final curtain, and almost reduced her to tears.
Shelley Jackson as Musetta was the most relaxed on stage and employed her thespian skills to the full. Her voice was slightly asthmatic at the top and not in the same league as Yu's. I was taken with Ukrainian baritone Andrei Bondarenko, a Cardiff Singer of the World in 2011. It's good to see him on a major opera stage. The two other Bohemians were very competently sung and acted, particularly Erik Anstine in his charming farewell aria to his old coat "vecchia zimarra, senti".  I refrain from commenting on the vocal contribution of the chorus as their stage antics were utterly distracting. This brings me neatly to the production.
The Norwegian producer tells us in the programme that he and his set designer, when young, both harboured dreams of living and working in Paris; this influenced their decision to show the poverty of the artists graphically (I liked the take-away pizzas and a bag of ready-washed salad which are saved for later consumption when Schaunard comes home with some money) contrasting the glamour and luxury of Paris life as though in a dream.  The way to achieve this is by having a stage set up at the back of the main stage – to look, apparently, like part of a Norwegian house rather than a Parisian garret, the Bohemians teaming up to write and present a play on Parisian life. Certainly, any memories of the old romantic Zeffirelli production are ditched.
The play which the young artists produce is shown as comically inept, with ridiculous paper costumes, silly walks and amateur acting. It does the opera no favours. The entire chorus is dressed up as Parisian icons of the past; the costume designer must have had a ball and a large budget. We saw on stage look-a-likes of Lagerfeld, Aznavour, Belmondo, Bizet, Bardot, Chanel, Dali, Piaf, Picasso, Proust, Sartre, Saint-Laurent, Tati and Zola. The childrens' chorus are dressed as miniature Toulouse-Lautrecs, which they much enjoy (they sing well too, especially the soloist). Santa Claus (thankfully non-singing) makes an appearance amidst tumbling snow and snow-laden fir trees, as does Rodin's "Thinker", eerily moving; Rodolfo appears topless wearing a wolf's head whilst Mimi is Little Red Riding Hood. By the time Napoleon appeared on a horse surrounded by a his cross-bow carrying army,  I lost the plot and my will to live. There were, at least, some laughs: in the café, the waiters (also at some stage with wolf masks) carry geese which vomit what one hopes is foie gras onto their customers' plates.
The final scene is played fairly straight, except that the rear curtains part after Mimi's death to show the wintry scene from Lapland and an open door which slowly shuts.  A short life has come to an end. Some of the audience were ecstatic when the production team appeared, I suspect friends of theirs from Norway; most of the audience seemed bemused and unsure how to react, but there were however no audible boos – but this is courteous Zurich.  It is a production in which there is an awful lot to watch and take in but in my view less would have been more.
The conductor took a high voltage view of the work; the orchestra dutifully complied.
I left the theatre unmoved; perhaps it had all been a dream, one day after Halloween?
John Rhodes