United Kingdom Carlos Acosta's Carmen (part of a mixed bill including Viscera, Afternoon of a Faun and Tchaikovsky Pas de deux): Soloists, Corps de ballet and Royal Opera House Orchestra / Emmanuel Plasson and Martin Yates (conductors). Directed for the screen by Ross MacGibbon and broadcast to the Empire Cinema, Basildon, Essex. 12.11.2015. (JPr)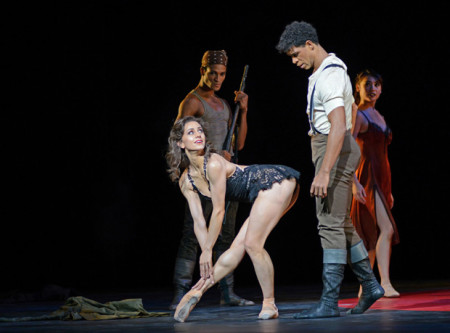 Viscera
Soloists: Laura Morera, Marialena Nuñez, Ryoichi Hirano and Solo Piano: Robert Clark
Choreographer: Liam Scarlett
Music: Lowell Liebermann
Costume designer: Liam Scarlett
Lighting designer: John Hall
Afternoon of a Faun
Soloists: Sarah Lamb and Vadim Muntagirov
Choreographer: Jerome Robbins
Music: Claude Debussy
Costume designer: Irene Sharaff
Set designer and original lighting designer: Jean Rosenthal
Lighting design recreated by Les Dickert
Tchaikovsky Pas de deux
Soloists: Iana Salenko and Steven McRae
Choreographer: George Balanchine
Music: Pyotr Il'yich Tchaikovsky
Costume designer: Anthony Dowell
Lighting designer: John B Read
Soloists: Iana Salenko and Steven McRae
Carmen
Performers: Marialena Nuñez (Carmen), Carlos Acosta (Don José), Federico Bonelli (Escamillo), Matthew Golding (Fate), Artists of The Royal Ballet, Royal Opera Extra Chorus and Fiona Kimm (mezzo-soprano) as the Fortune-teller.
Choreographer: Carlos Acosta
Music: Georges Bizet arranged and orchestrated by Martin Yates
Designer: Tim Hatley
Lighting designer: Peter Mumford
This was Carlos Acosta's farewell to The Royal Ballet after 17 years. Perhaps classical ballet has taken its toll on his body more than we know or he has fallen out of love with it. Because 42 is no great age and generally there is no reason for his physical resources to be any less than five or even ten years ago. He could have chosen something much better to leave the Covent Garden main stage with than his own Carmen which suggested he is not a great choreographer yet. His desire to set up his own contemporary dance company in his native Cuba is admirable but it seems a risky career move. Of course, it is just the start of a long goodbye as he will be on stage at the London Coliseum in December in a classical programme that will tour the UK – and internationally I suppose – next year.
For whatever reason in this cinema broadcast of his own ballet he looked very uncomfortable – and slightly ridiculous – in a poorly-fitting tunic and cap as Don José. Carlos Acosta only smiled and showed some of the charisma we know he has when receiving an ovation at the end of evening for his work for The Royal Ballet since 1998. Having thanked his former colleagues and his wife he finished with some inspirational words for future generations of dancers when he told them 'Allow yourself to make mistakes. There is nothing like right or wrong;  there is no such thing as failure because life is a learning process. So be curious and enjoy, enjoy, enjoy because one day you blink and you realise that 70 years have gone by.'
His Carmen is not a total disaster and there are about 30 good minutes padded out to a running time of 59 minutes. More significantly, this production is possibly not revivable without the drawing power of Carlos Acosta himself. It mixes ballet with other genres and at times looked a little like Strictly Come Dancing does Carmen. This was clearly Acosta's aim as during a backstage video he said he wanted to 'create a work that feels fresh and new, and doesn't read like a dance piece: it's more like a theatrical piece that involves different art forms, not just dance'. We are not certain where we are but it is somewhere Hispanic, there is a vast circle at the back which is sometimes seen as a huge moon and later lowers to become a bullring to encircle the denouement of this Carmen with blood-red flowers. Lurking at the back of the stage is Fate, Matthew Golding as a Minotaur with the horns of a bull.
The familiar story is filleted to just concentrate on Carmen, Don José and Escamillo and what fate has in store for them. Carmen is a just a free sexual spirit and taunts all the men around by lifting her cape-like red skirt and frequently splaying her legs. Don José is totally ineffectual and is obliged to imprison her when she attacks a jealous woman with a knife. Hinting at the Scarf Duet from La Bayadère she reins him in with the chains that binds her. In the realm of the bandits Don José is shown as an extremely reluctant deserter but is made to shoot someone passing by. Cue a tormented duet with Carmen which is inflicted by sexual passion. This is to entr'acte music from Carmen part of a score somewhat emasculated by Martin Yates from Bizet's original.
After a strange pause a number of dancers and an opera chorus (there is some strange interpolated singing) gather for a flamenco-style fiesta. Celebrity toreador Escamillo enters, leaps about, and soon Carmen is all over him like a rash. Their duet is interrupted by a needy and insecure Don José and he feels spurned by Carmen and they duel – rather more than duet – to the 'Flower Song' as Don José cannot let her go. For some reason everything stops for an unnecessary fortune-telling scene with a gypsy (mezzo-soprano Fiona Kimm), a guitarist and Carmen's two girlfriends, whom we could not care less about. The cards reveal that Carmen is fated, the Minotaur comes forward to finally become involved and he lifts her with his horns. At long last it is time for the finale and there is lots of rolling about on chairs to the Habanera. Then Escamillo enters ready for his bullfight. Finally there is some real drama and Don José gets an anguished solo and Carlos Acosta is at last brilliant in showing a man on the brink of insanity: he has to stab Carmen but is shattered by having to. The Minotaur claims her dead body as the ballet ends.
The corps de ballet performed enthusiastically throughout. Carlos Acosta was only at the very end the dramatically compelling performer we know he can be. Prior to that he seemed rather bemused whilst as actual dancer his basic physical resources appeared undiminished. Federico Bonelli embodied well the vainglorious Escamillo but like too many of Royal Ballet's current leading dancers he is not a great actor. This criticism cannot be levelled at Marianela Nuñez as Carmen who was outstanding and brought the grace and naturalness of contemporary dance to her believable portrayal of a sexually rapacious character.
The rest of the programme paled in significance compared with Carlos Acosta's last main stage performance for The Royal Ballet (he will dance in the Linbury Studio Theatre in the New Year). What it did was to highlight the current lack of depth in talent because of previous defections, injuries and retirements. I suspect they will lose their superstar ballerina Natalia Osipova soon because she has expressed a wish to dance more with current boyfriend Sergei Polunin who is unlikely to be welcomed back by The Royal Ballet.
The title of Liam Scarlett's Viscera was explained by the choreographer as meaning 'your insides or your guts. It's probably not the most balletic word but it really gives that sense of visceral nature — it's powerful, gutsy and raw. There's no taking it easy in this ballet'. In three parts there are two perpetuum mobile-like movements of Lowell Liebermann's First Piano Concerto (well played by Robert Clark) bookending a languorous, slow movement duet for Laura Morera and Ryoichi Hirano. The rhythmically fast sections showed the corps de ballet not always in perfect unison, but Marianela Nuñez impressed with her flashing eyes and exquisite technique.
Jerome Robbins's Afternoon of a Faun followed and is set in a rehearsal studio with two self-conscious dancers practicing a pas de deux to a mirrored wall and almost – but not quite – making a romantic connection. He kisses his partner on the cheek and she bourrées away. Vadim Muntagirov (who surely must be wishing he had stayed with the English National Ballet) was an eye-catching 'faun'   and his movement is occasionally a homage to Nijinsky's 1912 ballet to the same music, Debussy's Prélude à l'après-midi d'un faune. Sarah Lamb as the ballerina seemed a little uncertain at times and her Stepford Wives look rarely shows any emotional engagement with what she is dancing.
George Balanchine's Tchaikovsky pas de deux completed the mixed bill and is just a bravura gala bonbon to some rediscovered Swan Lake music. Iana Salenko sparkled until she might have slightly tired towards the end. Steven McRae was his usual athletic self, but I find his dancing – I'm sorry – little more than gymnastics to music.
Finally I must praise the Orchestra of The Royal Opera House for their fine playing throughout, under firstly Emmanuel Plasson and then Martin Yates for Carmen. I also need to single out Fiona Bruce as a consummate and friendly host for this cinema relay; her co-presenter, Darcey Bussell, was too coquettish and gushing in comparison.
Jim Pritchard