Germany Korngold: Die Tote Stadt: Frankfurt Opera Orchestra and Chorus, Björn Huestege (conductor), Opernhaus, Frankfurt, 6.11.2015. (JMI)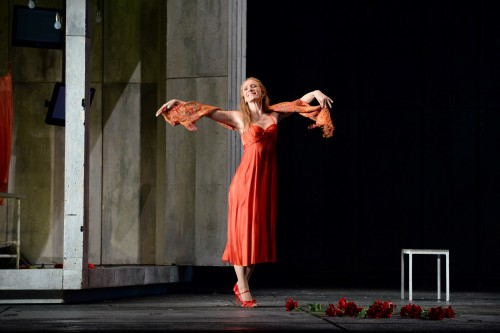 Korngold, Die Tote Stadt
Production:
Direction: Anselm Weber
Sets:  Katja Hass
Costumes: Bettina Walter
Lighting: Frank Keller
Choreography: Alan Barnes
Videos: Bibi Abel
Cast:
Paul: David Pomeroy
Marietta/Marie: Sara Jakubiak
Frank/Fritz: Björn Bürger
Birgitta: Maria Pantiukhova
Juliette: Anna Ryberg
Lucienne: Jenny Carlstedt
Victorin/Gaston: Michael Porter
Count Albert: Hans-Jürgen Lazar
Should the Frankfurt Opera not have already won the title "Opera of the Year," this production of Die Tote Stadt would have clinched it. It was a performance with no big names in the cast and neither a well-known conductor nor  a famous director. But in spite of this, the Frankfurt Opera has achieved a great night of opera, which can only be done by an exceptional company.
This Anselm Weber staging premiered here six years ago. The German director has done several productions in Frankfurt, but he is virtually unknown outside the country. It's a very appealing production and perfectly comparable to one by Willy Decker that I've had the opportunity to see several times. The set consists of an ample space enclosed by walls, with a giant cube on the left where all the mementos of Marie are stored. In the second act the cube is raised and the stage is left empty to facilitate the evolution of Marietta's troupe. The costumes are original and attractive, and the lighting works well. To this should be added remarkable choreography and video projections. It's a shame that the set is not closed at the top, which would have helped with the voice projection  ̶  very important in this opera with its rich orchestration.
Mr. Weber's direction is outstanding, offering compelling scenes of the protagonist's nightmares and dreams, and maintaining the tension in the audience. I always believed that the Willy Decker production would be definitive, and I can't say that the Weber is better, but it does not fall below.
The musical direction had been in the hands of Sebastian Weigle, but on this evening he ceded his place on the podium to Björn Huestege, a conductor unknown to me whose reading was a pleasant surprise. Mr. Huestege did a splendid job, drawing an outstanding performance from the orchestra. The only fault I found is that he sometimes abused the orchestral volume, but that is almost inevitable in this opera.
The protagonist, Paul, must contend with a score that presents huge difficulties. The part is very demanding on the high notes and requires a genuine heldentenor. Canadian tenor David Pomeroy gave a superior performance, overcoming all the problems in the score. He lacks some vocal power and a more sonorous bottom register, but he has much to offer.
Something similar can be said of American soprano Sara Jakubiak, whose performance as Marieta and Marie was terrific. She has an attractive voice with enough power in the middle, but she falls a little short on the low notes. I should highlight her interpretation of the famous 'Marietta's Song'.
The two leading roles were excellent, but the great discovery of the evening was Norwegian baritone Björn Bürger as the characters Frank and Fritz. This role is a real gift for a lyric baritone, who gets to sing the exquisite song of Pierrot. Bürger has a beautiful voice, ample and well-handled, and he sings with gusto and expressiveness. He would be an exceptional baritone in Mozart operas. There's no doubt that we will be hearing more from him.
Mezzo-soprano Maria Pantiukhova was well-suited to the role of Birgitta, with a voice that is attractive in the middle but somewhat weak below..
The secondary characters were a real treat. Juliette and Lucienne were nicely played by Anna Ryberg and Jenny Carlstedt. Michael Porter (Victorin and Gaston) and Hans-Jürgen Lazar (Count Albert) did equally well.
Jose M. Irurzun