United States The Art of Falling: Hubbard Street and The Second City, Ahmanson Theatre, Los Angeles, 6.11.2015-8.11-2015. (JRo)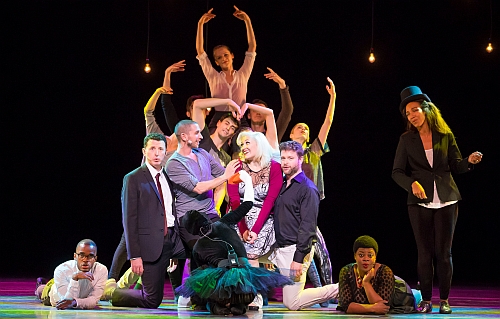 The Art of Falling
Cast:
Hubbard Street Dancers: Jesse Bechard, Jacqueline Burnett, Alicia Delgadillo, Jeffery Duffy, Kellie Epperheimer, Michael Gross, Jason Hortin, Alice Klock, Emilie Leriche, Florian Lochner, Ana Lopez, Andrew Murdock, Penny Saunders, David Schultz, Kevin J. Shannon, Jessica Tong
Hubbard Street 2: Katlin Michael Bourgeois, Zachary Enquist, Elliot Hammans, Jade Hooper, Natalie Leibert, Adrienne Lipson
Ensemble: Christina Anthony, Carisa Barreca, Joey Bland, Tim Mason, Tawny Newsome, Travis Turner
Production:
Director: Billy Bungeroth,
Writers: Tim Mason with Carisa Barreca, T.J. Jagodowski, Kate James, Chris Redd, and the casts of The Second City
Original Music
Sound Design: Julie B. Nichols,
Choreographers: Alejandro Cerrudo, Lucas Crandall, Jonathan Fredrickson, Terence Marling, Robyn Mineko Williams
Set Design: Martin Andrew
Lighting Design: Michae
Costume Design: Branimira Ivanova
Properties Design: Tierra G. Novy
Video Design and Production: HMS Media,
If you're looking for a production that reflects the human comedy of contemporary life in dance, song, and word, then this hybrid entertainment from the collaborative efforts of a dance company, Hubbard Street, and an improvisation-based comedy establishment, The Second City, is for you. It goes down like a favorite cocktail – familiar and exhilarating all at once.
Treats are to be had when actors meet dancers in The Art of Falling, now at the Ahmanson Theatre; but it is the dance moments, without benefit of spoken word, that are the least sentimental and the most penetrating in terms of humor and pathos.
The twenty vignettes, or one could call them movements, are loosely held together by a main story line: the struggles of a couple (Terence Marling and Jonathan Fredrickson) in love. One is a dancer, one is a nervous, commitment phobic non-dancer, and by the show's end (spoiler alert) the non-dancer commits and finally dances. There are other plot threads revolving around the need to be valued and loved which weave through the piece: a lovelorn temp in an office, a lonely corporate comedian on an airplane seated next to a manic jilted wife, and a zany bit of sketch comedy orchestrated by a Croatian grandmother. The overall effect, however, feels more workshop than highly polished production.
The narrative is fairly mundane but the sentiment is heartfelt. What shines in this piece is the body in motion, specifically the exuberant Hubbard Street dancers in motion. The third movement, Typewriter, with choreography by Alejandro Cerrudo, is a knockout. Six dancers facing the audience in a tight row proceed to jerk, gyrate, and flop to the clicking of an old-fashioned typewriter. In the process they become a human typewriter to hilarious effect.  In a scene set in a corporate office, the dancers become the living embodiment of inanimate office equipment and furniture: desk, chair, vending machine, drinking fountain, treadmill, and a staple gun that opens in a Hitleresque salute. White Office Swan, choreographed by Terence Marling, has the ensemble wheeling madly around the room on desk chairs to Tchaikovsky's ballet score.
Robyn Mineko Williams' pas de deux for a blow-up sex toy and a lonely man, danced deliciously by Alicia Delgadillo and Jason Hortin, is sheer perfection for its simplicity, humor, and goodwill. And the ensemble's doings in a plummeting aircraft is cleverly conceived.
By and large, the scenes set in the everyday world of corporate culture are so magical that one could imagine a full-length story ballet set in an office tower in urban America. Perhaps the writers of Second City could supply the libretto and the dancers and choreographers of Hubbard Street could take us on a joyride of pure dance through the drudge and delirium of life.
Jane Rosenberg