Spain Verdi: Otello: Royal Seville Symphony Orchestra, Chorus of the Association of Friends of the Teatro de la Maestranza, Pedro Halffter (conductor), Teatro de la Maestranza, Seville, 3.11.2015. (JMI)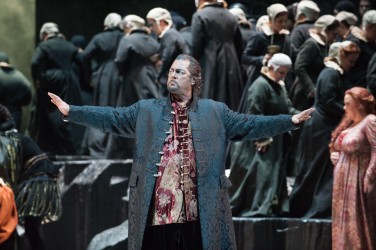 Verdi, Otello
Production: Teatro Massimo de Palermo and Teatro San Carlo de Napoli
Direction: Henning Brockhaus
Sets: Nicola Rubertelli
Costumes:  Patricia Toffolutti
Lighting: Henning Brockhaus
Cast:
Otello: Gregory Kunde
Desdemona: Julianna Di Giacomo
Iago: Ángel Ódena
Cassio: Francisco Corujo
Ludovico: Roman Ialcic
Emilia: Mireia Pintó
Roderigo: Manuel De Diego
Montano/Herald: Damián Del Castillo
This Henning Brockhaus production is a recent one  ̶  if I'm not mistaken, it premiered in Palermo in February last year  ̶  but it looks outdated. The sets consist of heavy walls and columns, apart from a few reproductions of paintings such as Il Trittico delle delizie by Bosch. The costumes are adequate but not particularly attractive.
Mr. Brockhaus's staging seems to be focussed on the theme of death, which renders the continued presence of a troupe of clowns absurd. The corpses piling up during Otello and Desdemona's love duet in Act I disturbs and works against Verdi's music. There is little stage direction, especially with regard to the chorus which is always completely static. In short, it's a production that adds nothing and is rather boring.
Conductor Pedro Halffter gave a somewhat irregular reading. For me, Mr. Halffter has always seemed better suited to the German repertoire than to Italian opera. I found him a little disappointing at the opening, with a low-intensity storm, and in a weak second act. He was much more convincing in Act III, which I thought was his best work. The orchestra gave a strong performance, but the chorus was somewhat disappointing, below what this opera requires and also below their usual level.
Once again, Otello was sung by American tenor Gregory Kunde, who seems to be enjoying a second youth and has become the reference Otello in recent years. He's not very dramatic in the role and lacks baritone color in the middle; he is not comparable to the great Otellos in history. His low notes are also a little weak, but he has the great virtue of singing the score without the vociferous shouting of many of his colleagues. The best thing about his performance took place, as usual, in the last two acts.
American soprano Julianna Di Giacomo was a remarkable Desdemona, with a rich, wide and well-handled voice. She had no trouble dominating the ensemble that ends Act III, and was brilliant in the "Willow Song" and "Ave Maria" in the fourth act.
The choice of Ángel Ódena for the part of Iago was surprising. There is no doubt that his voice is genuinely suited for Verdi, but Iago requires some added qualities that Ódena does not always offer. This evil character demands a most nuanced singing, one full of intent. When the Catalan baritone controls his voice, things work well, but his insistence on displaying his vocal volume is not a good idea. If he focuses his efforts on nuance, he could be an excellent Iago.
Francisco Corujo was satisfactory as Cassio, with a pleasant voice but one that is quite small in terms of volume. The presence of Roman Ialcic as Ludovico  was surprising is this important opera house. Mireia Pintó was a modest Emilia, though she did nicely on stage. Both Manuel de Diego as Roderigo and Damian del Castillo, who doubled as Montano and Herald, were unexceptional.
José M. Irurzun