United Kingdom Gilbert & Sullivan, The Mikado: Soloists, Chorus & Orchestra of English National Opera / Fergus Macleod (conductor). London Coliseum, 21.11.2015. (CC)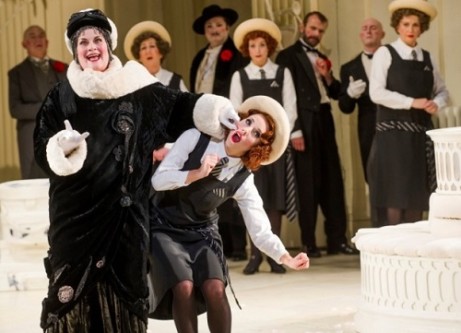 Gilbert & Sullivan, The Mikado
Cast:
The Mikado: Robert Lloyd
Nanki-Poo: Anthony Gregory
Ko-Ko: Richard Suart
Pooh-Bah: Graeme Danby
Pish-Tush: George Humphreys
Yum-Yum: Mary Bevan
Pitti-Sing: Rachael Lloyd
Peep-Bo: Fiona Canfield
Katisha: Yvonne Howard
Production:
Director: Jonathan Miller
Revival Director: Elaine Tyler-Hall
Set designer: Stefanos Lazaridis
Costume designer: Sue Blane
Lighting designer: Davy Cunningham
Lighting revived by Marc Rosette
Jonathan Miller's Mikado has been going a good while: the first review I submitted for this site was over a decade ago (2004, to be exact, a performance which featured the much-missed Richard Angas as the Mikado himself: this set of performances is dedicated to Angas). And Miller is all the rage these days – he certainly brings in much needed bums on seats – as his Barber of Seville also demonstrated earlier in the season.
This is the fourteenth revival of this venerable Mikado (the performance on December 6 will mean it has notched up 200 performances; the first performance of this production was in September 1986). The ingredients are all individually hilarious and have a feeling of the just-right; together the result is pure magic. The ovation Miller received at the end when he took a curtain call revealed just how loved he is, a theatrical institution in his own right. And quite rightly: the selection of waiters early on in the opera for example, a study in camp, are delightful in each and every way. The brilliant white of the 1930s English hotel provides the perfect setting for a slapstick romp. Even if it isn't Japanese.
Baritone Richard Suart has been a stalwart of the cast over the years, and his Ko-Ko has achieved, deservedly, near-legendary status, not least for his 'little list' (which this time includes swipes at the likes of Jeremy Clarkson and Sepp Blatter). His delivery is as fresh as the production: time seems to erode neither. In fact Suart's assumption of the Lord High Executioner Ko-Ko has the comfort of a well-worn pair of slippers, yet remains killingly hilarious.
Robert Lloyd has enjoyed a magnificent career; he was due to put in an appearance in Massenet's Le roi de Lahore in March 2015 but cancelled, so it was a real treat to see and hear him here as the Mikado himself (and for the first time). The costumery is such that he was only recognisable as Robert Lloyd in profile; the rest of the time, he was a magnificent Mikado, his voice still strong (if inevitably not as full of presence) and his characterisation excellent. A far cry from his trademark Boris or Wagner, perhaps, but a real privilege to experience nonetheless.
Another star of the night was the terrific ENO Harwood Young Artist Mary Bevan as Yum-Yum, as fresh as a daisy in both looks and vocal delivery (even more so perhaps than in December 2012). The complementary ladies of the trio of maids, Rachael Lloyd and Fiona Canfield, provided much amusement and pleasure; but it was Bevan's contribution that remained so special, her acting the epitome of the Sulluvanesque World. Her beau, Nanki-Poo, was her equal: Anthony Gregory, another ENO Harewood Artist, whose purity of delivery and projected innocence was Bevan's ideal complement.
Perhaps this production has sported more fearsome Katishas than Yvonne Howard, but she was enjoyable nonetheless, while Graeme Danby and George Humphreys ably filled out the cast as Pooh-Bah and Pish-Tush respectively. The ENO Chorus was in fine form throughout.
The conductor, Fergus Macleod, was making is company debut. He is also the ENO Charles Mackerras Fellow. Aged only 28, one might have expected freshness (he is the youngest conductor to lead here since Mackerras himself). And yet the Overture was rather leaden, and the Orchestra of English National Opera has certainly sounded better over the years. Scrappiness was something we were to encounter at various junctures throughout the evening, whether it be a parting of ways between chorus and orchestra or between solo voice and orchestra. The sparkle of the Miller production still shone through, but sometimes there was a hint of tarnish added by the pit. Interestingly, in the foyer pre-performance, the buzz of an ENO event seemed notable by its absence. By the time of the end, the audience had its mojo back, but it is difficult to suppress the feeling that all is not well at St Martin's Lane. This production reminds us of what a superb treasure we have in ENO. Let's not lose sight of that.
Colin Clarke
For more about what is on at ENO click here.