United Kingdom Rossini, The Barber of Seville: Soloists, Chorus and Orchestra of Opera North / Stuart Stratford (conductor), The Lowry Theatre, Salford Quays, 10.11.2015. (RJF)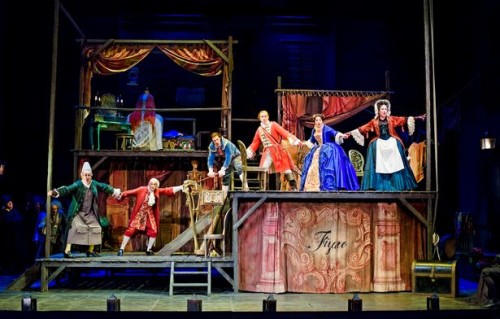 Rossini, The Barber of Seville
Cast:
Rosina:  Katie Bray
Count Almaviva:  Nicholas Watts
Figaro: Gavan Ring
Doctor Bartolo:  Eric Roberts
Don Basilio:  Alastair Miles
Berta:  Victoria Sharp
Fiorello: Nicholas Butterfield 
Production:
Director: Giles Havergal
Set & Costumes: Russell Craig
Lighting Designer: Gerry Jenkinson
For weddings, there used to be a saying something new something old. That might well apply to this opera and particularly this production. Mind you, in this busy production and set you might miss the wedding in Act Two when the recently revealed Count Almaviva gives up pretending to be an impecunious student, admitting to Rosina who he is, and taking advantage of the attending lawyer summoned by the elderly, decrepit and Dr Bartolo so he might marry his young ward. The same adage might be applied also to this production by Giles Havergal, along with the cast.
Shared with Welsh National Opera the production has regularly seen the rounds over the last thirty plus years as an economic banker for both companies. On this occasion it gets a refurbishment with even more ticks and tics from Eric Roberts' sans-pareil acted, if not tonally refulgently sung, Dr. Bartolo. I have seen the production several times with both companies. Initially I was a little put of by the characters who sit outside the stage within the stage, leading applause and generally making themselves useful. Since that first time I have been subjected to so much producer concept perversions of original master Giles Havergal. Welsh National is having a new staging in the spring of 2016 to conclude their trio of Figaro operas season. A trio, do I hear you say? Well Beaumarchais wrote a trio of plays on the Almaviva Count. WNO are commissioning their own finale called Figaro's Divorce!
Of Rossini's thirty-nine operas Il barbiere di Siviglia is the only one to have remained in the repertoire since its composition. However, even the title of this opera was not that given at the premiere in Rome in 1816. It was one of the works the composer squeezed in during his contract as Musical Director of the Royal Theatres at Naples and where he was supposed to present two new works every year. In the first two years of his contract he composed no fewer than five operas for other cities, including four for Rome! After the successful premiere of his first Naples opera, Elisabetta, regina d' Inghilterra on October 4th 1815, hei travelled to Rome to present Torvaldo e Dorliska to open the Carnival Season at the Teatro Valle on 26th December. Whilst there, on 15th of December, he signed a contract with the rival Teatro de Torre Argentina for a comic opera to be presented during its Carnival Season, the score to be delivered by mid January! After one unsuitable subject was put aside, and by now in some considerable haste, it was decided to base the new opera on Beaumarchais' Le Barbier de Séville. This was despite the fact that the widely respected Paisiello had already composed an opera based on that story in 1782. Rossini moved to ensure Paisiello took no offence and the opera was presented as Almaviva, ossia L'inutile precauzione (The useless precaution), later reverting to the title we now know it by. Despite Rossini's efforts Paisiello's supporters created a disturbance on the first night and turned it into a fiasco. On the second night the composer was tactfully ill and did not attend the theatre, as stipulated in his contract. The performance was an unprecedented success and the cast and supporters walked to Rossini's lodgings carrying candles and singing tunes from the opera. 
Well, the audience on this evening might well have returned to their homes whistling, humming or even singing to Rossini's music given both the sympathetic playing of the orchestra and singing under conductor Stuart Stratford on the rostrum. Something new and old could be discerned in the cast. Certainly I have seen Eric Robert's Bartolo a few times. It is a masterful acted interpretation to which he has added a few more mannerisms. Regrettably as the years have caught up, his singing now lacks much sap in the tone. As Basilio, another oldster, Alastair Miles is still in sonorous voice and after many such forays also knows all the tricks to bring his character out and does so in a masterful manner. The new comes in the form of three young singers unknown to me, all of them giving top class sung and acted interpretations. Comparisons are odious they say. Well, that might be so, but Gavan Ring in the eponymous role prances and sings with élan whilst Nicholas Watts brings clear and appealing tenor tones to Almaviva. It is a pity that at least some of Almaviva's Act Two aria Cessa di piú could not be accommodated within this old staging as is now more common with tenors who can do it justice, and I sensed that with his appealing tone and phrasing he could. Katie Bray is a peach to look at as well as hear as Rosina. With her accomplished coloratura and warm tone she is someone to look out for. If that were not enough riches, we had a well-sung Berta from Victoria Sharp, who got her Act Two aria, sometimes cut, and a well, articulated Fiorello from Nicholas Butterfield. The opera was sung in English, without titles, and it says a lot for the clarity of diction from the soloists that anyone new to the work would be able to follow the goings on from the clarity of sung diction from the stage. More often than not this is not always the case; conductor Stuart Stratford take an extra bow!
It does not seem that long ago, that Opera North seemed to be headed to the doldrums as a consequence of the Arts Council cut in its grant by a savage fifteen per cent. Good housekeeping, and having bankers like this production, have allowed it to maintain its reputation in difficult times, although I am surprised not to see more shared productions between the UK's regional opera companies. But I note that in the spring another such, Donizetti's L'Elisir d'Amore is due an outing. As it was I went home I was humming Rossini's tunes and visualizing the acted scenes. Old-stager and critic that I am, that doesn't often happen and I am eternally grateful when it does. When, during the Vienna season of his operas in 1822, Rossini visited Beethoven, the great man said to the Italian maestro of this opera I congratulate you,…  it will be played as long as Italian opera exists. Never try to write anything else but opera buffa. Rossini did write more serious operas, particularly for Naples and they contain much melodic music, some of it self borrowing just like the famous overture to this opera which Rossini had used twice before!
Robert J Farr