United Kingdom Bizet, Carmen: Soloists of Scottish Opera, Orchestra of Scottish Opera, The Chorus of Carmen, David Parry (conductor), Edinburgh Festival Theatre, Edinburgh 12.11.2015 (SRT)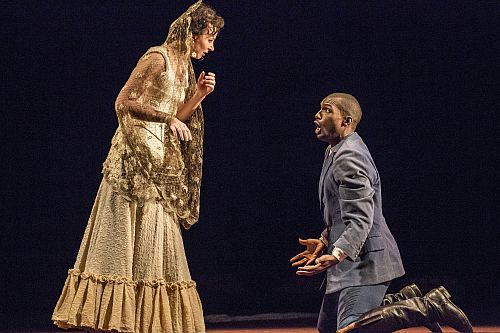 Cast
Carmen – Justina Gringyte
Don José – Noah Stewart
Micaëla – Nadine Livingston
Escamillo – Roland Wood
Production
Original Directors – Patirce Caurier & Moshe Leiser
Revival Director – Benjamin Davis
Lighting Designer – Christophe Fourey
Set Designer – Christian Fenouillat
Costume Designer – Agostino Cavalca
The best thing about Scottish Opera's revival of Carmen is Justina Gringyte's portrayal of the title role.  She's marvellous: hers is a rich, throaty mezzo that has the capacity to fill an auditorium and isn't afraid to show it.  She moves from sultry allure through to tragic grandeur via several calling points in between, and she is not only thrilling to hear but exciting to watch.  Nadine Livingston is well contrasted with her, a sweet, innocent-sounding soprano that acts as the perfect foil to the ultimate operatic vamp.
The men came off less well next to them.  Noah Stewart bellowed his way through Don José's music with the minimum of subtlety, his voice frequently searching for the note but only occasionally finding it.  True, he achieved some powerful moments in the final scene, but he murdered much of his music en route, and I was baffled by the ovation he received.  Were the audience seduced by the power of the voice, which I just found blunt?
As in last season's Trovatore, Roland Wood's voice was uncomfortably gravelly at the start, and he growled his way through the Toreador song, but he got better as the night went on, and was actually fairly lyrical during Escamillo's brief appearance in Act 4.  Andrew Dickinson and Nicholas Sharratt made an excellent pair of smugglers, but both Zuniga and Moralès sounded uncomfortably overparted.  The orchestra and chorus sounded marvellous, however, finer than I've heard them for quite some time, full of energy and vigour, bringing Bizet's colours to life … which was just as well, because there wasn't nearly enough colour on stage.
I saw this production when it was new in 1999, and was distinctly nonplussed by it.  It made a better impression on me tonight but it remains a very flat way to stage this most lively of operas.  The dull ochre one-set-fits-all staging does nothing to bring Spain to life, and they appeared to have blown the budget on the costumes for the final act so that the earlier acts were deathly dull in comparison.  That's most damaging in the first act, which has all the cigarette girls dressed in white, including Carmen, and they totally flunk her first appearance.  For several moments, you can't even tell who's singing Quand je vous aimerai.  There is also a stultifying lack of movement in some of the key numbers, such as the Danse Bohème (which doesn't dance), and what production worth its salt gets Carmen to sing the Habanera sitting down?  No more, please.  Like Escamillo's bull, it's time this production was put out of its misery.
Simon Thompson