Bizet, Carmen:  Soloists of Chisinau National Opera, Members of the Orchestra of the National Opera & Ballet Theatre of Moldova 'Maria Biesu' and National Philharmonic of Moldova 'Serghei Lunchevici', Vasyl Vasylenko (conductor),  Grand Theatre, Blackpool, 18.11.2015. (MC)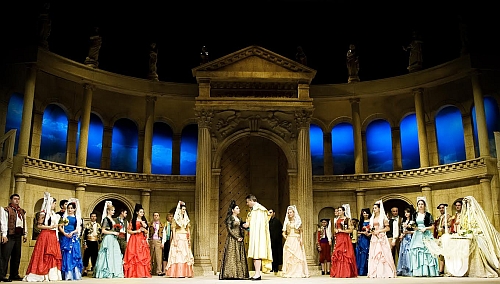 Libretto written by Henri Meilhac and Ludovic Halévy, based on novella Carmen by Prosper Mérimée
Sung in French with English surtitles
Cast:
Carmen – Zarui Vardanean (mezzo-soprano)
Don José – Vitalii Liskovetskyi (tenor)
Escamillo – Iurie Gisca (baritone)
Micaëla – Alyona Kistenyova (soprano)
Zuniga – Valeriu Cojocaru (bass-baritone)
Moralès – Iurie Gisca (baritone)
Frasquita – Alyona Kistenyova (soprano)
Mercédes – Irina Melnic (mezzo)
Le Dancaïre – Vladimir Dragos (baritone)
Le Remendado – Ruslan Pacatovici (tenor)
Production:
Direction: Ellen Kent
Assistant: Ruslan Zinevych
Assistant Producer: Juliet Bath
Set: Setup Scenery
Lighting: Valeriu Cucarschi
Production manager: Neil Morton
With such an excellent libretto and with one musical hit closely following another it's hard to believe today that Carmen at its 1875 première at Paris was a failure. Poignantly Bizet died three months later without any conception that his opera would achieve enduring worldwide fame. How audience taste has changed over the decades and Carmen is now the most staged of all operas. Full of smouldering passion this Ellen Kent production at the Grand Theatre, Blackpool was a dazzling success led by charismatic mezzo-soprano Zarui Vardanean in the title role.
Immediately the curtain opened the substantial Grand Theatre audience was transported back to nineteenth-century Seville. A simple brightly lit set revealed a square with steps leading up to the mighty wooden gate of the cigarette factory. A colourfully dressed group of townspeople and a corps of soldiers were relaxing together in the illustrious presence of Prince a Blackpool donkey. Ellen Kent's satisfying briskly moving staging was compelling for the eye as well as the ear without ever a suggestion of a whiff of tedium.
Stealing the show, Moldavian mezzo-soprano Zarui Vardanean was mightily impressive portraying Carmen, the wild and fiery, man-eating gypsy temptress from the cigarette factory. One sensed the raven haired Vardanean was living the part giving a performance of steamy Latin passion as she flirted outrageously and twisted José around her little finger until he was hopelessly besotted and ultimately led to her death by stabbing. Demonstrating her unquestionable suitability as the free-spirited siren, Vardanean's singing was first class displaying her smoky toned, sensuous mezzo that remained cleanly focused throughout her registers. A highlight was the famous act 1 Habanera with Carmen flirting provocatively with José, describing the fickle nature of her affection, performed so alluringly by Vardanean. Vitalii Liskovetskyi put his heart and soul into the role of Don José, the deserting corporal of Dragoons who dotes on his mother. One felt for the pitiful corporal who allowed Carmen to mock his affection for her only to discard him for Escamillo. Bright-toned and comfortable in his high register Liskovetskyi was certainly up to the considerable demands of the role, above all when declaring his passion for Carmen in the Flower Song from act 2. The final action was breathtaking when the desperate José, at his wit's end and delirious with emotion, stabs and kills Carmen.
With a character directly oppoite to that of Carmen, Alyona Kistenyova played Micaëla the straight-laced and uninteresting village maid suitably understated with calm assurance. Micaëla's Air from act 3 praying for the Lord's courage and protection was delightful with the soprano displaying a comforting purity to her voice together with fine diction. Probably my favourite performance of the night was given by Iurie Gisca as Escamillo, who also played the smaller part of Corporal Moralès. Formidably cast as the flamboyant and celebrated Toreador, probably the bullfighting equivalent of a modern day Galáctico at Real Madrid F.C., Gisca with his considerable stage presence and rich, dark baritone certainly didn't disappoint. A highlight of the evening was the impact of the Act 2 aria the famous Toreador Song with Gisca convincingly depicting a red-blooded, heroic and swaggering Escamillo.
Standing out of the remaining cast in the role of Lieutenant Zuniga was the vocal solidity of bass-baritone Valeriu Cojocaru a stalwart of the Chisinau Opera Company.
Recognition is due to Vasyl Vasylenko for directing his thirty or so strong Moldova orchestra with commitment, managing to iron out most of the intonation issues.  Audience entertainment is the objective of Ellen Kent Productions and this Blackpool Grand Theatre performance of Carmen certainly delivered in spades.
Michael Cookson
See www.ellenkent.com for details of this 2015 autumn tour (which also features Tosca and Die Fledermaus and visits Northampton, Leicester. Coventry, York, Sunderland, Grimsby, Hastings, Dunstable, Croydon and Folkestone finishing in December)  and the 2016 spring tour.