United Kingdom Mozart, Beethoven: Leland Chen (violin), Ten Tors Orchestra / Simon Ible (conductor), Minster Church of St Andrew, Plymouth, 7.11.2015 (PRB)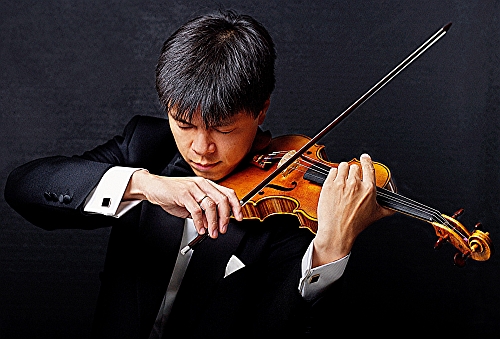 Mozart: Overture to 'The Marriage of Figaro"
Beethoven: Violin Concerto in D major
Mozart: Symphony No 35 in D major, 'Haffner'
Despite being a reasonably large city, with some 260,000 inhabitants, Plymouth is often acknowledged more for its coastal scenery and rolling hills of Dartmoor in the background, than as a leading centre for classical music. For many years it benefitted from regular touring visits from the Bournemouth Symphony Orchestra (BSO), an association, going back some fifty years.  But since 1995, these have tended to be just once a year or so, leaving Devon's far smaller county-town of Exeter as the nearest location where the BSO still regularly performs. Interestingly, however, the BSO will make an initial one-off visit to Plymouth again next January, though the advertised programme doesn't really include any avowed crowd-pleasers Watch this space, as they say..
In the meantime Plymouth is nevertheless fortunate to have the Ten Tors Orchestra (TTO), established originally in 1998, and which has since become the resident professional ensemble of Peninsula Arts, Plymouth University's cultural arm that is certainly doing its level best to counter the oft-quoted saying that civilization, in the cultural sense that is, essentially stops at Bristol, some 120 miles nearer London
Taiwanese violinist Leland Chen, who won first prize in the 1983 Yehudi Menuhin International Violin Competition, has already appeared alongside the TTO before, in 2013 with Mendelssohn's Violin Concerto, and Mozart's G major Concerto in 2014. He therefore seemed the rightful heir for this evening's concert, entitled 'Beethoven's Violin Masterpiece' – featuring, of course, the composer's own Concerto In D major, and written in the summer of 1806
The opening Allegro from Beethoven's Violin Concerto saw soloist Chen make light work of the technical difficulties, playing with great command and assurance throughout, and producing  a sumptuously well-rounded and warm tone. The cadenza, as was also the case in the subsequent finale, was despatched with consummate virtuosity, and everything looked well on course to become another of those classics for which the Ten Tors Orchestra has garnered such a well-deserved reputation over the years.
But when an orchestra is missing one or two key-players, it can make a difference. Replacements can be found, but these sometimes need a tad more time in rehearsal to adjust in the performance itself. The added problem that TTO encounters is that, given the exceptionally high standard of its instrumentalists, and the fact that some will be travelling well over 100 miles in each direction, for rehearsal and performance, suitable replacements are decidedly thinner on the ground locally than would be the case for a similar ensemble working in one of the UK's large conurbations where quality music schools, colleges and conservatoires are far more in abundance.
Here, and unfortunately by way of confirmation, a tuning-glitch in the orchestra at the outset of the slow movement, not unsurprisingly disturbed Leland's own intonation for a split second, even though recovery was fairly swift. Furthermore, occasional solo phrases in the bassoon part, dragged slightly, possibly because of some unfamiliarity with the church's otherwise excellent acoustic now complete with a large audience, but absent, of course, during rehearsal time. However, things quickly settled, and the remainder of the Larghetto progressed without any further hindrance, just leaving a superb reading from both protagonists, of the ebullient finale, which guaranteed the unqualified success of the concerto as a whole.
As ever, though, Ten Tors Orchestra, in the immensely safe hands of conductor Simon Ible, still had the last word with a first-rate closing performance of Mozart's Haffner Symphony, music with which they are spiritually so very much in harmony.
Philip R Buttall