Spain  Berlioz: Benvenuto Cellini, Liceu Symphony Orchestra and Chorus, Josep Pons (conductor), Gran Theatre del Liceu, Barcelona, 10.11.2015 (JMI)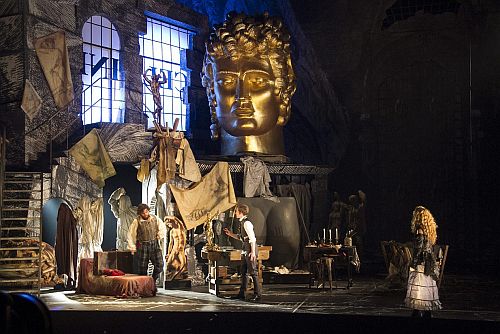 Coproduction: English National Opera and Dutch National Opera
Direction: Terry Gilliam
Sets: Terry Gilliam and Aaron Marsden
Costumes: Katrina Lindsay
Lighting: Paule Constable
Cast:
Benvenuto Cellini: John Osborn
Teresa: Kathryn Lewek
Ascanio: Annalisa Stroppa
Fieramosca: Ashley Holland
Balducci: Maurizio Muraro
Clemente VII: Eric Halfvarson
Francesco: Francisco Vas
Bernardino: Valeriano Lanchas
Pompeo: Manel Esteve Madrid
Innkeeper: Antoni Comas
This Hector Berlioz opera has never entered the main repertoire despite all that it offers. It's a difficult work to stage and includes one of the most challenging scores written for tenor, but it certainly isn't an opera that deserves to be almost forgotten. I say almost, because in addition to Barcelona ​​it is being done this season in Cologne and Bonn.
Benvenuto Cellini was performed in Spain just once before, at the Liceu in 1977, and in his memoirs, Jaume Tribó mentions the precarious means that affected the staging. Today, it's as if the Liceu wanted to wash away any bad impression left by the premiere 38 years ago: they've mounted a spectacular production, one that will not easily be forgotten. To this must be added a remarkable musical performance and superb singers in the main roles.
This Terry Gilliam staging, which premiered at the London Coliseum in June 2014, demonstrates what can be done with imagination while remaining faithful and respectful to both libretto and score. It's one of the most satisfying works that I've seen in some time. The sets are really a show in themselves, featuring moving elements that change the scenes with speed and brilliance. The action is moved to the 19th century, the costumes are perfectly appropriate, and the lighting is excellent.
Where Terry Gilliam is just terrific is in the pure stage direction. His work deepens the comic aspects of the opera and results in some spectacular moments. The scene of the Shrove Tuesday pantomime was really exceptional, with acrobats and jugglers putting on a most imaginative show. The casting of the statue of Perseus was terrific too, with the whole stage becoming a foundry. There were beautiful touches throughout, and funny scenes as well, like the entrance on stage of Clement VII, who looked more like Emperor Altoum wandering in from Turandot. To this should be added the magnificent direction of the singers: the artists inhabited their characters intensely, and the crowd scenes were outstanding. After so many nonsensical opera productions, this is a breath of fresh air that one cannot help but greet with enthusiasm.
Musically, things were also delightful. Josep Pons offered one of the best performances I remember from him in the Liceu pit. The orchestra did extremely well last month in Nabucco, and this latest performance confirms their improvement which, I do not doubt, has much to do with Pons. It was one of the most successful musical events I've experienced at the Liceu in recent years.
As I mentioned above, Benvenuto Cellini is an almost impossible tenor role. The character has much to sing and much to interpret, but John Osborn overcame all the difficulties, acting and singing brilliantly. He is becoming the go-to singer in some of the roles that tenors hate, such as Arnoldo in William Tell, Rossini's Otello or Aruro in Puritani. What is he missing to turn a theatre upside down? Only a wider middle range.
Teresa Balducci was interpreted by soprano Kathryn Lewek, who in recent years has become a greatly sought-after Queen of the Night. She is a light soprano with a rather reduced middle range, but her voice opens up nicely on the high notes. She is very comfortable on stage with an appealing presence, and the audience loved her.
Mezzo soprano Annalisa Stroppa was a remarkable Ascanio. Her voice is beautiful, with enough amplitude, well handled and easy at the top. She was an excellent complement to the two main characters.
Ashley Holland gave life to Fieramosca but was rather modest in vocal terms. Maurizio Muraro was well-suited to Balducci. Eric Halfvarson was a sonorous and powerful Pope Clement, although he showed signs of fatigue at the top.
The secondary characters were very well covered.
José M. Irurzun