Canada  Ruders, Rachmaninoff, Stravinsky and Sibelius: Anne-Marie McDermott (piano), Vancouver Symphony Orchestra, Bramwell Tovey (conductor), Orpheum Theatre, Vancouver, 24.10.2015 (GN)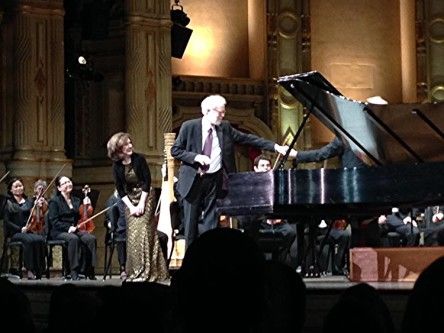 Poul Ruders: Piano Concerto No. 3 'Paganini Variations' (World Premiere)
Rachmaninoff: Rhapsody on a Theme of Paganini, Op. 43
Stravinsky: Pulcinella: Suite
Sibelius: Symphony No. 7 in C major, Op. 105
 The catchy theme in Paganini's 24th caprice has inspired, and indeed almost haunted, many composers from Brahms, through Rachmaninoff, to Lutoslawski – and esteemed contemporary Danish composer Poul Ruders has recently joined the club.  As Ruders observes, "the theme is not particularly sophisticated or intricate, but its inherent simplicity and logic just grow on you, almost to the point of distraction.  You can do anything with that tune, it´ll always be recognizable and just there, however much you maul it."  His interest in a 'Paganini Variations' started about 15 years ago, through a commission from American guitar virtuoso David Starobin. This resulted in Guitar Concerto No. 2 (2000), recorded soon after for Bridge Records.   Only a year or so ago, the guitarist suggested that the work might be successfully transcribed for piano, and that is what we heard at this concert: the world premiere of the composer's Piano Concerto No. 3.  Though the orchestral scoring is unchanged, the composer was adamant that "the new version could in no way sound like a transcription.  My aim was to end up with a solo-part sounding like it were 'the one-and-only', the 'real thing', if you like". The work consists of 22 economical variations and runs about 18 minutes. The composer and the work's dedicatee, American pianist, Anne-Marie McDermott, were present, the pianist taking the opportunity to play Rachmaninoff's famous Rhapsody on a Theme of Paganini alongside.
I have always enjoyed Ruders' eclectic but lucid style, intensely lyrical and inward in many respects yet capable of great animation and expressive power too.  In this work, the orchestra starts from a feeling that might be called pastoral, though this is often broken by stabbing string statements or a burst of athletic motion.  The Paganini theme moves in and out of the work, often there is just a note or two of it that flies by, but its presentation is ingenious enough to make you expect that the full tune could spring out at any moment — except that it doesn't.  Certainly, since Nielsen, Danish composers have impressed with their expressive wind lines, and there was no exception here. On several important occasions, it was these or the brass that carried the message, set over a quiet and austere orchestral string texture.  It was interesting that the winds could be very playful, but this lightheartedness could be transformed into something darker and slightly otherworldly at a moment's notice.  The orchestral fabric was really quite subtle and intriguing.
In the version for guitar, one could see the specifics of how the soloist played off the orchestral lines, often in a witty and intimate way and creating a variety of different textures and tensions.  Here my perception of the piano writing was that it was different — as the composer indeed intended.  But I am not sure for the better.  Anne Marie McDermott's playing seemed to push forward continuously, more with buoyancy and drive than any artfully-pointed play. While rhythms and chord structures were imaginatively varied, the piano part still seemed more of an obbligato underpinning for the orchestral proceedings than a fully distinct and equal voice. That said, I can see how adding a jazzy, motoric piano line to a 'block' orchestral fabric that creeps slowly forward is an innovative juxtaposition, so maybe that is the point.  I can say that I enjoyed this composition as a 'new' work, though I still have the sneaking feeling that there is more voice in the piano writing than was registered here.
Rachmaninoff's Paganini Variations is in principle a heavier and more romantic work, structurally tight at many points but still having the rich feelings and languor that are the hallmarks of this composer.  Anne-Marie McDermott made the piano parts of the two works seem closer, bristling forward from the outset of the earlier work with great zest and attack.  Frankly, I thought this type of spiky, modernist playing might be perfect for Prokofiev, but perhaps lacked the breadth and emotional resonance needed for Rachmaninoff.  And in a way this proved to be the case: McDermott seemingly conveyed more a composer happily embracing the new 'jazzy' America than one nostalgically trapped by deep Russian feelings. I thought the famous Variation 18 was conscientiously delivered but not very deep in sentiment, and I felt there were other moments that repose was not fully established.  This was not a performance that concentrated on the emotional volatility of the composer; more on the tight, brazen quality of the work's progression.  There is some virtue in trying to bring the two works closer, though I wonder how many times they will actually be performed together.  For the record, the endings of the two pieces are identical: with Rachmaninoff, it is the piano that does its cute little flip upwards; for Ruders, it is the piccolo.
The concert also made room for two further enriching works, Stravinsky's Pulcinella Suite and Sibelius' 7th Symphony, both given pleasurable performances under Maestro Tovey.  I always think that the former fares well in a smaller venue with a chamber-sized ensemble, but not all its sharpness was dispersed in this more expansive venue.  There was plenty of zip at the right places, and the brass and winds (including the oboe of Roger Cole in the Serenata) were alert and telling.  Sibelius' economical last symphony was moved along at a judicious pace with a good dramatic sense, though sometimes I felt it was not quite distilled or austere enough, its occasional doses of romantic warmth and flow sending me back in the direction of the composer's 2nd Symphony.
Geoffrey Newman
Previously published in a slightly different form on http://www.vanclassicalmusic.com