United Kingdom Will Todd & Maggie Gottlieb: Alice's Adventures in Wonderland: Soloists and the Opera Holland Park Orchestra / Matthew Waldren (conductor). Linbury Studio Theatre, London, 5.11.2015. (JPr)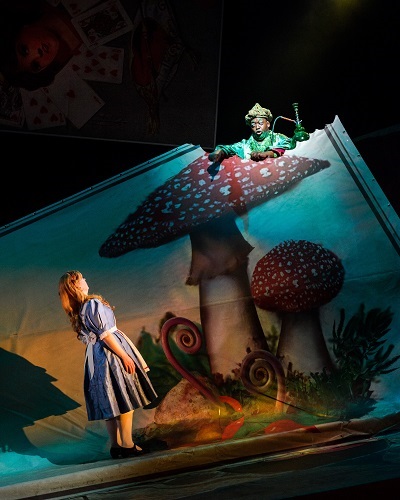 Performers:
Alice – Fflur Wyn
Rabbit – James Cleverton
Dad / Queen of Hearts – Robert Burt
Mum / Mad Hatter – Victoria Simmonds
Cheshire Cat – Magid El-Bushra
Caterpillar – Keel Watson
March Hare / White Knight – John Lofthouse
Humpty Dumpty / Duchess – Maud Millar
Brat / Tweedle Dum – Daisy Brown
Brat / Tweedle Dee – Samantha Price
Dormouse – Joanna Marie Skillett
Bottle – Fleur de Bray
The Victorians – Michael Bradley, Rebecca Hardwick, Rosie Middleton, Ellie Edmonds, Fleur de Bray, Edward Hughes, Henry Grant Kerswell & James Harrison
Production:
Music – Will Todd
Libretto – Maggie Gottlieb
Director – Martin Duncan
Designer – Leslie Travers
Lighting designer – Howard Hudson
Choreographer – Adam Scown
I never as a rule look at other reviews before writing mine but this time I needed to check something. I suspected from the accordion-accompanied interjections of The Victorians frequently exhorting 'over there' and 'come on' that this 2013 Alice's Adventures derived from alfresco performances at Holland Park … and I was right. It was sold-out at the Linbury (though there were a number of empty seats at this performance) and I am sure it will work a lot better on a sunny day out on the lawns in the heart of Kensington and Chelsea again next summer. I am sure young children will enjoy the experience there but they will need to be those who understand what they will be seeing and brought up a bit better than the ones hanging off the luggage racks on the train as I was coming into London!
I won't over-elaborate my response to the brief evening because I could be open to the argument that this was not meant for me. However, since I return time and again to A Midsummer Night's Dream and versions of Peter Pan – and therefore 'do believe in fairies' and all things fantastical – this version of Lewis Carroll's 'literary nonsense' (a proper description of its genre) should have been just right for me. Unfortunately 'all things' has never included Lewis Carroll who has never appealed to me and an understanding of the 1865 original –  celebrating 150 years – might be good as the characters get little chance to 'introduce' themselves and, for instance, it didn't occur to me that a cane–wielding teacher was Humpty Dumpty (from Carroll's 1872 Through the Looking-Glass) until he fell off a 'wall' and someone said his name!
Will Todd (music) and Maggie Gottlieb (libretto) have played fast and loose with Carroll and include, I suspect, some topical references including the mention of SATS in a schoolroom scene with Humpty Dumpty, Alice, Tweedledum and Tweedledee. However without surtitles or amplification much of the wordplay – whether Carroll's original or Gottlieb's – never reached my ears. We are not now in Victorian Oxford but a Grimthorpe, a 'grim' Northern city. Alice and her family are sheltering from the rain in a pet shop and as a description suggests '11-year-old Alice is jolted out of her bored daydreams in the school holidays when she meets a talking rabbit who insists she follow him to a mysterious Wonderland. In this fantastical place Alice comes across a number of peculiar characters, including a relaxed caterpillar, a happy cat, a depressive hare, a white knight, a romantic duchess, a mad hatter and a sleepy dormouse, and learns that all is not well in Wonderland: a mysterious (and very cross) Queen of Hearts seems distressingly keen to chop off everyone's heads.
Everything flashes by in a series of tableaux employing The Victorians as a scene-changing device and is resolved in a marvellous 'Wonderland Restored' ensemble which has a Claude-Michel Schönberg (Les Misérables, Miss Saigon etc.) quality to it and was one of three remarkably good numbers in a hotchpotch score (available on Signup Records). There are pastiches of jazz and blues, Latin rhythms, calypso, negro spirituals and Broadway standards, yet – despite a counter-tenor as the Cheshire Cat (Magid El-Bushra) and a coloratura singing Drink Me bottle (Maud Millar) – it isn't really the 'opera' it claims to be but is just a simple family-friendly musical show. There are great hints of Christmas pantomime to it but it lacks some of the magic, laughs, emotional engagement of story-telling and audience interaction that the best of those can have. In Alice's Wonderland her father becomes the Queen of Hearts – hinting at darker undertones to the story that would be explored in a genuine opera – but was clearly a pantomime dame but Robert Burt's over-the-top performance was still nowhere near outrageous enough.
I suspect we are supposed to root for Alice as a determined girl confronting the Queen's authoritarian rule and so bring peace to Wonderland. However, she isn't given the time for anyone to really involve themselves in what she is up to despite her brilliant Sondheim-like song – well sung by Fflur Wyn – 'I Flew High in My Dreams'. At the end Alice returns to Grimthorpe and we discover it may not have been all a dream, but has she been changed by her experience … who knows?
This Alice's Adventures in Wonderland has the potential to become an annual Christmas West End extravaganza but would need some work. Currently Leslie Travers's vintage postcard-inspired sets are more utilitarian than atmospheric. Without better lighting effects – or some use of video – there is a sameness about what we see … though his costumes are often loyal to John Tenniel (the novel's original illustrator) and create a great frame of reference. The twelve-piece orchestra  – under conductor Matthew Waldren – does  what it has to do well starting with the fairly traditional musical overture, then embracing all the changes of style and effectively accompanying the solos and ensembles, as well as, keeping everything moving forward. Looking at the individual performances, Fflur Wyn's Alice was an eye-catching and believable portrayal though she never entirely convinced me she was 11 … but how likely would that be? Best of all was Keel Watson's hookah-smoking Caterpillar. Dressed as a sultan he deserved to stop the show with his 'Wonderland Blues', probably the most memorable of the three stand-out musical numbers from Will Todd and Maggie Gottlieb. No one let the side down and they did their very best with what little they had to work with, and there were eager-to-please and energetic performances from all concerned.
Jim Pritchard 
For more about Opera Holland Park in 2016 visit http://www.operahollandpark.com/.