United Kingdom Iain Bell, A Christmas Carol: Mark Le Brocq (narrator), Chamber Orchestra of Welsh National Opera /James Southall (conductor), Weston Studio, Millennium Centre, Cardiff. 20.12.2015. (GPu)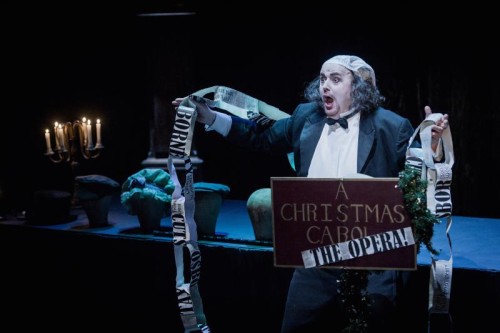 Bell, A Christmas Carol
Production:
Director: Polly Graham
Designer: Nate Gibson
Lighting Designer: Ceri James
One singer operas are not unknown (Poulenc's La voix humaine is perhaps the most enduringly successful specimen of the genre), but they remain rare. A composer attracted to the idea of creating an operatic version of that much-adapted novella Dickens' A Christmas Carol would probably not immediately think of it as a suitable candidate for this form of opera if all he or she had to go on was the text of Dickens's original story. More likely to prompt as composer to think in such terms is the fact that Dickens himself gave immensely successful one-man readings of the work and that the text that Dickens prepared for his one man performances survives.  Indeed, it was from this performance text by Dickens that Simon Callow prepared the libretto for Iain Bell's operatic monodrama when it was premiered at Houston Grand Opera in December of 2014. A year later it got its UK premiere in Cardiff (on December 18th). My review is of the second performance of this new production.
In the American production the singer was American tenor Jay Hunter Morris. Here the singer (one is tempted to say the 'star') was Mark Le Brocq. I first saw and heard Le Brocq when, as a very late replacement (Rainer Trost having been taken ill), he sang (extraordinarily well) the very demanding role of Aron on the first night of WNO's Moses und Aron in May of 2014. One of the many qualities he displayed that night was an impressive clarity of diction. That virtue was apparent again in A Christmas Carol. But so were many others. He proved to be very much a natural creature of the stage – a commanding, but comfortable, presence throughout, who communicated with his audience superbly. As narrator (and all the other characters!) Le Brocq swapped headgear, rather in the manner of a Tommy Cooper routine (though without the resulting chaos!); he displayed an expressive physicality, terrifying and comic by turns; his vocal range, incorporating top and bottom of the tenor range and some falsetto singing, coupled with some adroit use of accents (and in one case a lisp) and mimicry created and sustained distinctions of character very effectively; he was able to conduct dialogues between two characters without being at all confusing, sometimes using some very basic props (Tiny Tim was a finger puppet, complete with miniature crutches). A virtuoso performance in pretty well every respect.
The production incorporated some nods towards some typically seasonal forms of entertainment. The opening mime in which Le Brocq put on his boots and successfully demanded the audience's applause for the way he did it had more than a little of the circus clown about it. There were several touches of the pantomime, as when Le Brocq brought up a young woman from the audience to be his dancing partner at the Fezzipegs' Christmas party, or when he carried some mistletoe across to the front row in order to kiss another lady. Other kinds of audience participation were requested by boards held up from behind the curtains at the rear of stage carrying texts such as "Oooh" "Aaah" and "Cheer".
But for all the humour the essential gravity of Dickens' story was not neglected. My 10 year old granddaughter (who enjoyed the performance greatly, described it as "very funny, but a bit upsetting at times". She was quite right. Some of the ghostly moments had an authentic horror about them. I suspect that she missed some aspects of another kind of seriousness in the production. It emphasised, without excessive crudity, the seriousness of Dickens' social analysis; the work's affirmation that to find life's meaning in the possession of money is both self-delusionary and self-destructive, that far greater value and far greater personal happiness lie in the active relief of others' poverty and unhappiness. The contemporary application of all this was made clear in a number of ways. The Christmas tree at one side of the stage (lit or left dark depending on the stage of the narrative) had at its top not an angel or a star but a quotation from the text: "The one thing the world never forgives is poverty". The decorations on the Christmas tree ironically included images of David Cameron and George Osborne. The collecting tin carried by "the portly gentleman" who seeks a charitable donation from Scrooge bore an image of Jeremy Corbyn in a Father Christmas hat and the fetters on the ghost of Jacob Marley were cut from newspapers on which words such as "Austerity" were discernible.
Iain Bell is now in his mid-thirties, his first operatic success, in October 2013, was with A Harlot's Progress at the Theater an der Wien in Vienna and this Christmas Carol was his second opera. This production of it by the WNO was doubtless prompted, in large part, by the fact that Bell's third opera, doubtless on a much larger scale than this work – a version of David Jones's great poem In Parenthesis – has been commissioned by the Company and will be directed by David Pountney in May 2016.
Unfortunately I have to say that I found Iain Bell's music for A Christmas Carol less than entirely convincing. It successfully evoked the night time city-scapes of London and in some of the ghostly moments the orchestral writing, especially in its use of string harmonics, did much to create the mood. But there wasn't enough sense of 'uplift' and moral regeneration in the music of the final scene. Nor was the writing always sympathetic to, or supportive of, the singer. The writing was not so distinctive as to make one confident that one had a real idea of a style or manner one could think of as specifically Bell's. Perhaps the forthcoming production of In Parenthesis will make one feel differently. For the time being it has to be said that it was not Bell's writing that will stay in the mind longest when thinking of this performance. It is Mark Le Brocq's energetic virtuosity that I shall most readily recall.
Glyn Pursglove