Spain Donizetti, Lucia di Lammermoor: Liceu Orchestra and Chorus, Marco Armiliato (conductor), Gran Teatre del Liceu, Barcelona, 4&5.12.2015. (JMI)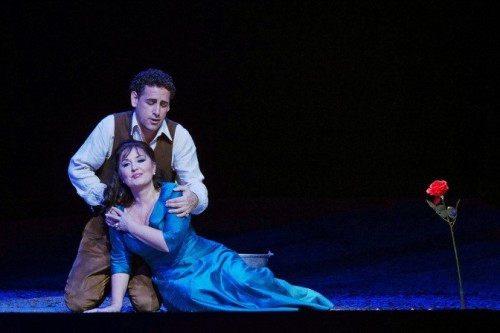 Donizetti, Lucia di Lammermoor
Production:
Direction: Damiano Michieletto (original)/ Roberto Pizzuto (revival)
Sets: Paolo Fantin
Costumes: Carla Teti
Lighting: Marti Gebhardt
Casts:
Lucia: Elena Mosuc/María José Moreno
Edgardo: Juan Diego Flórez/Ismael Jordi
Enrico: Marco Caria/Giorgio Caoduro
Raimondo: Simón Orfila/Marco Mimica
Arturo: Albert Casals
Alisa: Sandra Ferrández
Normanno: Jorge Rodríguez-Norton
Lucia di Lammermoor is one of the most frequently performed operas in the Liceu's history, but it hasn't been staged here since 2006. This time the opera was of special interest due to the debut of Peruvian star tenor Juan Diego Flórez in the role of Edgardo. Expectations ran high, but the result was not totally convincing, at least for this reviewer.
I consider Juan Diego Flórez to be the best tenor today in lighter operas, especially in Rossini. For me, he is one of two outstanding contemporary tenors in their respective repertoires. The other superstar is Jonas Kaufmann.
The immediate question is: should Edgardo be part of Juan Diego Flórez's repertory? He has been trying in recent years, with varying success, to expand his roles and has taken on more heroic characters than those that made him notable. If  Flórez is unrivalled in Rossini and the like, parts like the Duke of Mantua in Rigoletto, Fernando in La Favorita or Edgardo in Lucia di Lammermoor demand a different voice. It is not a problem of tessitura or vocal line, but simply of vocal suitability to the roles.
Edgardo requires a lyric tenor, but Flórez continues to be a light one, even though his middle range has widened a bit. If he only had to sing in the final scene, Flórez would be the best Edgardo today: his voice, phrasing and elegance there were a paragon of perfection and brilliance. However, Edgardo must deal with more heroic demands, especially at the end of Act II and in the tower scene. One might recall that Alfredo Kraus used to refuse to sing the tower scene, believing that it was not right for his voice, and we know that Flórez is lighter than the great Spanish tenor.
Apart from the fundamental aspect of suitability, I think Flórez was wrong to debut Edgardo in this opera house and in this staging. The theatre's problem is its size, which is not exactly small. The stage production is too open, and voices suffer because of it.
The performance of tenor Ismael Jordi in the second cast was a pleasant surprise. His voice has widened without losing any flexibility, and he is now perfectly suited to this repertory. In October he was an excellent Roberto Devereux in Madrid, and he has now proved that in pure belcanto he's like a fish in water. Comparisons are odious and some fans of Juan Diego Florez will not agree, but for me Jordi's Edgardo was much more convincing than Florez's.
In the first cast, the protagonist of the opera was sung by Elena Moşuc, who gave a good performance, although there was little emotion in her singing. The much-anticipated mad scene worked very well, even brilliantly, but with a certain monotony. Maria Jose Moreno was more convincing in the second cast. She offered a flawless vocal performance, as always, and plenty of emotion. Moreno is a guarantee of quality no matter what role she plays, and her Lucia would be a triumph in the most important opera houses in the world.
Baritone Marco Caria was a correct Enrico, but without any special brilliance. His voice is nicely suited to the character, but he too is rather monotonous in his singing. Giorgio Caoduro was somewhat light for the character, but I find him a better singer than Marco Caria.
Simon Orfila was very convincing in the part of Raimondo. I think this was one of the best performances I can remember from him. Marco Mimica, with a wide and attractive voice, also made a good Raimondo.
The musical direction was in the hands of Marco Armiliato, whose reading was not terribly convincing. There was excess volume in the first part of the opera, which hurt the singers, especially given this open stage. His conducting was quite flat, below what we expect from him.
The production by Damiano Michieletto comes from Zurich, where it premiered seven years ago. There is a ruined tower of glass and metal at the left of the stage, and the rest is empty. The costumes are modern, with no trace of Scotland. There's almost no direction of the actors, and the same can be said about the masses: the chorus is always static, except in the opening scene. The production reflects a warlike atmosphere, and there is frequently a ghost present, played by an actress dressed in white. I found the final scene absurd. It takes place in the cemetery of Ravenswood, and Mr. Michieletto decided to take the coffin with Lucia's remains for burial there. He apparently forgot that she is Lucia Ashton, not Ravenswood.
José M. Irurzun