United States Wagner, Die Meistersinger: Soloists, chorus and orchestra of San Francisco Opera, Sir Mark Elder (conductor), War Memorial Opera House, San Francisco. 24.11.2015 (HS)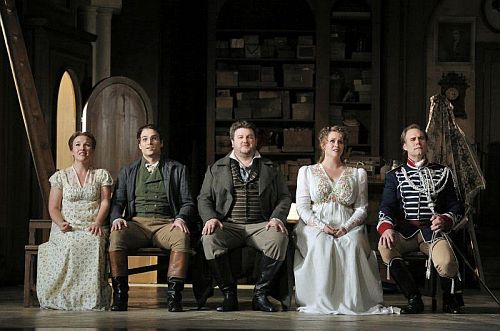 Cast:
Hans Sachs: James Rutherford
Walther von Stolzing: Brandon Jovanovich
Eva: Rachel Willis-Sørensen
Magdalene: Sasha Cooke
David: Alek Shrader
Sixtus Beckmesser: Martin Gantner
Veit Pogner: Ain Anger
Fritz Kothner: Philip Horst
Kunz Vogelgesang: AJ Glueckert
Balthasar Zorn: Joel Sorensen
Augustin Moser: Corey Bix
Ulrich Eisslinger: Joseph Hu
Konrad Nachtigall: Sam Handley
Hans Schwarz: Anthony Reed
Hermann Ortel: Edward Nelson
A night watchman: Andrea Silvestrelli
Production:
Sir David McVicar
Revival Co-Directors: Marie Lambert, Ian Rutherford
Production Designer: Vicki Mortimer
Lighting Designer: Paule Constable
Chorus Director: Ian Robertson
It has been 14 years since San Francisco Opera last presented Wagner's Die Meistersinger—a memorable outing when James Morris sang his first of many triumphant runs as Hans Sachs, ably supported by the vigorous conducting of Donald Runnicles. The return of this epic introduced San Francisco audiences to David McVicar's human-scale production, first seen at Glyndebourne in 2011, and the warm and vocally solid Hans Sachs of James Rutherford.
Rutherford's presence and attention to dramatic detail on Tuesday—the third of six performances at War Memorial Opera House—was only the centerpiece of a fine cast that not only sang everything beautifully but created a remarkable array of individuals. That was the key to McVicar's vision, ably co-directed this time around by Marie Lambert (who worked with McVicar on the original production) and Ian Rutherford.
McVicar moved the time from mid-16th century Nuremberg to the early 18th century after the Napoleonic wars, when Wagner was born and various German states were taking first steps toward forming a nation. The setting refers to Dürer, Goethe and other icons of German art, underlining how the arts played a key role in unifying a nation. Although basically a romantic comedy, the opera's story also explores just how that art should be done, culminating in a majestic final scene.
An ornate gothic ceiling supported by four columns covers the front half of the stage. In Act I it represents the front of a church. It hovers over the Act II street scene in front of Sach's cobbler shop and creates a sort of pergola for the action of the final scene.
At the core of the opera, however, is a sort of love triangle. A visiting knight (in this production an army officer) falls for the lovely young Eva. The aging Sachs has seen her grow up before his eyes, and as the most respected figure in a guild of mastersingers decides to help the soldier win the song contest in which Eva's hand in marriage is the prize.
The story is rife with complex emotional nuances, which the production brings off flawlessly. Each of the dozen mastersingers has a different set of mannerisms and attitudes. Their apprentices have their individual, if rough-edged, personalities.
Sir Mark Elder conducted with a bit more gravitas and deliberate tempo than what might match the staging, but he drew sumptuous sounds from the San Francisco Opera orchestra and fashioned seamless transitions. Balances were spot-on throughout, and if the prelude to Act I lacked rambunctiousness, Wagner's pastiches of Lutheran hymns and the reflective prelude to Act III emerged with much warmth. The big moments, especially the final scene of the opera, built to impressive climaxes.
Rutherford portrayed Sachs as a thoughtful, simple man, investing the role with a sense of seriousness without veering into the ponderous, articulating the music and the words with fine presence. A late replacement for Greer Grimsley, who bowed out of this production in October, he slid into the role effortlessly, having sung it at Bayreuth, Vienna State Opera, Hamburg, Cologne, Budapest and in this production at Glyndebourne.
The central lovers made a wonderful pair—musically, visually and dramatically. Tenor Brandon Jovanovich unfurled gorgeous lyric sound and fearlessly navigated Walther's treacherous vocal lines. His renditions of the prize song started off with appropriate hesitance, but gained momentum and confidence, reaching a winning brilliance in the final scene. Soprano Rachel Willis-Sørensen invested Eva's sweet music with shimmering beauty, and reflected her conflicting emotions for Sachs and Walther without excess histrionics.
Mezzo-soprano Sasha Cooke (an example of luxury casting) glowed with star quality as Magdalene, Eva's companion, and invested attention to phrasing seldom heard in this role. As her suitor, Sachs' apprentice David, lyric tenor Alek Shrader made a suitable pairing.
The five of them—Willis-Sørensen, Cooke, Schrader, Jovanovich and Rutherford—combined with a sublime mix of tones and phrasing in the magnificent Act III quintet. The staging had them sitting on a long bench that resembled a church pew, perfect for this time-suspending music.
In emphasizing personal interactions, at times this production felt like a Mozart-DaPonte opera—so telling were the revealing moments of human character. In the moment when Sachs decides not to compete for Eva's hand, he kicks over one chair and pushes Walther into another, forcing him to hear why he was wrong to refuse to join the mastersingers after winning the song contest.
Beckmesser, usually portrayed as an unalloyed jerk, got a more human face from baritone Martin Gantner, who wove in physical humor with uncanny comic timing. The scene where he discovers the written copy of the prize song in Sachs' house was a masterpiece of gentle clowning, and he sang the music with precision and panache.
The mastersingers were portrayed as a bourgeois group, which of course they are, being craftsmen and tradesmen. Among the standouts was bass Ain Anger as Veit Poigner, Eva's goldsmith father, whose Act I monologue traced the music with just enough pompousness to give it an edge. Tenor AJ Glueckert played Kunz Vogelsong as a flamboyant furrier.
Aside from that serene quintet, the set pieces, including Sachs' Act II Flieder Monologue and his Act III "Wahn! Wahn! Überall Wahn," fit smoothly within the music's flow, a tribute to Elder's seamless approach and the naturalness of the singing. From the opening moments in the church to a thrilling "Wacht Auf" in the final scene, the choruses created splendid signposts along the way.
Put this performance in the "plus" column.
Harvey Steiman