United Kingdom Weill, Street Scene: Soloists, Chorus and Orchestra of RNCM Opera / Clarke Rundell (conductor), Harish Shankar (assistant conductor), RNCM Theatre, Royal Northern College of Music, Manchester, 4.12.2015. (MC)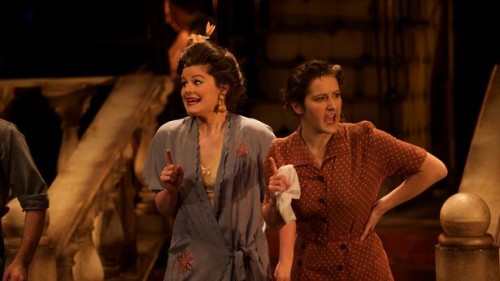 Kurt Weill, Street Scene
An American Opera in two acts – Music by Kurt Weill – Book by Elmer Rice – Lyrics by Langston Hughes and Elmer Rice
'Weill' Cast:
Richard Moore – Frank Maurrant
Kimberley Raw – Anna Maurrant
Alexandra Lowe – Rose Maurrant
Brian McNamee – Sam Kaplan
Graham McCusker – Abraham Kaplan
Charlotte North – Greta Fiorentino
Ranald McCusker – Lippo Fiorentino
Louisa Haggerty – Emma Jones
Steffan Owen – George Jones
Francesca Letch – Olga Olsen
Timothy Bagley – Carl Olsen
James Berry – Henry Davis
Jake Horler-Newsham – Daniel Buchanan
Ingvild Schultze-Florey – Mrs Hildebrand
Sarah Gifford – Jennie Hildebrand
John Ieuan Jones – Harry Easter
Juliet Montgomery – First Nursemaid
Eleanor Watts – Second Nursemaid
Jessica Hope – Mae Jones
Jacob Robson – Dick McGann
Daniel Hayes – Steve Sankey
Production:
Stefan Janski – Director
Jonathan Ainscough – Assistant Director
Kate Ford – Set and Costume Design
Nick Ware – Lighting Design
Kevin Thraves – Chorus Master
Bethan Rhys Wiliam – Choreographer
Clement Rawling – Sound Design
Kevin Thraves – Chorus Master
Experience has shown that productions from RNCM Opera comprising students of the RNCM, Manchester rarely disappoint and have become eagerly anticipated events. For his final season as Head of Opera at the college, director Stefan Janski has chosen a production of Kurt Weill's Tony Award winning American Opera Street Scene staged with support from the Kurt Weill Foundation.
Weill seemed to move seamlessly from his German musical theatre successes, original works both striking and sardonic, most notably The Threepenny Opera to gain a string of commercial successes on the Broadway stage including Street Scene. Premièred on Broadway, New York in 1947 Street Scene a stylistic combination of opera and music theatre has proved the most celebrated of his American productions. It doesn't seem too well known in the UK. A straw poll I took with a number of friends, members of a local music society, revealed that all had heard of the composer Kurt Weill of Mack the Knife fame although none knew of Street Scene.
Weill's Street Scene is an emotionally charged depiction of 24 hours in the life of the occupants of a dingy, multi-cultural New York tenement in front of a busy sidewalk during the sweltering summer heat in 1946. The RNCM Opera production used two large casts of students with each giving three performances. My colleague at Seen and Heard attended the first evening which was the official press night using the 'Kurt Cast' (review). I attended the next evening which given by the 'Weill' Cast. Director Stefan Janski assisted by Jonathan Ainscough and set and costume designer Kate Ford had shrewdly devised a tenement block containing 7 rooms for each family, constructed of an open framework allowing the audience to see inside and there was a basement room too, all set to a convincing background of street noise.  Splendidly cast and staged this production was striking for the remarkably high standard of performance with Janski directing the principals slickly around the stage.
Stealing the show was Alexandra Lowe excelling as ambitious office worker Rose Maurrant. Looking ice cool, in her light blue summer dress with cinched-in waist and black accessories, Rose was torn between the steady-Eddie Sam versus the rather disreputable character of the married Harry Easter. Captivating was Lowe's performance of What Good Would the Moon Be when Rose refuses Easter's promises and the heart-wrenching emotion of Don't Forget The Lilac Bush when she says goodbye to Sam. With an unforced voice just made for musicals Lowe revealed a generously attractive and radiantly warm soprano that filled the theatre together with the advantage of an innate stage presence and sure-fire acting prowess. Bewitching were Rose's duets with Sam Remember That I Care concerning a poem they shared and We'll Go Away Together as she considers Sam's plan to elope.
Making a considerable impression was bass-baritone Richard Moore as Rose's father the bulling Frank Maurrant, angry with life and his lot. Wearing denim bib-and-brace carrying a canvas tool bag Frank complains about modern values in Let Things Be Like They Always Was a wonderful vehicle for Moore's dark resonant tones that felt menacing, sending a shiver down the spine. Even the dog Oscar was alarmed who barked at him. After killing his wife Moore sang I Loved Her Too conveying a convincing sense of remorse which all felt highly accomplished. I look forward to seeing Moore display his talents in a more substantial role and I could imagine him making a frightening Scarpia in Tosca.
Kimberley Raw clearly enjoyed her role as Rose's tragic mother Anna Maurrant who should be world-weary with her lot but somehow remains positive and is enjoying the excitement of an affair with milkman Sankey. Raw's bright appealing soprano projected strongly and was convincingly dramatic, notably in Somehow I Never Could Believe which benefited from confident acting. Firmly committed as the love-struck law student Sam Kaplan in love with Rose was tenor Brian McNamee. In Lonely House McNamee succeeded in expressing his unbearable loneliness and achieved his high notes well though his acting would benefit from additional character and improved self-confidence. Decked out in a loud grey striped suit and co-respondent shoes John Ieuan Jones not only looked and acted the part of the oily Harry Easter he sang well too, giving an impressive rendition of Wouldn't You Like To Be On Broadway? Jones has an expressive and attractive dark tinged baritone and I sensed that additional self-belief would bring significant improvement.
Soprano Louisa Haggerty played Emma Jones the gossiping neighbour in the brown dress inevitably seen with Oscar the cute dog. Although the Mrs. Jones character is seen a lot the role does not provide too many solo singing opportunities for Haggerty but what I did hear was an excellent voice in fine condition and a great American accent together with highly quality acting. Rich toned bass-baritone James Berry made the most of his part of Henry Davis the camouflage clad janitor who likes a drink or two singing I Got A Marble And A Star as he dreamt of better things for himself. With a fine voice Berry is another performer I would like to see in a larger part. Dressed in a flashy check suit and white Fedora hat with yellow band Lippo Fiorentino played by Ranald McCusker was handing out ice-cream to cool his family and friends down. Dominating the somewhat over boisterous 'Ice Cream Sextet' McCusker was vocally impressive with especially good diction and projecting well.
Chorus Master Kevin Thraves did a fine job with the chorus who displayed a really effective unison and Bethan Rhys Wiliam ensured tightly executed choreography.
Located at the rear of the stage partially obscured behind a net curtain the orchestra sounded terrific under Clarke Rundell's direction especially polished in a well paced performance of real conviction. There was little of any serious note on the downside although some of the minor roles might have been a touch slicker, improved make-up would have made old Abraham Kaplan look like a grandfather rather than a young man with stuck-on beard and although not ideal, I fully understand why several young women were chosen to play young boys.
Quite superbly performed by the 'Weill' Cast of RNCM Opera I can't imagine anyone being anything less than captivated by Stefan Janski's emotionally charged production. Indeed it left one puzzled why Street Scene is not better known!
Michael Cookson