United Kingdom Various composers, Carlos Acosta: A Classical Selection: Carlos Acosta, Guest Soloists from the Royal Ballet, English National Opera Orchestra / Paul Murphy (conductor). London Coliseum, London, 8.12.2015. (JPr)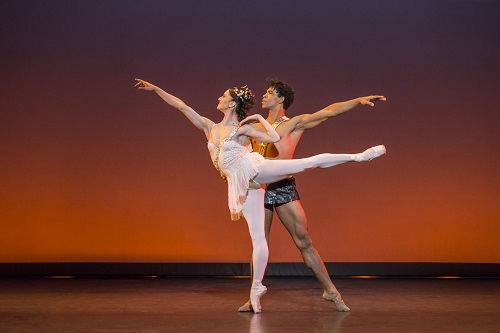 Dancers – Carlos Acosta with Marianela Núñez, Zenaida Yanowsky, Yuhui Choe, Tierney Heap, Anna Rose O'Sullivan, Thiago Soares, Valeri Hristov and Nehemiah Kish.
Various Entr'acte music by Massenet
Agon pas de deux– Choreography by George Balanchine
La Sylphide Act II pas deux – Choreography by August Bournonville
Winter Dreams pas de deux – Choreography by Kenneth MacMillan
Dying Swan – Choreography by Michel Fokine
Diana & Acteon pas de deux – Choreography by Agrippina Vaganova
End of Time – Choreography by Ben Stevenson
A Buenos Aires – Choreography by Gustavo Mollajolli
Je ne regrette rien – Choreography by Ben Van Cauwenbergh
Les Bourgeois – Choreography by Ben Van Cauwenbergh
Carmen pas de deux – Choreography by Carlos Acosta
Nisi Dominus – Choreography by William Tuckett
Majisimo – Choreography by Georges Garcia
Carlos Acosta's final performances with the Royal Ballet on the main stage were blighted by the deserved (sorry!) critical response to his version of Carmen (review). At the end Acosta was lauded for his 17 years dancing with the company but not for this new work. He deserves a better send-off but this gala evening still wasn't it. Before the interval it fizzled rather like a firework on a wet evening but a more sensuous, erotic and joyous part two redeemed everything somewhat. After a handful of performances at the London Coliseum a revised programme will tour the UK next year and surely a world tour will follow. Acosta is returning to Cuba to establish his own contemporary dance company but those watching the BBC 1 Imagine documentary now know the task he faces – so it may not be the very last the classical world sees of him considering – on the evidence of the little he did in his self-curated programme – his abilities are still at the highest level even at 42!
A Classical Selection was apparently based on his 2006 (Olivier Award-winning) Carlos Acosta and Guests when he also worked with dancers from The Royal Ballet, a number of whom were returning alongside some new talent. It was a typical eclectic ballet gala mix ranging from nineteenth-century Bournonville, twentieth-century Balanchine and MacMillan to twenty-first century choreography from Ben Van Cauwenbergh and Acosta's own Carmen. Like an earlier programme of his I reviewed in 2013 we begin backstage amongst discarded scenery, lights and two settees and all nine dancers – none more important than any other – stroll on, chat, stretch and begin to limber up. They are accompanied for moments like this here and elsewhere by some Massenet music and eventually the dancers for the first excerpt – the pas de deux from Balanchine's Agon – eventually move to the wings, a scrim descends and it is time to begin. It would have been a much better evening if this scenario – or the café one for three works in the second half – had been continued throughout. Nevertheless, it was particularly poignant to return backstage at the end and for Carlos Acosta to remove his costume, put on a T shirt and with his ballet bag on his shoulder be the last to exit the stage. He'll be back.
My major concern was that this was 'Carlos Acosta and Guests/Friends' because A Classical Selection suggests we were going to see more of the star than we actually got. He was shown in his Apollo costume (was this dropped from the gala?) on the front of a £6 programme, and a £35 book, £10 baseball caps, £15 T shirts and £20 zipper tops were also available. To be truthful Acosta didn't appear very much but what he did showed how much The Royal Ballet – and the world of classical dance – will miss him. I appreciate his body maybe rebelling but being in your 40s in 2015 does not make you as 'old' as someone would have been 30 or more years ago. Dancing with colleagues at the end (Valeri Hristov, Nehemiah Kish and Thiago Soares) he jumped just as well, turned quicker and landed cleaner and showed up the current paucity of exceptional male dancers at The Royal Ballet.
Agon was the first of a number of pas de deux ripped from longer works and occasional losing some context with the original: Acosta joined Zenaida Yanowsky and it was an uneasy affair. She was too tall for him (I had forgotten how slight Acosta actually is) and it reminded me – with the deepest respect – of another 'odd-couple' pairing – Miss Piggy with Rudolf Nureyev on The Muppet Show in 1978. Yanowsky was elegant and supple and Acosta gets little from Balanchine apart from the opportunity to partner her assuredly and seeming constantly to lift her left leg. He returned later for Agrippina Vaganova's Diana and Acteon rekindling his long partnership in this piece of classical hokum and they both enjoyed the opportunity to show-off. Acosta was powerful and pantherine with incredibly soft landings and Marianela Núñez – currently The Royal Ballet's most instinctive and versatile ballerina – had a whale of a time especially during her fouettés when Acosta began whipping her around faster and faster. He has been an actor in a couple of films and his experience of this showed with a superbly comical drunken solo, Les Bourgeois, choreographed to a Jacques Brel song. Apart from his participation in the concluding Majisimo, a joyous Hispanic ensemble divertissement, that is all we saw of Acosta – surprisingly he did not even dance his own choreography in Carmen, a decision I found rather strange.
Elsewhere, the more classical first half will not live long in the memory and maybe better as the run of performances continues. Despite the efforts of the ethereal Yuhui Choe the La Sylphide Act II pas de deux lacked sparkle and certainly Valeri Hristov never entirely seemed to embrace the Bournonville style. Thiago Soares and Tierney Heap (an interesting emerging talent) danced the steps of the Farewell pas de deux from Winter Dreams without successfully inhabiting the characters and showing all the passion and anguish needed for this parting of lovers. The long-limbed Yanowsky returned for Fokine's 'old chestnut' The Dying Swan but I was never entirely convinced by the bird's struggle for life though it did receive the loudest applause that was heard up to that point.
The second half opened with the English National Opera Orchestra being given an opportunity to shine with a robust and high–spirited account of Massenet's Fête Bohême from Suite No.4. Under their conductor, Paul Murphy they were wonderfully supportive of the dancing when required. Ben Stevenson was an early mentor for Carlos Acosta and his End of Time pas de deux featuring the two last people on earth was as reflective and beautiful a duet as I have seen. In dappled unitards Anna Rose O'Sullivan and Nehemiah Kish were languid, moving and deeply romantic. A hot and steamy balletic Argentine Tango (A Buenos Aires) followed from Marianela Núñez and Thiago Soares and was full of erotic tension. Yuhui Choe was cooler in Ben Van Cauwenbergh's Je ne regrette rien – a setting of the famous Edith Piaf song –  and I was not certain what Choe was trying to 'say' with her jerky, twirling movement. Tierney Heap was a very sexy Carmen seducing Valeri Hristov's macho Escamillo in Acosta's pas de deux which seemed to work better as a gala piece than in the entire one-act work. Before everyone came together for a celebratory ending Yanowsky was back in Will Tuckett's Nisi Dominus which – accepting it is an abstract ballet – was something else I could not connect with despite its grand gestures and expressive movement. Occasionally she was lit from above or from the front and in a red bikini and with a Slinky-like skirt perhaps she represented a figurine come to life. Not sure.
Finally, with everyone involved (apart from Yanowsky) Acosta reappeared for the last time among the four couples in Majisimo, a very fitting leaping, spinning and colourful showpiece finale by the Cuban choreographer Georges Garcia to music from Massenet's Le Cid. I suspect this is the type of work Acosta will feature with his new company when it gets going. Although there were four couples it often required Carlos Acosta and Marianela Núñez to pull apart from the rest and this was quite fitting considering their superior talent. A standing ovation at the end was guaranteed yet still much-deserved.
Jim Pritchard
For more about ballet at the London Coliseum visit www.eno.org .