United Kingdom  Beethoven: London Piano Trio [Olga Dudnik (piano), Robert Atchison (violin), David Jones (cello).] St John's, Smith Square, London. 29.11.2015 (LB)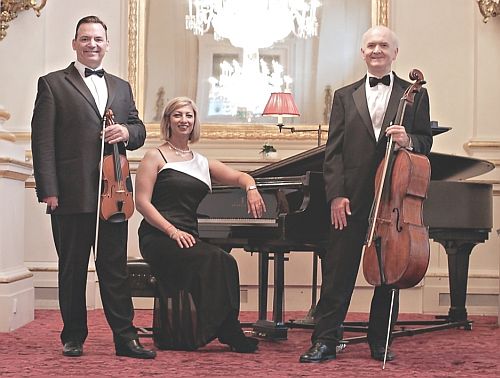 Piano Trio No.5 in D Op.70 No.1 'Ghost'
14 Variations on an original theme in E-flat Op.44
Piano Trio No.2 in G Op.1 No.2
In the second of their three-concert Beethoven Cycle, the London Piano Trio had to compete with 60,000 boisterous Climate Change protesters who had gathered for a rally outside the Palace of Westminster, a matter of yards from St John's, Smith Square.
These mid-afternoon chamber music concerts at 3pm on a Sunday are an exciting innovation, and even if the excellent programme of Beethoven piano trios didn't muster an audience to rival the number of Climate Change protesters, the series is garnering a loyal and discerning following, including a significant number of professional musician colleagues whom I spotted in the audience.
At a time when chamber music in London's major concert venues is increasingly being performed by celebrity ensembles, assembled for one-off events, it was gratifying to hear the London Piano Trio, who have devoted the better part of twenty years to championing this glorious repertoire, in a refreshingly sincere and principled manner.
Their concert this afternoon began with a meticulous and direct performance of Beethoven's iconic Ghost Trio. It is a musically substantial and intellectually challenging composition, but with only three movements, relatively short. The London Piano Trio extended our joy however, by unusually and dutifully observing both first movement repeats.
Robert Atchison, previously a member of The Academy of St Martin in the Fields, revealed himself to be a refined and thoughtful artist, and was utterly in command of proceedings. Cellist David Jones provided a stylish and rich foundation throughout, but also made his instrument sing expressively whenever required to do so. Olga Dudnik is a charismatic and thoughtful pianist, who with the minimum of fuss contributes to the ensemble's musical unity.
Variation form can sometimes be tedious to listen to, but the London Piano Trio's stimulating and effervescent performance of Beethoven's rarely heard 14 Variations on an original theme Op.44 successfully avoided all the traditional pitfalls. After an eloquently articulated theme, each successive variation was crafted with great imagination, and without losing sight of its relationship to the theme. This was the very first time I was privileged to hear a live performance of this outstanding set of variations, and it proved to be the highlight of the concert for me.
The jaunty Trio Op.1 No.2 that concluded the programme is, despite its early opus number, a work of astonishing ingenuity, and presents the performers with challenges aplenty. It demands an extraordinary level of nonchalant virtuosity, structural awareness, elegant and imaginative phrasing, but above all, a sense of humour, and The London Piano Trio succeeded on all fronts.
The skittish piano part was especially gracefully realised, and since there never was any danger of Olga Dudnik overwhelming her colleagues, even during her most passionate moments, I would have preferred the piano lid to be fully opened, as opposed to being on short stick.
Good music making requires not just great sense of purpose, immaculate attention to detail and impeccable execution, but also the willingness to take risks. I for one would have been willing to forgive a few blemishes in return for a more visceral level of commitment throughout the London Piano Trio's performance, but especially in the Ghost Trio.
The London Piano trio returns to St John's on 17th January 2016, for the final concert in their Beethoven Cycle.
Leon Bosch.