United Kingdom Mascagni & Leoncavallo, Cav & Pag: Soloists, Chorus and Orchestra of the Royal Opera House, Covent Garden / Antonio Pappano (conductor). Royal Opera House, Covent Garden, 3.12.2015. (CC)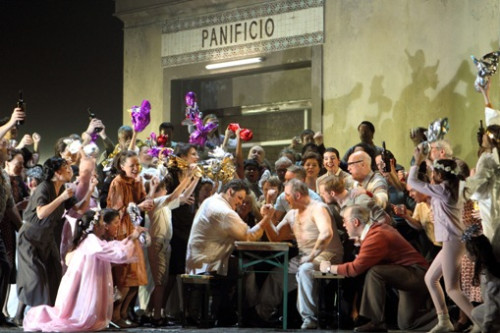 Cavalleria rusticana
Cast included:
Turiddu – Aleksandrs Antonenko
Santuzza – Eva-Maria Westbroek
Mamma Lucia – Elena Zilio
Alfio – Dimitri Platanias
Lola – Martina Belli
Pagliacci
Cast included:
Nedda – Carmen Giannattasio
Canio – Aleksandrs Antonenko
Tonio – Dimitri Platanias
Beppe – Benjamin Hulett
Silvio – Dionysios Sourbis
Production:
Damiano Michieletto  (Director)
Paolo Fantin (Set Designs)
Carla Teti (Costume Designs)
Alessandro Carletti (Lighting Design)
Damiano Michieletto comes with a certain reputation, after the rape scene in his William Tell at Covent Garden. He has been chosen to stage Cav & Pag though, and those who were expecting (itching for?) similar controversy were to be disappointed – although there was a disproportionate amount of audience noise, suggesting his dissenters still found cause for complaint. Certainly, there is an interventionist element which here is just rather clever. The two productions are intertwined. We hear Cavalleria rusticana first, and on the walls of the house that is in the centre of the stage are posters for Pagliacci. In the Intermezzo of Cav, Nedda and Silvio (from Pagliacci) share a kiss; in the Intermezzo of Pagliacci, it is Santuzza (and a priest) who feature. All this is interesting and clever, pointing to links between the pieces and attempting, perhaps, to cement the setting in 1980's Italy, and perhaps indicating that these pieces are now so much a coupling that they have become interdependent. Whether it would remain as convincing on a second viewing is doubtful, I would suggest. Similarly the statue of the Virgin Mary in Cav, who animates (sort of) and points accusingly; a nice touch but one which could soon degenerate into kitsch, perhaps.
The setting for Cavalleria rusticana foregrounds a bakery, while that of Pagliacci it is the local theatre that dominates. In both, a revolving stage gets much use, in the one instance from exterior to interior; in the other from dressing room (where Canio's "Vesti la giubbà" receives a terrific performance from Antonenko) to exterior.  Holding all of this together, more impressively than Michieletto's staging, was the sure hand of Antonio Pappano. The sense of rightness throughout could only come from the baton of someone steeped in verismo; the orchestra responded accordingly, with fortissimi of heart-rending power that nevertheless never blurred textures. In fact orchestral detail throughout was one of the finest aspects of this performance. The strings had a depth and lustre not always heard from this orchestra.
Performances such as this go far in revealing the subtleties of verismo as well as its more obvious, extrovert emotionality. Some, not all, of the singing mirrored this.  The Chorus was strong, but not always in sync with the orchestra (in Cavalleria). The star of this Cav was Eva-Maria Westbroek, a singer who took on the title role of Anna Nicole in Turnage's opera at Covent Garden (here); in Mascagni she seemed even more at home, her "Voi lo sapete o Mamma" simply glorious. Her raw emotional portrayal was eminently memorable. Talking of Mamma, Mamma Lucia was taken in a masterly portrayal, every inch the Italian mother, by Elena Zilio. In fact the women were particularly strong: Martina Belli's Lola was astonishingly present, not to mention sexy.  Aleksanders Antonenko was a feisty Turiddu and, in Pag, a bitter Canio. Both roles suit the intensity of his delivery well, and his "breakdown" in the play in Pag was gripping. Dimitri Platinas took Alfio and Tonio respectively, catching their darker emotions well.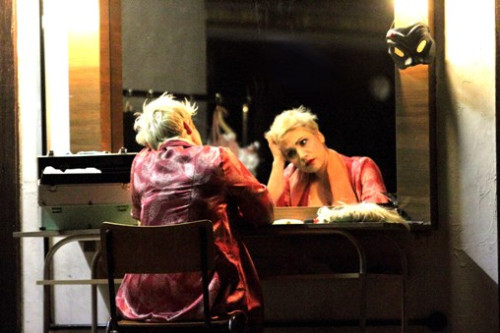 If Westbroek shone in Cav, it was Carmen Giannattasio's Nedda in Pag that left the most lasting impression. Completely inside the role, and vocally of iron strength, she took over the stage whenever she entered. The chorus as audience element to the play, and the way the play spilled out into real life (literally) made a huge dramatic point. Benjamin Hulett (Beppe) and Dionysos Sourbis (Silvio) completed a strong cast.
Given the recent performance of Leoncavallo's Zazà at the Barbican, it is tempting to think that verismo is entering a new phase. One hopes so, fervently.
Colin Clarke