Robert Beattie

United Kingdom
There were many fine performances throughout 2015, and it has been very difficult to select a list of outstanding concerts. In drawing up my list I looked at concerts where the music making was at an exceptionally high standard throughout, and where the performers offered fresh insights into some of the great works of the repertoire.
In March the London Symphony Orchestra and Yuja Wang joined forces at the Barbican to help Michael Tilson Thomas celebrate his 70th birthday. The maestro and the LSO gave a superb performance of the Four Sea Interludes from Britten's Peter Grimes and MTT provided us with a very personal and emotional reading of Sibelius' Second Symphony. Wang and the LSO's principal trumpet, Philip Cobb, gave a turbocharged account of Shostakovich's First Piano Concerto.
Alice Coote and Julius Drake gave us an enticing survey of French song at the Wigmore Hall in April. The performances were superlative and covered a wide range of styles and genres from the 19th and 20th centuries, as well as introducing us to some lesser known jewels of the repertoire. Yuri Temirkanov and the Philharmonia Orchestra gave a captivating and enchanting performance of Dvořák's Eighth Symphony at the Royal Festival Hall later in April. They were joined by young lion of the keyboard, Daniil Trifonov, who gave an incendiary performance of Rachmaninov's First Piano Concerto.
Murray Perahia returned to London in June with an outstanding performance at the Barbican. In a long and generous recital it was a privilege to witness one of the great masters of the piano at work in music by Bach, Haydn, Beethoven, Chopin and Franck. In July Grange Park Opera came to the Proms with Bryn Terfel leading the cast in a sparkling production of Fiddler on the Roof. This was an evening of first-rate entertainment that had the audience clapping in the aisles at the end, while Terfel proved a worthy successor to Zero Mostel and Topol in the role Tevye.
Vladimir Jurowski and the London Philharmonic Orchestra gave a powerful, sensual account of Scriabin's Third Symphony at the Royal Festival Hall in October. They were joined by Leonidas Kavakos who gave a barnstorming performance of the Sibelius Violin Concerto. Igor Levit gave what must be the solo piano recital of the year at the Wigmore Hall in November. Levit's performance of Shostakovich's Second Piano Sonata was spellbinding, while his account of Beethoven's Diabelli Variations had enormous depth, flair and imagination as well as showing his exemplary technical command of the keyboard.
Iestyn Davies, Allan Clayton and James Ballieu brought the year to a close with a wonderful recital at the Wigmore Hall consisting of songs by British and American composers. The performances of Britten's first and second Canticles were truly affecting, while the arrangements of songs by Purcell lingered in the memory long after the recital.

Mark Berry

United Kingdom
First and foremost, this has been Pierre Boulez's 90th anniversary year. Outstanding performances have included those from Daniel Barenboim (once, including a great performance of Schubert's 'Great' C major Symphony, twice, thrice, a performance which finally helped me grasp Dérive 2), Michael Wendeberg in the solo piano music, and Répons from the Ensemble Intercontemporain and Matthias Pintscher. Boulez stands, as never before, at the heart of 'classical' and 'contemporary' repertoire.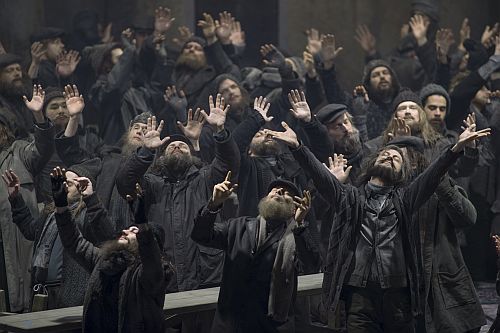 Photo credit: Ruth Walz/Staatsoper Berlin
Barenboim also led, in exemplary fashion, the premiere of Dmitiri Tcherniakov's brilliant new production of Parsifal, with a world-beating cast topped by Andreas Schager in the title role; I look forward already to seeing it again next Holy Week. Other operatic highlights were Calixto Bieito's ingenious, hard-hitting Puccini-Bartók double bill for the Komische Oper, Berlin, two Birtwistle chamber operas at the Royal Opera House in conjunction with the Aldeburgh Festival, Peter Koniwtschny directing Wolfgang Rihm's Die Eroberung von Mexico in Salzburg, Romeo Castellucci's Moses und Aron (the first new production of Stéphane Lissner's intendancy in Paris), and a truly rejuvenating Marriage of Figaro from the Royal Academy of Music.
The piano did not fare badly either, with memorable recitals from Maurizio Pollini (Beethoven and Schoenberg) and Igor Levit (Cardew and Rzewski). Leif Ove Andsnes offered exemplary performance of two Beethoven piano concertos. Mitsuko Uchida proved an ideal partner for Dorothea Röschmann at the Wigmore Hall, also the venue for outstanding recitals from Jonas Kaufmann and Anna Caterina Antonacci. Christian Gerhaher's 'Viennese Schools' recital completes my list of highlights in song.
Other orchestral peaks were Barbara Hannigan as soloist and conductor with the Britten Sinfonia; the bittersweet first and last performance at the Proms from the SWR SO Baden-Baden and Freiburg; another great Schubert 'Great' from Bernard Haitink and the Chamber Orchestra of Europe; and last, yet anything but least, returning again to Daniel Barenboim, a shattering Mahler Ninth with the Vienna Philharmonic.

Jack Buckley

Italy
2015 is the year I started educating myself in microbiology, which in turn activates all those delightfully mysterious little cells which are our very lifeforce. The Ebéne Quartet with Mitsuko Uchida  comes out at the top of the pile in this exploration.
Two music books reunited me with friends and the joys of music and its making. The first is John Cage Was   ̶  James Klosty's superb photos of the maestro with thought-provoking tributes from John's friends and collaborators (Wesleyan University Press). As always on Planet Cage, there was lots of fun to be had. But the top fun prize has to go to The Mad Boy, Lord Berners, My Grandmother and Me by Sofka Zinovieff   I never met his lordship but the Mad Boy was a friend, and reading Sofka Zinovieff's tale made me very sorry never to have met her grandmother.
Mention of the fun stakes reminds me of the joyous performance of Shostakovich's concerto for trumpet and piano from Giuliano Sommerhalder and Martha Argerich Santa Cecilia never had it so witty.
Of the 2015 pianists, Alexander Ullman's demons were alive and informative with his unique style at the Teatro Ghione, Rome in January.  At the other end of the pianistic spectrum was the beautifully understated recital of Alexandre Tharaud in December
Not least of 2015 revelations was La Scala's opening of the season on 7 December with a superb production and two great singers of Verdi's most misunderstood opera, Giovanna d'Arco.
Michael Cookson

United Kingdom
This year my selections are a mixture of orchestral concerts mainly from touring American orchestras, a pair of operas, an opera/musical and a chamber recital.
Attending the Komische Oper Berlin these days is almost guaranteed to be an entertaining evening. Director Lydia Steier took the liberty of bringing Handel's opera Gulio Cesare in Egitto from 48 BC forward to what seemed like a curious and heady mix of the era of revolutionary France and the Rocky Horror Show. It worked magnificently, and I relished every single second of Steier's staging.
At the Semperoper as part of the Dresden Music festival the visiting Philadelphia Orchestra under Yannick Nézet-Séguin showed their undoubted class with a riveting performance of Tchaikovsky's Symphony No. 5 and a fascinating new work, Nico Muhly's 'Mixed Messages'. Canadian pianist Jan Lisiecki brought the house down with an astounding performance that breathed new life into an old warhorse, the Grieg Piano Concerto.
Berlin Musikfest 2015 the touring Boston Symphony under music director Andris Nelsons at the Philharmonie gave a quite special, awe-inspiring performance of Mahler's Symphony No. 6 that will live long in the memory. Any chance to attend a concert by the Boston Symphony under Andris Nelsons must not be missed!
Performed in the wonderful acoustic of the Herkulessaal, Munich, the Dvořák Stabat mater more than lived up to its promise as Maestro Jansons and his quartet of soloists, Bavarian choral and orchestral forces made a splendid case for this inexplicably neglected score. It's always pleasing to hear the Symphonieorchester des Bayerischen Rundfunks in performance, an orchestra that holds a special attraction for me with its remarkable individual sound of precision, power and expression.
Totally captivating was Axel Köhler's stunning staging of Weber's pioneering Romantic opera Der Freischütz at the Semperoper, Dresden. Best of all: the terrifyingly haunted Wolf's Glen scene, set deep in the forest, contained spectacular integration of fast moving imagery accompanied by alarmingly evocative sounds. Under Peter Schneider's direction the soloists, Staatsopernchor und Staatskapelle Dresden were on marvellous form. The DVD/Blu-ray of the production has just been released on the C Major label.
Part of Berlin Musikfest 2015, the San Francisco Symphony under Michael Tilson Thomas made quite an impression at the Philharmonie. It was great to hear the German première of John Adams's 'Absolute Jest', a fascinating work for string quartet and orchestra that takes and cleverly develops material from Beethoven scores. The contrasting sound worlds of Schoenberg's Variations for Orchestra and Beethoven's 'Eroica' Symphony were given memorable performances.
At the RNCM in Manchester, director Stefan Janski chose a production of Kurt Weill's Tony Award-winning American opera/musical 'Street Scene', staged with support from the Kurt Weill Foundation. RNCM Opera is using two large casts of students, the 'Kurt' Cast and the 'Weill' Cast; each is giving three performances. Only last week I attended the first show done by the 'Weill' Cast, with Alexandra Lowe stealing the show as ambitious office worker Rose Maurrant. Splendidly staged and cast, this emotionally charged production was striking for the remarkably high standard of performance, with Janski directing the principals slickly around the stage.
This annual Gala performance at the Semperoper, Dresden, saw baritone Christian Gerhaher give a compelling programme of Wagner and Schubert opera arias with glorious singing that sounded fresh and polished and conveyed real passion. Under Christian Thielemann the Staatskapelle Dresden gave Gerhaher excellent support and completed the concert with a magnificently inspiring interpretation of Bruckner's Symphony No. 4, 'Romantic'.
My ideal type of absorbing string quartet recital programme was a late Beethoven masterwork opus 135 contrasted with works from the Second Viennese School, all requiring a part for female soprano. The dream-team combination of the renowned Emerson Quartet with Barbara Hannigan ticked all the boxes at the Kammermusiksaal of the Berlin Philharmonie.

Rafael de Acha

United States
Cincinnati is a great city for music in little off-the-beaten-concert-path places. Earlier in 2015 I had the chance to catch a modern-dress production of Handel's Alcina by the enterprising Cincinnati Chamber Opera, conducted by the gifted Israeli Yael Front. Two young singers of immense promise captured our attention: lyric mezzo-soprano Kate Tombaugh and Allan Palacios Chan, a leggiero tenor, both of them stylish artists with acting, musical and vocal chops.
Annalisa Pappano's Catacoustic Consort brought a lovely evening of Baroque and contemporary music for viols and voice. It featured male soprano Michael Maniacci gorgeously singing Tan Dun's "A Sinking Love," to the accompaniment of lutes and viole da gamba.
concert:nova's Le Salon Cabaret featured a heady mix of songs and ditties by Ravel, Satie, Weill, Monnot, Françaix,  Boulanger, Fauré, and Debussy, sung and played by a terrific group of musicians and narrated with Gallic charm by Aimée Langrée.
James Slouffman is an avowed Wagnerite entrepreneur who has an uncanny knack for discovering musical talents, such as Shareese Arnold, a true dramatic soprano who stunned the afternoon audience in a recent Wagner Society of Cincinnati concert with a voice as ample as her interpretive gifts.
At the Taft Museum, the husband and wife duo of Rebecca and Dan Culnan with pianist Frank Weinstock played an hour's worth of sublime chamber music, climaxing it with the Franck Sonata for violin and piano. Both Ms. Culnan and Weinstock conquered with idiomatic and passionate playing a musical mine field written by one of the last French romantics for Eugene Isaye.
The Cincinnati Symphony Orchestra closed its season in May with a bravura performance of Rimsky-Korsakov Scheherazade, but it was in the "other" Shéhérazade by Ravel that a sensational last-minute substitution by the name of Michelle De Young stepped out on stage and reminded us of what a great mezzo-soprano sounds like.
James Conlon brilliantly led the May Festival orchestra and chorus in excerpts from Mussorgsky's Khovanschina. He then brought gravitas and depth of insight to the anguished music of Shostakovich's Babi Yar Symphony. The soloist on both was Mikhail Kolelishvili, a superb bass with an inky black voice, singing the poetry of Yevtushenko and the tirades of Mussorgsky's Dosifei with copious reserves at both ends of the range.
MamLuft&Co. Dance's last outing back in May was yet another tour de force by the dozen men and women of the troupe and their visionary artistic director, Jeanne Mam-Luft – an evening-long kinetic meditation on our collective and individual capabilities to remember and forget, aptly titled Memoriam (In Memory of Memory).
Cincinnati Opera's Turandot was one for the books, with Marcy Stonikas as a dramatically chilling and vocally fiery Ice Princess, Nora Ansellem, as good a Liu as I've heard, and the sensational Italian bass, Andrea Mastroni, a moving and sonorous Timur, in a colorful production by Renaut Doucet and Andre Barbe, capped by the inspired conducting of Ramon Tebar.
The reborn Cincinnati Chamber Orchestra 's closing concert saw some of the finest free-lancers in Cincinnati close ranks behind guest conductor Kelly Kuo and play as if they had done so for decades. The final piece, Bottesini's Gran Duo Concertante, made the closing night audience instant fans of two superb soloists: violinist Cho-Liang Lin and bassist Daxun Zhang.

Jonathan Spencer Jones
Argentina
A new government brings the promise of an improved economy but for now the current and next seasons are somewhat leaner than in previous years.
The Teatro Colón got a new director general, Darío Lopérfido, at the start of the year, but following his widely expected appointment as Culture Minister in the new City government, the position has subsequently been filled by another city bureaucrat, María Victoria Alcaraz. However, Lopérfido, who among other actions brought us the memorable Macbeth in the Congo and is responsible for the 2016 season, apparently considers he is also the best person to take forward the Colón's programming and is also retaining the (new) role of artistic director.
That said my choice of best operas must start with the exuberant L'elisir d'amore which opened the Colón's 2015 season. With brilliance and colour aplenty, and a number of local debuts including Simón Orfila as a lively Dulcamara, it proved sadly to be the swansong of the noted director Sergio Renán, who died just a month later aged 82 years. With a different cast the production was also given at the Teatro Solis in Montevideo in August as part of an initiative to strengthen cooperation between the main opera houses in the region.
From Buenos Aires Lírica, Rusalka is my choice – and not only because this was the Argentine premiere of this 114-year-old work. While the production by the famille Marmorek didn't fully draw out the fairy tale aspects, excellent playing under conductor Carlos Vieu and outstanding singing, especially from Daniela Tabernig – her 'Song to the Moon' was listened to in rare near silence – more than compensated.
Work commitments meant I wasn't able to complete the review of Juventus Lyrica's Carmen in reasonable time. Although the fifth production in as many years, and the second this year as each of the local companies take their turn, I was pleased to catch the last performance with a surprising freshness to it brought by mother and daughter Ana D'Anna and María Jaunarena and the (second cast) enthusiastic young singers who we will surely see more of in the future.
Another disappointing year at the financially stricken Teatro Argentino resulted in cancellations and few productions. La Traviata, which opened the 'season', was a reprise of the 2014 production, broadly traditional with two raised areas to separate aspects of the action. A special word for Ernesto Bauer's Germont père – a role into which he is evolving masterfully. But change may be in the air – although no announcement has yet been made, with a new provincial government there is hope for the 2016 season.

Antoine Lévy-Leboyer
Switzerland
In the classical music world, we tend to come back to great works written in the past that we probably know very well. What makes the "best" events in a year are those that make us look at works in new ways.
Geneva, while a city of modest size, gave us many such events. The visionary Geneva Camerata under David Greilsammer organized an evening of Vivaldi concertos in the Museum of Art and History in the old city. Each concerto was played in a different room whose works were presented by the Museum curators. This was a genuinely fascinating and intelligent evening.
The Swiss Romande Orchestra opened the door to many young artists. Keep in mind the names of 26-year-old Israeli Lahav Shani and Swiss pianist Louis Schwizgebel. We will hear much more from them.
As we are talking of new talents, I have to mention that Igor Levit's recordings of the Goldberg Variations, Diabelli Variations and The People United by, respectively, Bach, Beethoven and Rzewski are to be treasured, and stand their own when compared with readings by Gould, Pollini and Oppens. Do give old and new masters an ear if you do not yet know them.
Benjamin Britten's Midsummer Night's Dream had not previously been staged in Geneva. The recent production by Geneva's Grand Théatre was world-class and the best thing they have done in the new Richter regime.
Finally, I must end by mentioning a superb … 5-minute piece. After a delightful Mahler 4 in Salzburg, Miah Peerson and Ivan Fischer's Budapest Festival Orchestra gave us Mozart's Laudate Dominum where the string players stood up and sang the choral part. They may not be professional chorus singers, but this was music from the heart to the heart.

Stan Metzger

United States
When William Christie comes to New York to lead the Juilliard School's Historical Performance orchestra, as he did in October, it is always something special.  But this is not a student orchestra like those we may have heard in the past. This is a band of musicians that can compete on any level with professional groups in the States and Europe. You knew it was not hyperbole when Christie told the audience at the end of this concert that because of travel delays he had lost rehearsal time, yet was so impressed that the group was able to  pull it together and play on such a high level. Energy and enthusiasm abounded, in sharp contrast to many professional groups that are sometimes understandably exhausted with the rushed pacing of travel these days.
There was no exhaustion in the three Schubert song cycles: Die schöne Müllerin, Schwanengesang,Winterreise performed on three evenings (with an evening off between the second and third). The scheduled artists were Mark Padmore as vocalist and Paul Lewis as accompanist. Due to an accident, Lewis had to cancel his tour and was replaced by the superb fortepianist, Kristian Bezuidenhout. The substitution of a fortepiano for a modern-day piano allowed for a kind of coloring that would have to be closer to what Schubert heard. Padmore's lyrical voice, gentle at times, demonstrative at others, made the journeys through the dark nights of the soul palpable.
A world apart was the Metropolitan Opera's production, with the Dutch National Opera and English National Opera, of Alban Berg's Lulu. In one of the dullest seasons imaginable, Lulu stood out by proving what opera can and should be. It didn't have to be great, it could have been awful, and it still would have to be praised just for its very appearance. The singers, orchestra and conductor were nearly flawless, but the William Kentridge production was often silly and distracting, as was his earlier "visualization" of Schubert's Winterreise . Yet this was the event of this season, and press tickets were not to be had, I was told (though the theater was about 80% filled).
Bradley Brookshire is another pianist who at the last minute was asked to replace someone: in this case, the Italian harpsichordist Giuseppe Schinaia, whose tour was cancelled due to a hand injury. Perhaps it was the knowledge that the Goldberg Variations was a risky work to take on at the last minute, but there was an edge to Brookshire's performance that seemed to say, "Why not?" This freedom showed itself in both the relaxed tempi and the  sparking brilliance of the virtuoso variations.

Geoffrey Newman

Canada
Vancouver hosted many memorable concerts in 2015, but the event that stood out above the rest was the Borodin Quartet's traversal of the complete Shostakovich quartets in May. Sponsored by Vancouver's Friends of Chamber Music, this ended up a magnificent unity, building over five nights, with the last quartet played in candlelight, as tradition dictates. An interesting interview was secured to mark the occasion. It was not that we lacked for other great string quartet playing either: in recent months, both the Pavel Haas Quartet and the Arcanto Quartet gave us some of the finest playing one could ever imagine: sensitive, imaginative and absolutely riveting. Vancouver New Music's presentation of the remarkable Jack Quartet was an engrossing experience as well.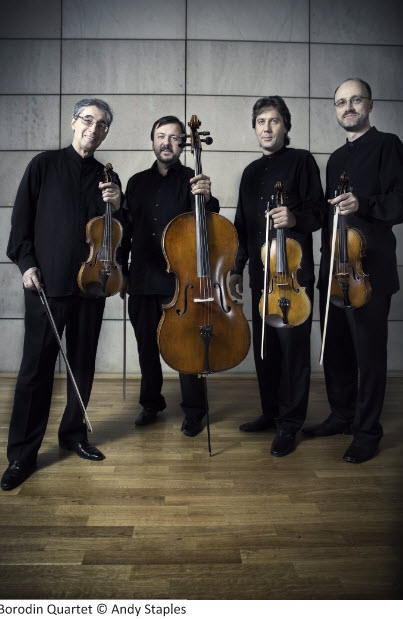 The Vancouver Symphony Orchestra provided its customary quality and variety, featuring a New Music and a Mozart Festival which were successful, though less distinctive than the previous year's efforts. This fall's highlights were a transcendent Schumann concerto from pianist Stephen Hough and a stunning Paganini concerto from violinist Tianwa Yang, the latter's performance having some intrigue (see interview). Both of these followed an inspired fall opener that coupled legendary violinist Miriam Fried's Beethoven concerto with the world premiere of Vivian Fung's imaginative Biennale Snapshots. Last spring, three concerts showcased particularly fine conducting from Maestro Bramwell Tovey: a beautifully negotiated Bruckner's Fourth, an inspiring Mendelssohn 'Hymn of Praise', and a zipping account of Bernstein's Candide. Some sparks were also flying from violinist Karen Gomyo and conductor Jun Markl, and it was a pleasure to hear, and talk to, pianist Angela Hewitt again.
The Vancouver Recital Society again offered a stunning array of world-class performers, and the city was delighted when Musical America recently named Artistic Director Leila Getz at the top of the 'Top 30 Influencers', certainly an honour for any presenter. Last spring almost outdid anything previously, with a wonderfully probing Beethoven Cello Sonata cycle from Steven Isserlis and Robert Levin, a stimulating Andras Schiff recital featuring a remarkable Schubert C minor sonata, and pianists Paul Lewis and Steven Osborne illuminating late Beethoven with distinction. Emanual Ax started the year off in fine fashion, while the outstanding lieder recital was tenor Ian Bostridge and local pianist Wenwen Du in Schubert's Winterreise. Very recently, we witnessed exalted artistry in Beethoven and Sibelius from pianist Leif Ove Andsnes, following on recitals by two very talented young artists, cellist Maximilian Hornung and violinist Caroline Goulding. Couple this with the Chopin Society concerts that involved a very fine 'Hammerklavier' from Nelson Goerner, and thought-provoking appearances by Alexandre Tharaud and Jorge Luis Prats, and the year certainly did not lack for pianistic splendour.
Matthew White has recently set a fire under Early Music Vancouver (see interview), creating musical variety and a sense of occasion by implementing co-productions with other presenters. These allowed fortepianist Kristian Bezuidenhout to appear and give a ravishing Mozart recital, while the performances by Juilliard415 and conductor Nicolas McGegan allowed us to see just how staggering a triumph this student 'authentic' orchestra is. I was also very impressed with the August concert of Canada's National Youth Orchestra (NYO) under Michael Francis.
The three 'big' productions for Early Music Vancouver involved collaborations with the Pacific Baroque Orchestra, Seattle's Pacific MusicWorks and the Vancouver Chamber Choir on Handel's Theodora, Purcell's Dido and Aeneas, and Monteverdi's Vespers. It was the Vespers under conductor Stephen Stubbs that perhaps gave me the greatest spiritual proceeds, a particularly devoted and 'loving' performance. The Praetorius Christmas Vespers, directed by David Fallis with a superb hybrid of vocal and instrumental performers, was also quite splendid in a different way.   All in all, this was a year that certainly kept me busy — and very enjoyably so.

John O'Dwyer 

United Kingdom
On a Monday evening at the beginning of February, Royal Ballet principal dancer Nehemiah Kish, a repentant Eugene Onegin in John Cranko's Onegin, made a circle with his arms in the air around the shoulders of Itziar Mendizabal's Tatiana as she stood beside him. Keeping his arms in a circle, and without touching her, Kish sank to the floor at his partner's feet in a way that stilled the audience. 'Beautiful,' the woman in the seat beside me at the Royal Opera House said as we turned to each other at the end of Act One of this ballet. 'Beautiful. Absolutely brilliant,' she said as we turned to each other again at the end of Act Three.
Nothing else quite matched that all year, but in March English National Ballet performed at Sadler's Wells for the first time as an 'Associate Company'. The highlight of its three-work programme was William Forsythe's In the Middle, Somewhat Elevated, in which Artists of the Company Barry Drummond and Tiffany Hedman made particular sense of the choreographer's 'off centre' movement vocabulary.
Frederick Ashton's La Fille mal gardée brought almost unqualified happiness to the Royal Opera House in April. Never had an audience seemed so eager, on coming back from an interval, for the next Act to begin. And a great roar of male approval went up as Alexander Campbell (Colas) extended his arms protectively over Yuhui Choe (Lise) after he had carefully lowered her, in a sitting position, to the ground.
Birmingham Royal Ballet's Swan Lake, the first of two programmes presented by the company at Sadler's Wells in October, combined strong design, clear staging and intelligent central performances by Céline Gittens and Tyrone Singleton. A 1981 production by Peter Wright, it brings overtones of Hamlet to the story. William Bracewell, Siegfried's Horatio-like friend, Benno, would go on to perform markedly beautiful arabesques in David Bintley's The King Dances, part of the triple-bill that made up Birmingham Royal Ballet's second programme.
In October too, I received an invitation from The Place to a 'performed exhibition of costume and choreography' at the Candid Arts Trust in Islington. Hand in Glove showed students from the London Contemporary Dance School in extracts from work that choreographer Lea Anderson created for The Cholmondleys and The Featherstonehaughs towards the end of the last century and the beginning of this. Dancers and audience occupied the same exhibition space. Lea Anderson herself walked about during the 'continuous' performance, smiling her approval or noting a correction.
The costumes were originally designed by Sandy Powell, Simon Vincenzi and Emma Fryer. Bold, shocking, outrageous, they seemed to hark back to a pre-digital, even pre-technological age in which all people had was their bodies and (sometimes) their sense of humour. How strange to see these very young dancers dressed as their parents, or even grandparents, might have dressed, to see them dancing as they might have danced to music they might have listened to. They danced, and wore the costumes, so well that on coming out into to the daylight afterwards, I felt that the 'then' of the exhibition was 'now', the 'now' of the street around me a dystopian future.

Rick Perdian

Singapore
Switzerland
Cecilia Bartoli may have been the raison d'être for Zurich Opera's revival of Rossini's La Cenerentola seen on January 15, 2015, but the entire production was a delight. Bartoli dazzled with her formidable technique, but kept her star power in check as part of the equally sparkling ensemble.
Singapore's founding prime minister, Lee Kuan Yew died on March 23, 2015. The Singapore Symphony Orchestra (SSO) dedicated its March 28, 2015 concert to his memory. Only one work was programmed, Mahler's Ninth Symphony. While thousands of Singaporeans queued outside to pay their personal respects to the founder of modern Singapore, Eliahu Inbal led an emotionally charged and unforgettable performance of this colossal work.
The world premiere of Emily Koh's Jia[k] for Orchestra by the SSO on April 4, 2015 evoked the smells and tastes of Singapore's fabled culinary scene in sound. Benjamin Grosvenor's playing of Liszt's Piano Concerto No. 2 in A major was dessert.
Zubin Mehta led a splendid performance of Mahler's Symphony No. 1 in D major with the Shanghai Symphony Orchestra on June 16, 2015. The acoustics of the new Shanghai Symphony Hall played their part also
At the other end of the musical spectrum was Dim Sum Dollies – The History of Singapore Part I on June 19, 2015. The most poignant vignette was "Samsui Woman," dedicated to the Chinese immigrants who came to Singapore in the first half of the 20th century to work construction jobs. Wearing the Samsui women's trademark red cloth hats, the Dollies offered a heartfelt and memorable tribute to the sweat and toil of these women who helped build the modern city-state.
Pavol Breslik's Nemorino in Donizetti's L'elisir d'amore at Zurich Opera on July 5, 2015 was just wonderful. He melted hearts with his "Una furtiva lagrima", realizing that Adina's single tear was the sign that she does indeed love him.
Zurich was the place to be for opera in July. On July 10, 2015, Evelyn Herlitzius' Elektra was indeed electrifying.
The next evening, Klaus Florian Vogt triumphed as the Swan Knight in Zurich in Lohengrin. Vogt's portrayal of Lohengrin ranks among the finest Wagner performances that I've ever experienced.
Just a few hours after the horrible events in Paris on November 13, 2015, the SSO dedicated a concert, primarily of French music, to the memory of the victims. Music Director Lan Shui conducted with restraint and clarity. He and the SSO, together with violinist Mira Wang and cellist Jan Vogler, made this an indelible musical experience.
My first time hearing Lionel Bringuier conduct the Zurich Tonhalle in Tchaikovsky:'s Symphony No. 5 in E minor on November 10, 2015 whetted my appetite for more. The Tonhalle is experimenting with new concert formats to broaden its appeal to a wider swath of the public. This level of music making can't help but bolster these efforts.

Jim Pritchard

United Kingdom
Time seems to be overtaking me once again this year and I can only repeat much that I have said in previous years, beginning with how fortunate I am to get to see so many operas, ballets, concerts and other musical events in any given 12 months – thankfully I would actually have gone to most of them even if I hadn't had to … if you get my meaning?
I know I am not always the best audience and sometimes leave the opera house, concert hall, theatre or cinema a little dissatisfied. I perhaps strive too much for the 'perfect event' … and am beginning to accept more often that such a thing – in reality – is not possible. So once again I have decided just to look back at the past year month by month and pick what was possibly best – or the most significant – for me in each of them and list the eclectic relevant links below without further comment.
January –February – March – April– May –June –July –  August –September – October –November December –

John Quinn

United Kingdom
I've had the good fortune to attend and review a number of fine concerts this year. However, three of the most memorable occasions were concerts which I didn't review. On these occasions I was able to relax and enjoy the performances without the responsibility of writing about them later.
One of these was, amazingly, my first-ever visit to the BBC Proms. I was astonished that tickets were available for the first of two concerts by Andris Nelsons and the Boston Symphony. Their account of Mahler's Sixth Symphony was superb, confirming that theirs is already a most exciting partnership. Colin Clarke, who reviewed the concert, was equally impressed. I'd also had the chance to hear Nelsons conduct the symphony, again grippingly, with the CBSO earlier in the year (review). I witnessed another great partnership in action when I accompanied Geoff Read to hear the Gewandhausorchester Leipzig and Riccardo Chailly play Strauss and Mozart in Birmingham. This was memorable in every respect, as Geoff made clear in his review.
My third memorable concert as a spectator involved another trip to London in September to hear Peter Phillips and The Tallis Scholars attain the astonishing milestone of 2000 concerts. As Brian Wilson made clear in his review, this remarkable ensemble was on superb form.
In June I'd had the chance to review The Tallis Scholars myself when they came to Birmingham. The excellent acoustics of Symphony Hall proved ideal for their performances of music by Arvo Pärt in his 80th birthday year. Phillips and his group are marvellous advocates for the Estonian master and in November their recent CD of his music deservedly was named MusicWeb International's Recording of the Year for 2015.
In June Andris Nelsons' remarkable seven-year tenure as Music Director of the City of Birmingham Symphony Orchestra came to an end. I heard several splendid concerts in the closing months of his time with the CBSO, including a memorably sweeping account of Rachmaninov's Second Symphony. Pride of place, though, must go to his farewell concert in June when he led an unforgettable and highly-charged performance of Mahler's Third Symphony. Nelsons has made an indelible mark in Birmingham and he leaves very big shoes to fill.
That fine Birmingham choir, Ex Cathedra got 2015 off to a fine start in January with a typically enterprising programme entitled 'New Jerusalem'. This culminated in the first performance of Seven Angels, an important new choral work by James MacMillan. In my review I described the score as "a profound and dramatic work that demands detailed listening and reflection". It was launched with great skill and commitment by Jeffrey Skidmore and his fine choir: I'm impatient to hear the work again.
The National Youth Orchestra of Great Britain and Sir Mark Elder came to Birmingham in August and gave a tremendous account of Mahler's Ninth Symphony. These remarkable young musicians not only mastered the manifold technical challenges of Mahler's inspired score but also showed great maturity in responding to the intellectual demands of the work.
The Three Choirs Festival is, surely, the oldest musical festival of all and this year it celebrated its tercentenary. A very successful festival, held this year in Hereford, included a number of fine concerts. My pick of the bunch was a concert in which guest conductor Sir Andrew Davis saluted the 150th anniversary of the birth of Sibelius with a performance of the Fifth Symphony. He then gave us a rare and welcome opportunity to hear Morning Heroes by Sir Arthur Bliss. His compelling performance of this eloquent work (review) raised my expectations for his then-imminent recording and when it appeared shortly afterwards I was not disappointed (review).

Geoff Read

United Kingdom
The ravaging financial cuts about to be imposed by the Birmingham City Council make me fear the worst for how impending constraints may impose themselves upon its flourishing arts fraternity. Recalling four outstanding occasions during the 2015 calendar year, each with a major local emphasis, is thus all the more gratifying.
Prime of place and true to their community involvement goes to Birmingham Opera Company who fashioned the rebirth of Tippett's The Ice Break in a cavernous indigenous warehouse. The show had the familiar stamp of director Graham Vick about it, true to his ethos of 'inclusion or be damned': a cast mix of experienced professionals together with an enthusiastic bunch of local volunteers, a genuine quality in the presentation of its music from the CBSO despite the dodgy acoustics, and above all the reworking of an undervalued opera that provided a wealth of thought-provoking illustrations (Review).
Two anniversaries highlighted another successful year for Birmingham Royal Ballet. Their silver jubilee was celebrated with a re-creation of Balanchine's Theme and Variations in a magnificent triple bill in October. Four months earlier, Director David Bintley had marked his twentieth year at BRB with the premier of The King Dances (featured on BBC4 together with explanatory documentary on Sept 13th), inspired by the legacy of Louis XIV and his stage debut as The Sun in Le Ballet de la Nuit in 1653.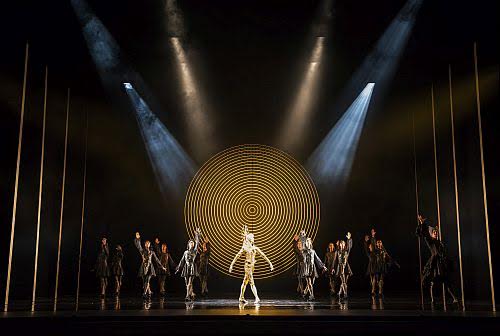 There was sadness too on the West Midlands classical music scene at the departure from the City of Birmingham Symphony Orchestra of charismatic music director Andris Nelsons. His seven years have produced many superlative performances in Symphony Hall, in particular, for me, his interpretations of Richard Strauss and his operas in concert.
On a more modest scale, but no less appealing, was a production of Britten's Albert Herring by the Music Department of Birmingham University. Staged in the historic Barber Institute, it was certainly 'their kind of thing' – a wonderful team effort from the talented students that resulted in a hugely entertaining evening (Review).

John Rhodes
Switzerland 
Reminiscing over my concert and opera visits in Zurich and Lucerne this year, the highlights for me were two stirring Sibelius symphonies in this, his anniversary year: No. 5 with Esa-Pekka Salonen and No. 2 with Lionel Bringuier, each with the polished Tonhalle Orchestra. Two "old Masters," Bernard Haitink and Christoph von Dohnanyi, both with the Tonhalle, gave us exemplary accounts of Mahler 7 and Bruckner 7 respectively. At the Lucerne Festival in the summer, the Boston Symphony stole the show with Shostakovich 10 under Andris Nelsons – properly bombastic and unforgettable. Herbert Blomstedt also impressed with the impressive Gustav Mahler Youth Orchestra performing my favourite symphony of them all, Bruckner 8; repeated, most successfully, by Fabio Luisi and the local opera orchestra, Philharmonia Zurich, on the opera stage. The concert year ended recently on a very high note: John Eliot Gardiner's debut with the Tonhalle Orchestra and a thrilling "Glagolitic Mass." I can still hear the organ solo reverberating around the hall.
In the Tonhalle at Easter, as a tenor with my amateur choir (the Gemischte Chor), I sang the "Messiah," always a delight (though – even with some coaching from me – the many Swiss and German members of the choir battled with some of the English pronunciation – "ze mouse of ze Lord"); and very recently the moving "Dream of Gerontius." Elgar's masterpiece was, I will admit, lost on me for decades until I began rehearsals for singing it in concert, and then it really got under my skin. I also heard Simon Rattle's excellent performance at the Lucerne Festival with the Vienna Philharmonic, though I would have preferred it if he hadn't employed his wife as the Angel.
At the opera, I fondly recall the lakeside open-air setting and stunning stage design for Turandot at the Bregenz Festival; and, at the Zurich Opera, Evelyn Herlitzius as Elektra, with Nina Stemme coming a close second as Turandot.
Visually and aurally, I was utterly blown away by a spectacular performance of Steve Reich's "Drumming," performed by Austrian star-percussionist Martin Grubinger together with three percussionists from the Tonhalle Orchestra. They did this lengthy work after a "Tonhalle Late" concert, not on stage but in the main foyer with lights dimmed – fantastic.
My musical year will end – as always – with a carol service in a very small church in the Cotswolds, with my now teenage children standing beside me urging me not to sing so loud!

Jane Rosenberg

United States
The opera and dance season in Los Angeles offered some old-fashioned treats and a few surprising delicacies.
The first quarter of the year at the LA Opera was devoted to Beaumarchais. Figaro was as ubiquitous a character as Waldo, popping up all over town. First up at Barnsdall Gallery Theatre was the fresh and antic Figaro! (90210), a reimagining of The Marriage of Figaro. As part of LA Opera's "Off Grand" series, Vid Guerrerio rewrote Da Ponte's libretto in English and Spanish and transplanted the characters from eighteenth-century Seville to modern-day Los Angeles.
As part of their Figaro Trilogy, LA Opera gave us the lavish West coast premiere of John Corigliano's The Ghosts of Versailles, followed by an enchanting Barber of Seville under the direction of Trevore Ross, from the original concept by Emilio Sagi for Teatro Real Madrid. Rounding out the trilogy was The Marriage of Figaro with the South African soprano, Pretty Yende as Susanna.
Even the talented students and faculty of Opera UCLA and the UCLA Philharmonia got into the Figaro spirit, mounting an intimate and charming production of Saverio Mercadante's The Two Figaros.
While fascinated audiences were driving around town experiencing the mobile opera Hopscotch, the operatic performance of the year, Norma, opened at the Dorothy Chandler Pavilion with Angela Meade in the title role. Though her acting wasn't as involving as one would wish, her singing was sublime. In duets with Jamie Barton as Adalgisa, audiences experienced bel canto at its finest.
Part opera, part vaudeville, and wholly Brechtian, H.K. Gruber's Frankenstein!! at Disney Hall, conducted by John Adams with the LA Phil New Music Group, was a musical rollercoaster inspired by the children's rhymes of H.C. Artmann. The Viennese composer H. K. Gruber created a diabolical and whimsical score, which was sung by the pitch-perfect Pieter Embrechts.
Glorya Kaufman Presents Dance at the Music Center offered two memorable productions. The intense relationship of the sculptor Auguste Rodin with the artist Camille Claudel was the subject of Boris Eifman's Rodin, interweaving classical ballet movement, modern dance, and, in the choreographer's words, "ecstatic impulses," all in the service of psychological dance theatre. And in an odd version of the fairytale ballet Cinderella by Alexei Ratmansky, the Mariinsky Ballet was graced by Diana Vishneva dancing the rags to riches heroine, but it was the orchestra who delivered the heart and muscle of Prokofiev's radiant score.
Los Angeles Ballet hit a high mark with the triple bill entitled Director's Choice, featuring Balanchine's Tchaikovsky Piano Concerto No. 2, Limón's The Moor's Pavane, and the delight of the evening, Kylián's Sechs Tänze.
Twyla Tharp's 50th anniversary tour breezed into town to the intimate Wallis Annenberg Center for the Performing Arts with two new dances by the ever- imaginative Tharp. Preludes and Fugues and Yowzie had enough invention and mirth to remind us how high the human spirit can soar.