NEW!

Reflections on the 2015 Chopin Competition 

22/12/2015

REFLECTIONS ON THE 2015 CHOPIN COMPETITION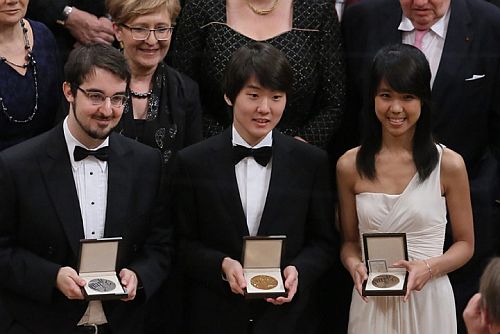 The 2015 Warsaw International Chopin Competition was doubtlessly a major event of the year, and it seems appropriate to provide a retrospective on it, trying to capture different perspectives and feelings on what actually transpired, and on the final outcomes that prevailed.  Thus, we consulted, first, a long-time Chopin Society 'observer', Iko Bylicki, for his overall impressions; second, competitor and silver medalist Charles Richard-Hamelin; and finally two of the distinguished jury members, Garrick Ohlsson and Nelson Goerner, who also performed concertos in the special opening concerts.  We are grateful to all four contributors for taking time to give us their final thoughts. It is noted that there has been splendid documentation of the Competition online.
From a local perspective, 2015 was certainly Canada's year, with Charles Richard-Hamelin securing the silver medal and Yike (Tony) Yang finishing fifth.  This was the first time in 40 years that Canadian artists had achieved any real distinction at this Competition.  Korean Seong-Jin Cho was the gold medalist in a very close decision, American Kate Liu placing third.  Richard-Hamelin is 26 years old, started his studies at McGill, received his Master's Degree from the Yale School of Music, and currently resides in Montreal.  Yang is only 16, from Toronto, and is currently in the pre-school program at Juilliard.  He is also a pupil of former Chopin Competition winner Dang Thai Son.
IKO BYLICKI
I recently returned from the Chopin Competition in Warsaw, completely exhausted after an intense three weeks of the Competition.  I had decided to go to Warsaw a long time ago but I was not sure if I really wanted to participate in all stages of the competition until I listened to most of the contestants in their preliminary auditions in April. This raised my expectations so high that I felt that I would be witnessing something very special.
Arriving at Chopin International Airport allowed me to see what a great event this was for the city.  I stayed a block away from the competition site, Warsaw Philharmonic Concert Hall, and with all the visitors attending, I was invariably asked for directions to the hall.  There was extensive coverage in the national press and various blogs, and the Competition was broadcasted live on Polish Television and Polish Radio, with a many interviews and commentaries from experts. The Chopin Institute did a remarkable job of putting the city and the event in the world spotlight by creating a multimedia platform whereby everyone could watch the event on personal computers, Android and iOS systems and YouTube.
There were a total of 452 applicants from 45 countries, and through a lengthy process, the organizers ultimately selected 84 performers to play in Warsaw.  All contestants stayed in one hotel and each got a digital piano for their room but they could also practice on the concert pianos at the Fryderyk Chopin University of Music.  A new format allowed contestants to choose their own repertoire to play according to their preferences, giving them the chance to present a program that would sound like a recital and expressed their own personal voice. Additionally, at the third stage, the performers had the choice to substitute the 24 Preludes for one of the Sonatas. Each pianist was given 15 minutes to choose one of four grand pianos: Steinway, Yamaha, Kawai and Fazioli.  Interestingly, 66 of 78 picked up a Steinway or Yamaha and only one chose Fazioli.
An important dimension of the Competition is the jury, comprising legendary past Chopin Competition winners such as Martha Argerich, Garrick Ohlsson, Adam Harasiewicz, Yundi Li and Dang Thai Son.  A notable feature of this year's event was an improved voting system that sought to avoid some of the inequities apparent in previous competitions by giving controversial pianists a better chance to progress and not finish their journey early as, say, Ivo Pogorelich did in 1980. The primary system used by judges in the first three stages was 'Yes – No', with any contestant with a greater number of 'Yes' votes moving to the next round. In the case of equal numbers, the supporting point system decided who advanced.
The opening of the Competition was spectacular, with the two esteemed Argentinians, Martha Argerich and Nelson Goerner, playing the Schumann and Paderewski concertos respectively. The next day Garrick Ohlsson played the Busoni Concerto.  The atmosphere was fantastic; you could always feel excitement emanating from the audience and it was, by any standards, a truly international audience. Pianists were showing up in the lobby after each performance, first to be interviewed by TVP Kultura and Polish Radio, second to sign autographs and pose for photos.  One of the foyer entrances was occupied by a NIFC (National Institute of Fryderyk Chopin) shop selling recordings, books, publications and all kinds of small mementos.  It was also possible to meet a wide variety of Chopin scholars, music critics, presenters and teachers supporting their students. I knew several people from the past but I was lucky to be with my brother who was the first Vice-Director of the Chopin Institute when it was founded in 2001, who introduced me to many more.  Some of these had a particularly intimate and long-standing association with Chopin's music, such as James Methuen-Campbell.  Of course, there was always tremendous anticipation after the last performer played at each stage of the competition, when a big crowd would always form, waiting anxiously for the official announcement of who would move on.
As far as the quality of talent observed, perhaps I'm not the one to really comment. I can only imagine how much hard work and sacrifice all of the performers put in to prepare and what kind of stress they were dealing with in being in the spotlight. However, I must say that the first stage significantly cooled my expectations.  I don't know if this was due to the pressure but too many performances sounded similar to me, producing a kind of 'safe' playing that refused to take risks. There were some bright moments when individual pieces of a contestant's program were played very beautifully, but there were many less of these instances than I might have expected.
Michael Moran, the Australian author who posts his 'competition diary' online put the concern directly: "In terms of an individual voice, individual tone and touch, something unique to say, spontaneity, rethinking or communicating that inspired feeling of recreation of music in the moment – little is happening for me on that level in the competition. Even a repertoire of familiar Chopinesque expressive gestures seems to have been 'learned' by many contestants. I feel this comes partly from exposure to the repetitive nature and the possibility of listening to 'flawless' recordings an infinite number of times. " Being charitable however, I do think that it is understandable that there would be a degree of anonymity and 'playing safe' in the first stage – no one wants to make a big mistake — but hopefully not later on.
The principal source of my excitement soon turned out to be the two Canadian performers; Charles Richard-Hamelin and Yike (Tony) Yang, who advanced easily through the stages.  John Hendrickson was previously the only Canadian to get into the spotlight, when he received a Warsaw Critics Prize way back in 1975.  Other performers that were obviously impressive were Americans Kate Liu and Eric Lu, Korean Seong-Jin Cho (the ultimate winner) and Dmitri Shishkin from Russia.  The Chopin Competition always has a 'bad guy': somebody controversial but extremely likeable. This time Georgijs Osokins from Latvia had to accept this role: 20 years old and very handsome, he stirred up big emotions and raised a lot of controversy like Bozhanov in 2010 or Pogorelich in 1980.  I also liked Polish pianists Krzysztof Ksiazek and Dinara Klinton from Ukraine who did not make the finals. Nine of the competition's ten finalists performed Chopin's First Concerto in E minor leaving only Charles Richard-Hamelin to play the Second.
The results are already fully known to readers but you can only imagine the excitement in the lobby where a huge crowd waited for four hours for the official results. It was a very close race between Cho (the winner) and Richard-Hamelin, with Kate Liu, Eric Lu, Tony Yang and Dmitri Shishkin following in that order.
Seong-Jin Cho demonstrated a 'big' sound and a very beautiful tone. His achievements at the age of twenty are amazing: he won the Hamamatsu in 2009, and was 3rd in both the Tchaikovsky in 2011 and the Arthur Rubinstein in 2014.  He said that he started to play seriously only at the age of 10.  Charles Richard-Hamelin was one of the oldest and most mature pianists in this competition, playing with tremendous authority.  In the 'Yes-No' voting system utilized, he was the only pianist who never got a 'No' from any of judges. He received the 'Krystian Zimerman' Prize for the best performance of a Sonata.  Eric Lu and Kate Liu can be called the true poets in this competition and their playing was quite breathtaking; the latter got a special prize for the best Mazurkas. The youngest of the finalists, 16 year-old Canadian Tony Yang, demonstrated astonishing musicality and Dmitri Shishkin showed tremendous virtuosity.  All scores have been published online, so it can be seen how differently the jury members ranked the same pianist.
I had the honour to present an award from the Vancouver Chopin Society for the first prize winner at an official ceremony on October 22nd but it is not known yet when we will get the chance to present him in Vancouver.  However, Charles Richard-Hamelin is now already booked for next November.  Eric Lu has in fact already given a recital for us just three months ago.
One final notable event was that both Krystian Zimerman and Martha Argerich were awarded an honorary doctorate: Zimerman by the Fryderyk Chopin University of Music in Warsaw and Argerich by the Academy of Music in Katowice. I was very impressed with Zimerman's short speech to students and I think it is inspiring enough to be included here:
"…I am here today, among other things, because of you. I am in awe of you. I wish that, at your age, I had known half of what you know. I have children your age, so I know of what I speak. You have achieved maturity as people, but now you will climb the upward path to taking responsibility upon yourselves: from instrumentalist to musician, from musician to artist, from artist to human being.  As instrumentalists, you will learn to master your instruments, draw out from them beautiful sounds, and make them do what you want. As musicians, you will learn about narrative and find out that music is basically not notes, but the telling of a story, in which we use those notes.  As artists, you will understand that the music being played by you is not the notes, not even the scores, but the reason that forced the composer to write the work, and the emotions by which he or she was guided at that time. And it is these emotions that you must reflect and recreate in the audience anew. At the fourth, last, most important stage, you will pose yourself a question and try to answer it:  'Why? Why are we doing all of this?'
IKO BYLICKI is President of the Vancouver Chopin Society.  At the Competition, he received the Bronze Medal for Merit to Culture, given by the Ministry of Culture and National Heritage of Poland, as presented by Dr. Artur Szklener, Director of the Chopin Institute in Warsaw.
CHARLES RICHARD-HAMELIN
In an interview about his experience at the Chopin Competition, Kevin Kenner once summed it up with the famous Dickens quote: "It was the best of times; it was the worst of times."  Now that I've been there myself, I can say that I feel the same way.  People tend to forget how difficult and consuming it is for the competitors to prepare and perform such complicated and emotionally exhausting music in a short period of time, and in the most stressful conditions one can imagine. That being said, there is something magical about this legendary hall that somehow made it possible for me to be myself on stage, and be able to say what I wanted to say, at least most of the time.
What helped me forget about the competition aspect of the event was to focus solely on the music: to make my performance about Chopin, not myself. I really do think the Chopin Competition's main goal should be the celebration of the genius of the composer.  I also didn't have much pressure on myself, as I did not prepare many years in advance for this event.  I already had a good career in Canada and if things did not work out in Warsaw I would have been a happy guy anyway! This silver medal was of course incredibly unexpected and has single-handedly changed my whole life. I've never performed professionally outside of Canada before the Chopin and now I have confirmed engagements in Canada, the USA, Poland, France, Spain, Mexico, Japan and South Korea. I'm in a great situation right now, and I hope to be able to find a good balance between my career and my personal life in Montréal, a city that I love so very much.
CHARLES RICHARD-HAMELIN received the silver medal at the 2015 Chopin International Piano Competition. He previously won Second Prize in the Montreal International Musical Competition and Third Prize in the Seoul International Music Competition. In April 2015, he won the prestigious Career Development Award offered by the Women's Musical Club of Toronto. He has already performed with major Canadian orchestras. His debut solo CD featuring late works by Chopin was released in 2015 on the Analekta label.
GARRICK OHLSSON
I served on the jury of the 17th Chopin Competition in Warsaw last month and I'd like to pass on a few thoughts. There is no objectivity possible, so other jurors do and did disagree with me somewhat.    We heard about 120 or so hours of Chopin over three weeks, from seats in the balcony of the excellent Philharmonic Hall in Warsaw (possibly more excellent for solo piano than for full orchestra). The microphones and cameras were up close. I have not vetted all of these links, and sometimes the sound/visual perspective is radically different from what we experienced ourselves. These are my best memories.
The first and second prizes, Seong-Jin Cho (S. Korea) and Charles Richard-Hamelin (Canada), were excellent, and so close that the verdict could have easily been reversed.  I'd like to point out a few others.  Many who have won prizes other than 1st at the Chopin Competition have gone on to be significant artists with noteworthy careers.  For those of you 'in the profession', I'm not giving any advice, I just wanted you to know these names.
Kate Liu (US), 3rd prize, gave the most beautiful playing of the whole three weeks in the B minor Sonata.  She also won the prize for best Mazurkas and, no apologies, I would have given her the prize for best Sonata too. She was not as absolutely consistent as Cho and Richard-Hamelin, but I expect great things from her.
Georgjis Osokins (Latvia) was farther down, more controversial. Sort of the 'bad boy' with his Franz Liszt haircut, and 'in the direction of Pogorelich' radical interpretations but I found his A flat Ballade op. 47 very impressive.  Alosa Jurinic (Croatia) was a personal favorite of mine. Perhaps it is harder to pinpoint one performance, but I really liked his F minor Ballade, op. 52
Some colleagues emphatically did not. That's OK; this is one of the most elusive and complex masterpieces in the whole literature.
For me, Dmitry Shishkin (Russia) was the best all round 'pianist' in terms of technique, sound (both large, delicate, and in between), and dynamic control.  Perhaps he was a tad impersonal, but very serious and impressive overall; for me, the other best Sonata performance.  Dinara Klinton (Ukraine) didn't make it to the finals — I passed her, but others didn't.  She was uneven, but really good at her best. The two teenagers who won 4th and 5th, Eric Lu (US) and Tony Yang(Canada) are fine, but still on the young side.
GARRICK OHLSSON has long been one of America's most distinguished pianists, former winner of the Chopin Competition in 1970.  He has a vast repertoire that extends to 80 concertos, and has played and recorded Chopin all his career. His most recent recorded survey is Chopin's Complete Piano Music for Hyperion.
NELSON GOERNER
The Chopin Competition in Warsaw holds a very special place among piano competitions, receiving a great deal of attention not only from local audiences and reviewers but also from music lovers and 'pianophiles' around the globe.  I had the pleasure — and indeed great responsibility — to serve on the Jury in this year's edition of the event, and it proved to be a fascinating experience.  In this capacity, I devoted my utmost attention to avoiding the trap of looking for artists who would match my own conceptions of the music. Rather, my concern was to identify those who seemingly had their own 'voice', and who could fully live the music and recreate it in their own terms.
I also had the honour of taking part in the opening concert of the Competition, playing Paderewski's neglected but beautiful piano concerto with the Warsaw National Philharmonic Orchestra conducted by Jacek Kaspszyk, sharing the concert with my dear friend Martha Argerich.  Her playing of the Schumann concerto was exquisite, as always. In many ways, this was one of the highlights of my career so far.
I thought gold medalist Seong-Jin Cho was already an artist of great maturity and treated us to wonderful interpretations of the great C minor Nocturne, op 48, No.1 and Sonata No. 2, and a truly memorable Fantasy in F minor.  I felt runner-up Charles Richard- Hamelin was an artist of comparably high caliber, a deep all-round musician, whose Polonaise- Fantasy, Op. 61, Sonata No. 3 and Mazurkas were among the highlights of the Competition in terms of their outstanding beauty and supple command.  American Kate Liu showed herself to be an artist capable of hypnotic focus in the music she plays, and especially the Mazurkas.  But there were also the very young, superbly gifted Eric Lu – Preludes of amazing maturity and command — and Tony Yang — an exquisite Barcarolle, Op. 60, played with such a wonderful, velvet singing tone. Dmitry Shishkin, Aljosa Jurinic, Szymon Nehring, Georgijs Osokins were all quite different but all possessed great pianistic solidity and impressive musicianship.  There were of course several other candidates who did not make it to the later stages but nevertheless managed to captivate us: for example Ivett Gyöngyösi, whose evident sensitivity and sweep suggested a performer with an important future lying ahead of her.
Another big moment for me came at the close of the Competition when Martha Argerich received a Doctor Honoris Causa Distinction from Katowice University. After a moving ceremony which highlighted not only Martha's career and artistic personality, but her great generosity and deep sense of humanity as well, both of us sat down to play Rachmaninoff's Symphonic Dances for two pianos. To end these three weeks in this way was, for me, unforgettable!
NELSON GOERNER shares a unique Argentinian link with Martha Argerich. Their meeting in Buenos Aires when he was a teenager paved the way for his later studies with Maria Tipo at the University of Geneva, and his ultimate career.  With his natural insight and virtuosity, he has built up a strong set of Chopin recordings, starting with his widely-praised EMI debut disc, moving on to illuminate 'authentic' Chopin , recording a splendid Wigmore Live recital, and recently releasing a disc of Chopin's Complete Preludes.
 Geoffrey Newman
Previously published in a slightly different form on http://www.vanclassicalmusic.com
Comments