Canada Pal, Dvořák and Tchaikovsky: Sarah Chang (violin), Vancouver Symphony Orchestra, Pietari Inkinen (conductor), Orpheum Theatre, Vancouver, 5.12.2015. (GN)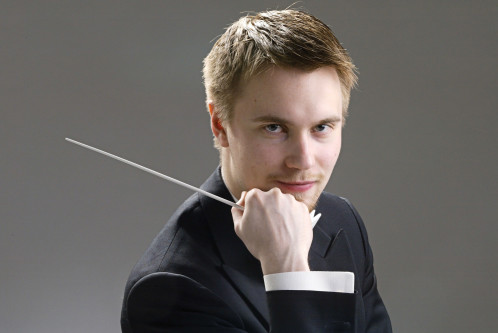 Jordan Pal: Burn (2012)
Dvořák: Violin Concert in A minor, Op. 53
Tchaikovsky: Symphony No. 4 in F minor, Op. 36
This concert made an attractive close to the fall season. It featured violinist Sarah Chang, who has visited many times, and a new face, 35-year-old Finnish conductor Pietari Inkinen, who has recently assumed directorship of both the Prague Symphony and the Ludwigsburg Schlossfestspiele, after eight seasons with the New Zealand Symphony. Inkinin can certainly get a well-integrated and powerful response from the orchestra, while Sarah Chang brought her own brand of earthy involvement and attack as well.
The opening piece, Burn, by budding Canadian composer Jordan Pal, served as an excellent 'overture', finding strong effervescence in the winds and brass and a decisive presence for the timpani at both its beginning and end. This was writing of considerable integrity and complexity, and the result was tight and electric. With all its volatile ostinato and syncopated rhythms, it had some of the elated spirit of a festival piece that Sir William Walton might have written, though doubtlessly the composer had a more 'fiery' metaphor in mind. The only area where I did not find concentration sustained was in the more lyrical interludes in the middle. These passages should clearly contrast with the buoyant motion, but to resort to very luxuriant, almost cinematic, strings and relatively clichéd expressive lines struck me as somewhat out of character. I would have preferred these textures to be more distilled.
I had not known about the conductor's recent appointment with the Prague Symphony when the Dvořák Violin Concerto began, but I immediately felt the same Slavic incisiveness and piquant wind lines that I fondly remembered from the original Karel Ancerl and Vaclav Neumann recordings with violinist Joseph Suk and Czech Philharmonic. Very authentic: I can understand his Prague appointment completely. Naturally, Sarah Chang's approach was hardly like Joseph Suk's, featuring much bolder romantic playing, with an earthy passion always ready to spring out. This treatment extended Chang's fine efforts in her 2001 recording with Sir Colin Davis, amplifying the sense of intense yearning and bringing a greater range of emotions into play overall. What seemed to be lost was the easeful, tender innocence of her lyrical expression; her response was altogether more sophisticated and passionate.
The first movement progressed purposefully, the violinist treating its quiet musing parts with less sustained repose as previously, but showing a much greater rhythmic eagerness and 'charge' in moving out to moments of expressive ardour. This was music of strong dramatic fiber and sentiment. The Adagio also found a more vivid range of emotions, and an ingeniously varied set of phrase shapes and nuance. I thought this treatment probed the music's complexity, though some of Chang's slides and effusive passionate pushes might be seen as a little excessive for what would be normally thought of as simple heartfelt expression. The dance rhythms of the finale had less piquant play and delight than before  ̶  now more literal and serious  ̶  but again I felt that Chang's intensity and detailing, and the jagged edges and sheer physicality of her playing, allowed new insights and feelings to emerge, certainly building with great strength to the close.
I recognize that I may be in a minority in thinking that the violinist gave us a more vital slant on the violin part, and there would likely be many who would regard this approach as a bit 'larger than life', and feel a need to relax more. In any event, I have no doubt that it provided ample food for thought. Unfortunately, what everyone probably would agree upon is that Chang's execution was not perfect. Her tone could be beautiful and fluid but sometimes it took on a thin, raw quality (not what we are used to), and her intonation as such left something to be desired. One also got the feeling that some passages were pushed and pulled around too frenetically, but perhaps that added to an 'edge of the seat' excitement, particularly in the finale. Inkinen's conducting was very crisp and idiomatic throughout, although the violinist's impetuosity perhaps made the coordination difficult at times.
The conductor's treatment of the opening movement of Tchaikovsky's Fourth Symphony was little short of masterly, bringing a lean, craggy strength to the brass proclamations but, more important, bringing so naturally to life the pensive lyrical writing. It was the balletic allusions, the plasticity of phrase and the hints of Czarist court elegance which saw the proceedings through so magnificently and made a lovely foil to the bolder drama. The playing of the winds in particular was charming and idiomatic: I have seldom seen better. The shaped warm flow of the Andantino's opening was also novel, perhaps having the same sense of buoyant discovery that one finds in the opening of the composer's very first symphony, 'Winter Reveries'. However, this moulded approach ultimately had difficulty in squaring with the burdened and forceful dramatic statements in the movement's middle – which seemed overemphatic – and unfortunately left the remaining parts of the movement slightly diffuse. Nonetheless, the pizzicato scherzo moved well, finding much of the right point and variety of texture. The finale took a moment to establish a real sharpness of expression, but it built powerfully with truly Slavic feeling and weight and certainly ended in a blaze of glory – complete with a very dramatic crescendo on the timpani. Of course, this brought the house down, exactly as it should.
Geoffrey Newman 
Previously published in a slightly different form on http://www.vanclassicalmusic.com