United Kingdom Adam and Other Composers, Le Corsaire: Dancers of English National Ballet, English National Ballet School and Tring Park School of the Performing Arts, English National Ballet Philharmonic / Gavin Sutherland (conductor). London Coliseum, London. 13.1.2016. (JPr)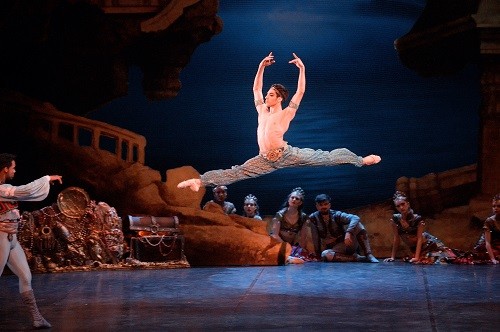 Cast:
Medora: Tamara Rojo
Conrad: Osiel Gouneo
Gulnare: Laurretta Summerscales
Lankendem: Brooklyn Mack
Ali: Cesar Corrales
Birbanto: Yonah Acosta
Pasha: Michael Coleman
Pasha Assistant: Juan Rodríguez
Lead Villager: Crystal Acosta
Odalisques: Ksenia Ovsyanick, Alison McWhinney and Shiori Kase
Production:
Staged by Anna-Marie Holmes after Marius Petipa and Konstantin Sergeyev
Sets and costumes: Bob Ringwood
Lighting: Neil Austin
The pantomime season is over for another year but no one has told English National Ballet who brightened up a dank and gloomy January evening with what is the ballet equivalent of Ali Baba and the Forty Thieves 'beefed-up' with one death and a post-shipwreck apotheosis at the end. Their production of Le Corsaire – a nineteenth-century relic of orientalist ballet hokum that is all pirates and passion – was lovingly restored, both in its music and choreography, when it was first staged by Anna-Marie Holmes in 2013 and is now given a sparkling revival which shows the company at the height of their powers and belying the fact that it had just completed a long run of seasonal Nutcracker performances.
Don't expect a story with any particular emotional depth but if you have never seen a ballet before this might just be the one to go to and make you wish to come back for more … particularly to English National Ballet. Highlights of Le Corsaire (The Pirate) include the Act II pas de deux made famous by Fonteyn and Nureyev (here in its original version as a pas d'action for the pirate of the title, Conrad, truelove Medora, and his slave Ali), a sensuous duet for the two lovers and a fragrant Jardin Animé. Thankfully – especially for twenty-first century sensibilities – ENB has somewhat marginalised the dubious story about girls sold into sexual slavery by upping the swashbuckling quotient with all the flailing fake pirate cutlasses. If you want to understand what you are seeing do your preparation in advance or get there early to read the synopsis in the programme, otherwise it's all a bit too complicated. You can of course just sit back and let it all unfold before your eyes and even if you have no idea what is going on you will still be immensely rewarded.
The plot is very loosely based on an 1814 poem of the same name by Lord Byron, and the three act ballet (pared down to – excluding intervals – only about 100 minutes of dance) presents the story of Conrad's quest to rescue the beautiful Medora who is in the hands of Lankendem, a slave trader in the Ottoman Empire. Added to the mix are a Pasha (a comically nuanced performance from Michael Coleman) who is keen to add new wives to his harem and Birbanto, Conrad's double-crossing second-in-command, with his poisoned rose. Ali steals Medora away from Lankendem but the lovers are tricked by the bad pirate and she is returned to the Pasha, rescued again, and there is the dramatic shipwreck during the final few minutes of the ballet.
Once again I had great fun, but comparing Le Corsaire to Swan Lake (which ENB will perform at the Royal Albert Hall in June) is like debating the relative merits of a Christmas Aladdin and a Shakespeare play. Indeed, with Bob Ringwood's designs – that are inspired by vintage Technicolor films like Alexander Korda's The Thief of Bagdad – and with all the long moustaches and beards, saris, fezzes and harem pants, full justice would have been done to that pantomime which used to be staple fare at the London Palladium last century at Christmastime: it is very far removed from Ringwood's work for Hollywood on the Batman and Alien films.
ENB's Le Corsaire was the first significant new venture under Tamara Rojo's artistic direction: I continue to believe what I have written before that because of the sheer exuberance, talent, commitment and musical values in all it does at the moment, English National Ballet has the opportunity to become the leading ballet company in this country. It is not so much their Lead Principals or invited Guest Artists but the Soloists and even Junior Soloists they are brave enough to cast in leading roles who suggest that there is tremendous strength in depth. This is particularly true of the men who are so important in this ballet and were led by possibly ENB's current brightest prospect the Junior Soloist(!) Cesar Corrales (who impressed me so much recently in Nutcracker review) as Ali, Conrad's slave. He was part of a mightily imposing quartet which included Osiel Gouneo (Conrad), Yonah Acosta (Birbanto) and Brooklyn Mack (Lankendem) all running – or leaping – him a close second! Another high point of this Le Corsaire is seeing what is virtually a 'dance off' between the men with all their barrel turns and grands jétés. Displays of athleticism and bravura such as this remain one of the best reasons for a night at ballet.
The women were equally a delight, although at times restricted mostly to arabesques, brisés, spins, fluttering arms, gestures of obeisance and occasionally slightly unflatteringly splayed legs. To be truthful the only rounded character on stage was Michael Coleman's well-upholstered Pasha who caught the eye whether wanting Medora to lift her veil or in his reaction to the Kinora (an earlier motion picture device) he is given so that Medora can be enticed away from him.
With a clash of cymbals and pounding drum stokes the rumbustious music of Adolphe Adam (and nine others!) in Lars Payne and Gavin Sutherland's new Le Corsaire edition sets sails – quite literally as briefly it accompanies the pirate ship shown on the high seas. From then on no scene lingers very much and – hindsight is a marvellous thing – but I do wonder whether more time could have been taken for the story to be told with greater clarity. We are in the Bazaar and everyone is dancing for fun including another joyous cameo from Crystal Costa as the Lead Villager. Gulnare and the Odalisques (a compelling trio of Ksenia Ovsyanick, Alison McWhinney and Shiori Kase) slink around trying to catch the Pasha's eye, Conrad spots Medora, the Pasha buys her but Ali attempts to steals her away before Conrad finishes the job by capturing her and Lankendem.
So much for the Prologue and Act I; for Act II we are in the Pirate's Cave and Conrad is promising Medora all his accumulated treasure and that all the other slave girls he captured will be freed. Birbanto is not happy about this and begins to conspire against him. Here at least we get the wonderful pas d'action with Cesar Corrales exploding through the air and reliving the excitement of Nureyev when I saw him dance this … and I can offer no higher praise! For the only adagio moment in the entire ballet we get a deeply romantic and intensely lyrical bedroom duet, danced with great emotion by Tamara Rojo and Osiel Gouneo. A disguised Birbanto is cut on the arm by Medora as she protects a drugged Conrad before being stolen back by Lankendem; later Birbanto is about to kill Conrad before he is interrupted by Ali who believes him still to be his master's ally.
Act III brings us the Pasha's opium-fuelled dream (Le Jardin Animé) that is all white and turquoise (the main colour of this ballet) tutu-ed 'Flowers' in a garland dance with children of the English National Ballet School and Tring Park School of the Performing Arts enjoying their moment in the spotlight. Everything then races to the denouement as Conrad steals his lover back (yet again!), Birbanto is exposed as a traitor because of the injury Medora inflicted on him and is shot dead. Conrad, Medora, Ali and Gulnare – who Ali has taken a shine to – escape on the pirate ship. There is a violent storm and a shipwreck and it is not entirely clear what then happens to whom as the curtain falls; though the programme suggests that Conrad and Medora –  who are shown when things calm down – 'embrace united to eternity'.
Gavin Sutherland and the English National Ballet Philharmonic did full-justice to the eclectic mix of composers' music which he and Lars Payne edited. I did not praise them enough in my earlier Nutcracker review and sometimes it sounds not as if the music was being played live – which is undoubtedly is – but was from a recording and this polished sound is to the orchestra's great credit.
With all the flashing grins on everyone's faces the emotional story arc is side-lined but there seemed a genuine chemistry between a surprisingly playful Rojo and the eager crowd-pleasing Gouneo from Cuba, currently a Principal Guest Artist. Alina Cojocaru was originally announced for this performance but has succumbed to injury and what a cast change this was with Tamara Rojo now as Medora and feistily in command of her own company. There was a hint that the performances later in the run might be more relaxed but all her gestures, balances and fouettés comprised a ballet masterclass. It was clear we were in the presence of a great artist as distinct from a very good dancer from ballet's 'assembly line'. Her influence on all the other ballerinas in the company must be immense and Laurretta Summerscales's sweetly phrased and crystalline Gulnare seemed to owe much to her artistic director on stage with her.
The admirable corps de ballet danced with such precision, joie-de-vivre, high energy, speed and attack that it could have been the start of their extended London Coliseum season rather than at the end of it – they too are to the great credit of the current rude health of English National Ballet.
Jim Pritchard
For more about all the English National Ballet's forthcoming performances visit www.ballet.org.uk.