Spain Saint-Saëns, Samson et Dalila: Orquestra Comunitat Valenciana, Cor de la Generalitat Valenciana, Roberto Abbado (conductor), Palau de les Arts Reina Sofía, 12.1.2016. (JMI)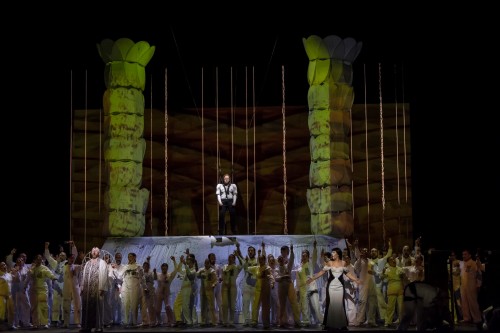 Saint-Saëns, Samson et Dalila
Cast:
Samson: Gregory Kunde
Dalila: Varduhi Abrahamyan
High Priest of Dagon: André Heyboer
Abimélech: Alejandro López
Old Hebrew: Jihoon Kim
Messenger: Emmanuel Faraldo
Philistines: David Fruci and Javier Galán
Production: Opera di Roma
Direction: Carlus Padrissa and Zamira Pasceri (La Fura dels Baus)
Sets and Lighting: Carlus Padrissa
Costumes: Chu Uroz
Videos: Marc Molinos
Choreography: Zamira Pasceri
With the end of the holidays, there's a return to normal activity ̶ and a performance of this Camille Saint-Saëns masterpiece. The result, however, did not meet my initial expectations. For one thing, Gregory Kunde had an accident during rehearsals that forced him to use both a wheelchair and crutches. His lack of movement on stage was a remarkable obstacle to overcome, and he more than proved his professionalism. But to this must be added an inappropriate musical reading, a bizarre staging and a debatable distribution of roles.
This unconvincing production is by La Fura del Baus, with stage direction by Carlus Padrissa, and premiered in Rome in April 2013. La Fura productions are always iconoclastic and original, but this time it was a kind of déjà vu. It's an absolutely minimalist production on a mainly empty stage; there's a small tilted platform for Acts I and III and something that resembles a bed in Act II. The costumes are black and white and seem timeless or perhaps futuristic. The best part of the production was the lighting. There were also the usual La Fura video projections, some of which worked better than others.
Certainly Samson's physical limitations influenced the movement on stage, but Mr. Padrissa imaginatively solved the problem: the protagonist sometimes hangs from a high contraption, or stands on a mobile prop, or simply clings to a kind of wall. The supposed choreography doesn't really exist.
Roberto Abbado was in the pit of the theatre for the first time since he was named music director of Les Arts, and his reading was flat and routine. The first act was too noisy and unfriendly towards the singers. In Act II he fell short of inspiration, except for the beautiful "Mon coeur s'ouvre a ta voix." And again he was rather noisy during Act III. The orchestra gave a good performance, though they were not at their best. As usual, the chorus was excellent.
Gregory Kunde was making his debut in the role of Samson. Artists have to act as well as sing in opera, and because of his condition Mr. Kunde could really only cope with the latter. Given the situation, it's unfair to judge his interpretation, but for my taste his voice does not respond to the demands of a dramatic tenor, particularly in the first act. His big moment, at the start of Act III, was handled well although short on emotion, which is not hard to understand, given the circumstances. There was no mention made of Mr. Kunde's accident, and many people in the audience believed his lack of movement on stage was due to the production requirements.
Mezzo soprano Varduhi Abrahamyan returned to Valencia as Dalila, and offered a beautiful voice and excellent singing. There's no doubt that she is a very interesting singer, but I question her vocal suitability for this role. I think a true contralto is required, one with powerful low notes, and Ms. Abrahamyan is not that. When singing at the middle register she is comfortable and even brilliant, but her lower notes fall short and she forces her voice. Obviously, Mr. Abbado's conducting was not her best support.
Baritone André Heyboer was the High Priest of Dagon, but his voice is not really suited to this character which requires a darker, wider baritone. Mr. Heyboer's voice is attractive and works very well in a lighter repertoire, but not here.
Alejandro Lopez was a somewhat modest Abimélech, while Jihoon Kim did better as the Old Hebrew.
The Palau de Les Arts was at about 80% of capacity. The audience was rather cold during the performance, but cheered the two protagonists in the final bows. The creative team was booed.
José M. Irurzun