United Kingdom Frederick Ashton Double Bill – Rhapsody & The Two Pigeons: Soloists, Corps de ballet of the Royal Ballet, Royal Opera House Orchestra / Barry Wordsworth (conductor). Directed for the screen by Ross MacGibbon and broadcast to the Empire Cinema, Basildon, Essex. 26.1.2016. (JPr)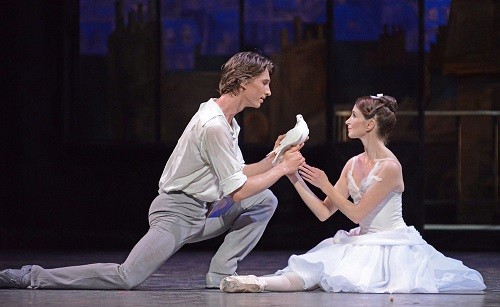 Rhapsody
 
Dancers: Natalia Osipova & Steven McRae
Solo piano: Robert Clark
Production:
Choreography: Frederick Ashton
Music: Sergey Rachmaninoff
Set designer: Frederick Ashton
Costume designs: William Chappell re-created by Natalia Stewart
Lighting designer: Peter Teigen
The Two Pigeons 
Cast:
A Young Girl: Lauren Cuthbertson
A Young Man: Vadim Muntagirov
A Gypsy Girl: Fumi Kaneko
Her Lover: Ryoichi Hirano
Production:
Choreography: Frederick Ashton
Music: André Messager
Musical arrangement: John Lanchbery
Designer: Jacques Dupont
Lighting: Peter Teigen
The Royal Ballet's Rhapsody/The Two Pigeons was relayed live to 928 cinemas in 23 countries around the world in a double bill celebrating the work of founding choreographer of The Royal Ballet Frederick Ashton. It was by far the best of the ballet transmissions since Giselle almost two years ago to the day (review). The backstage videos which were shown (and are available on the ROH website) and the two 'hosts' (the laidback Ore Oduba and the always less relaxed Darcey Bussell) repeatedly referred to Ashton's English style and the importance of   épaulement in his choreography. This means the way the head, neck and shoulders are held and this was admirably demonstrated by Ms Bussell. Strangely the performances that caught the eye were from dancers more overtly Russian and extrovert, Natalia Osipova and Vadim Muntagirov, than any that might have hinted at Ashtonian refinement …though there really wasn't much of that on show.
We saw Ashton's 1980 Rhapsody first and I suspect I might not have seen this ballet since 1981 when the sublime Lesley Collier (who was in the very first performance) was in it and we now saw her coaching the dancers. The Royal Ballet's revival this time of Ashton's original setting with the cut-out neo-classical balustrade and William Chappell's costumes (recreated by Natalia Stewart) with sparkly nymphs (women) and bejewelled courtiers (men) is probably what I must have seen then.
It is a showcase for a bravura male dancer and it was created on Mikhail Baryshnikov. Steven McRae has the speed, power, hip swivels, whirlwind turns and projectile leaps of a Baryshnikov but lacks real personality so it is just a bit like athletics with a musical accompaniment rather than the artistry of ballet. Natalia Osipova was better though she nearly came a cropper once during some of the small, rapid, twinkly steps that are a major part of her choreography. She and Mr McRae get a typically lyrical Ashtonian pas de deux for the slow movement of Rachmaninoff's Rhapsody on a Theme of Paganini. However, the music as performed by Robert Clark at the piano and the wonderful Royal Opera House Orchestra was more deeply romantic than what we saw evinced by the two dancers. There was just a hint that Osipova and McRae were happiest going through their fireworks on their own rather than together. The six-couple ensemble is as active in this 30-minute ballet as the soloists; the women outshone the men who were an uneven sextet although Marcelino Sambé seemed more at ease than those around him.
There is a slight similarity between Rhapsody and Ashton's earlier 1961 The Two Pigeons because both of the ballets involve two people possibly – or actually – in love but who are parted then brought back together. In fact, André Messager's rediscovered one-act colourful score for The Two Pigeons was completed by John Lanchbery to allow for a return to the opening scene set in a Paris artist's studio where the lovers could be reunited. Heard through the cinema speakers I thought there was an exceptional level of musical accompaniment once again to the dancing (usually the least considered aspect of ballet) and this is a huge compliment to the conducting of the vastly experienced Barry Wordsworth and the orchestra who produced some accomplished playing and ravishing sounds throughout the evening.
Opening in a Bohemian garret, Jacques Dupont's evocative set – with its window and city skyline – was atmospherically lit by Peter Teigen. The Young Man is trying to paint The Young Girl who apparently has more than sitting for a portrait on her mind. Her romantic frustration is mirrored by his annoyance at her inability to sit still, and he yearns to be somewhere else. When a band of gypsies arrive, he is lured away by a Gypsy Girl. Of course as in Carmen, she becomes quickly bored with The Young Man; anyway her actual lover is not happy with the situation and takes it out on The Young Man who is thrown out of the camp, hands bound. Throughout the ballet, bird-like movements are repeated and even now with his hands bound by ropes The Young Man evokes the pigeons of the title when he expresses his sorrow at his plight. Two real live pigeons have flown their separate ways during the ballet and The Young Man brings one back to the studio and finds The Young Girl lying on the floor like an injured bird. Their reunion is so very tender culminating in one of the biggest 'Ahh' moments of all ballet evenings as the second pigeon flies in to symbolically pair up again with its 'mate'.
Almost 34 years separate this performance of The Two Pigeons from the only other time I have seen The Royal Ballet dance this ballet in 1982 and then it was again led by the almost incomparable Lesley Collier partnered by David Wall. (Wall's widow Alfreda Thorogood was interviewed and her memories of falling in love with him on stage, as well as off, during The Two Pigeons in the 1960s were charming and poignant.) The tremendous ability of the current dancers eclipsed the memory of that 1980's performance and a subsequent one I saw some years ago performed by Birmingham Royal Ballet. When Vadim Muntagirov danced with English National Ballet I thought he lacked the 'Wow' factor needed for a superstar male dancer but on this evidence he has now achieved it.
I suppose it is results which count and The Two Pigeons was revived and staged by Christopher Carr who strongly reminded me – in one of the short films – of the tyrannical Derek Deane in Agony & Ecstasy, the 2011 behind-the-scenes series about English National Ballet. Regardless of Carr's approach to coaching this was a performance that was wonderfully natural and not once did you see anyone on stage anticipating their next step as happened in Rhapsody. It showed the power of ballet to make you smile and make you cry.
Muntagirov proved himself to be a believable 'actor' as well as incredibly charismatic dancer. Together with Lauren Cuthbertson's charming – if slightly gawky – The Young Girl they made an attractive and very convincing pair of lovers, both dancing with an ease and fluency that was exceptional. The gypsies danced fearsomely, with considerable energy and perfect timing; Marcelino Sambé excelled again as a spirited Gypsy Boy, Fumi Kaneko (replacing an injured Laura Morera) seems another exciting young talent and appeared ideally cast as the wilful Gypsy Girl and Ryoichi Hirano glowered and chewed the scenery perfectly as her lover.
Seeing this ballet in close-up it was remarkable to appreciate that despite all its whimsy it owes a great deal to Petipa and Ivanov's choreography for Swan Lake. There it is a princess transformed into a swan that is a metaphor for lost innocence, burgeoning love and passionate reconciliation. Here it is pigeon behaviour for The Young Girl and her friends. Also the 'seduction' of The Young Man by the Gypsy Girl – seemingly abetted by her lover – strongly alludes to the Black Swan pas de deux. 
The Royal Ballet's Giselle will be broadcast live again in April and with two star dancers in the leading roles (Marianela Nuñez and Vadim Muntagirov) is something not to be missed.
Jim Pritchard
To view the full list of productions for the remainder of the 2015/16 season and to find a cinema near you visit http://www.roh.org.uk/cinemas.