United Kingdom Brahms: Daniel Barenboim (piano), Simon Bólívar Symphony Orchestra of Venezuela, Gustavo Dudamel (conductor). Royal Festival Hall, London, 17.1.2016. (MB)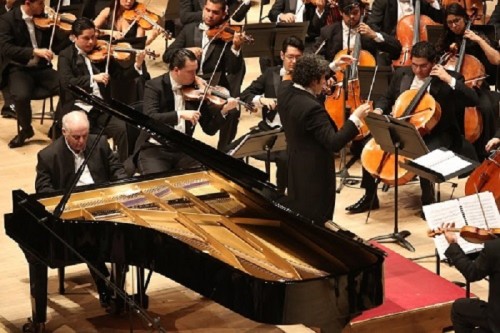 Brahms, Piano Concerto no.1 in D minor, op.15; Piano Concerto no.2 in B-flat major, op.83
Daniel Barenboim is no stranger to ambitious undertakings, little more of a stranger to realising them triumphantly. However, on this occasion – and what an occasion it should have been, marking the sixtieth anniversary of his London debut, here at the Royal Festival Hall – the results were distinctly mixed. A very fine performance indeed of Brahms's D minor Piano Concerto – if you could take a host of wrong notes, which I could – was followed by an indifferent, meandering performance of its still more difficult successor. That I say so far as the soloist is concerned; despite odd, highly impressive, splashes of brilliance from the orchestra, it was not a performance to remember for the Simon Bólívar Symphony Orchestra and its conductor, Gustavo Dudamel. Perhaps, though, it was a foolish undertaking. The First Concerto often ends up concluding concert programmes, so difficult would it be to find anything convincingly to follow it. In a way, the Second makes more sense than many would-be solutions, although one might argue that they would be better placed the other way around. I wonder, however, whether any pianist could reasonably be expected to perform both works convincingly in the same concert.
The first movement of the D minor Concerto opened very promisingly in terms of both orchestral sound and Romantic flexibility. The Venezuelan strings sounded gorgeous; woodwind solos were well taken. Slowing for subsequent material – was this Barenboim's own conception? – put me in mind of the soloist's symphonic Brahms and Beethoven, very much in the line of Furtwängler, and convincingly so. Dudamel's return to the initial tempo was arresting, vehement, again highly convincing. That was all before Barenboim had played a single note. His entry sounded a note of wonder: exploratory, extensive, very much a continuation of what had gone before. Now his 'new' piano sounded much more at home than it had during last year's Schubert. (Perhaps it has 'bedded in'; perhaps certain of what sounded like infelicities have been ironed out; perhaps we have become more accustomed to it; perhaps it simply sounds better when less of a fuss is being made, organ-bore-like, about the instrument itself.) It cut through, sang above the orchestra impressively indeed, although there were times when I thought the orchestra was being unduly repressed, or at least too much assigned to an 'accompanying' role. Better that, I suppose, than presenting bizarre ideas, but it was difficult to conclude that Dudamel was an especially convincing Brahmsian. That perhaps is a little unfair, however – in this, I am genuinely conflicted – given that the dialectical contrast of tempo at the start did seem to set up a framework for the movement as a whole. Whether that were Barenboim's or Dudamel's doing, who knows? In a sense, who cares? The other crucial frameworks, undeniably present, were harmonic and motivic. If ever there were a composer both Schenkerian and Schoenbergian, it must be Brahms; and if ever there were a musician capable of illuminating both sides, it must be Barenboim. Perhaps, however, what most impressed me was a reinstatement of this work as a concerto. That might sound odd; given the titanic conflict, how could anyone doubt it? Well, yes, but it can often sound more akin to a symphony; its symphonic stature remained, of course, but the old relationship between solo and ritornello sounded reinvigorated. There was much to enjoy at a more local level, too; at his best, Barenboim contrasted scampering play with heaven-storming Prometheanism. The moment of return – and here, I think, Dudamel must also receive some of the credit – sounded so climactic because it was so well-prepared. But it was half-lit piano passages thereafter which held the real key to the future: material splitting harmonically and vertically, dodecaphony already upon the horizon. The final peroration made its point with a degree of showmanship, but why not?  This was, after all, a performance of a concerto.
The slow movement opened in sincere, songful fashion; I am tempted to call it Elgarian. At least before the solo entry, however, it lacked rhythmic tautness; Barenboim sounded considerably more in focus than the orchestra, some of whose solos were oddly non-committal, even feeble. Against that, there was some gloriously hushed playing to be heard from all quarters; more than once I thought of late Beethoven, and a real 'Benedictus' movement, arguably still more of the 'Sanctus' from the same Missa solemnis. Barenboim's pianistic ecstasy above the long pedal-point later on was worth the price of admission alone. The movement was taken wonderfully slowly – and worked superbly well. After that, the rollicking 'Hungarian' contrast of the finale proved just the tonic: rhythmically sharp – save, sadly, for a few orchestral passages – and harmonically meaningful. It was Brahms's compositional richness, many features of which we had heard before and now heard transformed, which truly guaranteed the finale as bringer of unity, not just of conclusion; but that also had to be communicated, which Barenboim at least did. There were a good few slips, which Beckmessers might have excoriated, but the sense of the movement was present, and that was more than good enough for me. Mere errors seemed as supremely irrelevant as they do in Cortot.
They seemed more relevant, alas, after the interval: not because they were necessarily any more prevalent, but because the absolute security of harmonic rhythm which characterised Barenboim's reading earlier seemed no longer to be present, above all in the first movement of the Second Concerto. Following a strangely vibrato-laden opening horn call, the soloist's entry had promised much: duly incisive and seemingly imbued with what was to come, pregnant with motivic and harmonic possibility. That promise was to be fulfilled only intermittently. The orchestra in particular often sounded effortful, but there was feebleness in the piano part too at times. Individual passages, especially in the high treble and dark bass, sounded wonderful, but there was a significant lack of coherence. The scherzo was similar, opening with a renewed sense of purpose, soon undermined by a listless, soft-centred orchestra. A few apparently rhetorical caesuras in the piano part baffled me, as did excessive – which is really to say, curiously unmotivated – rubato. The trio section – I do not see why one should not call it that – was stronger, evincing unforced grandeur and genuine intimacy, although the fallibility of Barenboim's pianism bothered me more, perhaps because of the lack of earlier coherence, than it had done during the First Concerto. The return to the opening scherzo material sounded reinvigorated, but soon the music felt unduly pulled around again, especially in the orchestra. The slow movement likewise rarely settled, despite some lovely moments. Those intimate whisperings of pianistic secrets later on were to be treasured; they would have been treasured still more, had it been clearer how we had reached them. More of the same, I am afraid, in the finale. It was characterful, but rubato often seemed excessive, even forced. Maybe this was less Barenboim's piece than the first; maybe, however, as I suggested at the start, no one pianist, not even Daniel Barenboim, could be expected to perform both works convincingly in a single concert.
Mark Berry