United Kingdom Wagner, Das Rheingold: Soloists and Saffron Opera Group Orchestra / Michael Thorne (conductor). Saffron Hall, Saffron Walden, Essex, 17.1.2016. (JPr)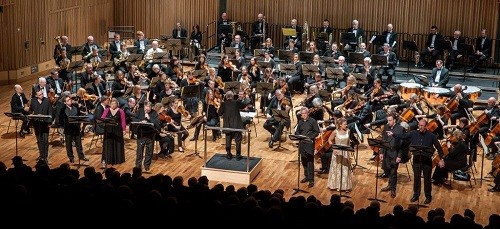 Wagner – Das Rheingold – concert performance
Jeremy White: Wotan
Nicholas Folwell: Alberich
Stephen Rooke: Loge
Deborah Humble: Erda
Toby Girling: Donner
Inga-Britt Andersson: Freia
Sarah Pring: Fricka
Adam Tunnicliffe: Froh
Richard Roberts: Mime
Julian Close: Fasolt
Robert-John Edwards: Fafner
Gail Pearson: Woglinde
Victoria Simmonds: Wellgunde
Niamh Kelly: Floßhilde
This was my second – and what a second – experience of a full concert performance by the Saffron Opera Group at the functionally impressive Saffron Hall, a 700plus-seat 'state of the art' venue that is already attracting international artists and ensembles to a rural part of Essex that was previously something of a cultural wasteland … to all but those who live there no doubt? Saffron Walden residents Paul Garland and Francis Lambert's fledgling company's objectives are to produce high quality concert performances of operas using professional artists strongly supported by professional and semi-professional musicians. It all began mightily impressively with Richard Wagner's Die Meistersinger von Nürnberg which was an amazing achievement which I reported on in 2014. After a sojourn into Stravinsky's music with The Rake's Progress last September it was back to Wagner and time for the Saffron Opera Group to set off down the Rhine on a journey through his epic four-part Der Ring des Nibelungen, something some professional orchestras or opera companies will not risk undertaking!
The driving force is Jeremy Corbyn-lookalike Professor Michael Thorne, soon to step down as vice-chancellor of Anglia Ruskin University, who is a passionate Wagnerian. Between 2001 and 2013 he conducted a Wagner opera each year, including two complete cycles of Wagner's Ring, in Portobello Town Hall in Edinburgh. There rising young singers hoping to make their names, sang leading roles together with local soloists and chorus. For the performance at Saffron Hall, he insisted on a cast of more established professionals. One of the singers involved in his Edinburgh performances was international soprano Elaine McKrill and she now lends her expertise as SOG's casting advisor. In addition she will be singing her acclaimed Brünnhilde in Die Walküre in October and in the rest of the Ring.
For Die Meistersinger I indicated how she had excelled in bringing together a talented mélange of promising young voices and 'old stagers'. If anything the standard of that performance was superseded here, such that I cannot remember ever attending a better concert performance of an opera … at least one which involved singers with scores and music stands. One of the marvels of the afternoon was the Saffron Opera Group Orchestra which impressed me in Die Meistersinger and was now expanded to more than a hundred to fill the floor of the Saffron Hall below the choir seats. Since when has a fully-professional orchestra managed the seven harps and four Wagner tubas that this one had in its line-up?  (However, as a connoisseur of anvils in this work I was a little disappointed by the two percussionists' valiant contribution to the Descent and Ascent from Nibelheim and it all sounded a bit too much like a ticking clock rather than forging …but I have assuredly heard worse!) Once again the orchestra was a revelation playing almost faultlessly for Michael Thorne during his stately and majestic Reginald Goodall-like performance, timed at about 170 minutes. The best features were the refined rippling strings and burnished brass as well as the volume being kept under tight control so as never to swamp the singers.
I repeat myself by saying again how hard I fought against people's prejudices when in charge of The Wagner Society that performances like this – or on a smaller scale – are never the 'real thing' because that usually keeps many away who might wish in hindsight they had been there. It was wonderful to see how much the audience for Saffron Opera Group has grown since 2014 and it is entirely possible that when word gets out how good this was too, that their future Wagner Ring performances may sell out … and how good would that be. Again I could 'nit-pick' concerning tempo, balance, or over certain choices of soloist but I won't because striving for perfection is great but rarely achievable, particularly concerning Wagner and in 2016!
Despite some powerful declamations Jeremy White's avuncular Wotan was a little short-breathed (an unannounced cold perhaps?) but his gravitas, appearance and grizzled sound brought back memories of Sir John Tomlinson in his assumption of this role. He was supported by the rest of the cast with barely a weak link. Sarah Pring as his stern-sounding wife, Fricka, embodied her character's unhappiness at her husband's actions and her subsequent self-interest. If I had my arm twisted for a favourite amongst the singers it would be Nicholas Folwell's Alberich. In a concert performance we never really get to 'see' him trying to seduce the Rhinemaidens or 'become' totally mad because of his lust for the gold and all its power; yet we heard it all in his voice and the pivotal moment when he renounces love was gripping, as later was his curse on the ring.
It set the tone for a remarkable Das Rheingold from him and his colleagues all singing in more than acceptable German. Stephen Rooke's superbly sung Loge was suitably conniving and had a wonderful pursed lipped insouciance, Inga-Britt Andersson was a radiant Freia, the ever-reliable Richard Roberts briefly appeared as a browbeaten Mime and what a magnificent bass voice Julian Close had as Fasolt. I cannot comment on everyone but you are unlikely ever to hear an ensemble to better SOG's Gods, Goddesses, Nibelungs, Giants, and Rhinemaidens. After so much outstanding singing, there was one last treat in store with the appearance of Deborah Humble as Erda, who projected her terrible prophecy to Wotan from on high above the orchestra with portentous, yet persuasive, eloquence. Congratulations to all concerned for remaining standing on stage when their characters were involved in the story yet had nothing to sing, as this can add to a sense of dramatic plausibility in what we are seeing even if it is a concert performance.
Once again Saffron Opera Group's Das Rheingold was something I felt lucky to have been at and will not easily forget: Die Walküre has been announced for Sunday 9th October … so be there! 
Jim Pritchard