Canada Entering the Eclectic Universe of Pianist Stephen Hough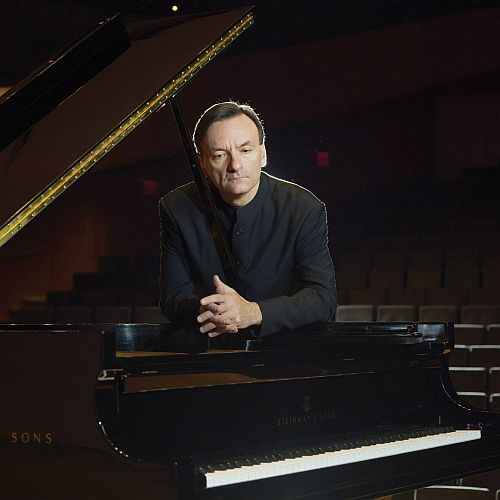 Having now recorded more than 50 widely-praised CDs, and known throughout the world for his stimulating concerts and vast repertoire, Stephen Hough has probably gained the status of Britain's foremost pianist. He is certainly is its most visible. Winner of a MacArthur Fellowship in 2001, and an unrepentant blogger for the past 6 years, he has forged an almost personal relationship with the international classical music community, offering perspectives on a myriad of topics, both musical and beyond. At the same time, one can hardly help but be impressed by his eclectic talents, not only as a pianist but also a composer, and sometimes a painter and novelist as well. This interview aims, like many of its predecessors, to probe and understand this endless variety of accomplishment – and what impels it – while engaging in the equally difficult task of finding things that the artist has not already commented on. What's nice about talking with Stephen Hough is that no matter where you start you seem to go in directions that you didn't intend, and this can provide continuing insight. So we started from obvious 'events': first, his just-released Hyperion recording of Janáček and Scriabin and a soon-to-be-released Dvořák Piano Concerto; and second, his world premiere of his own Piano Sonata No. 3 just a month or so ago. The interview took place during rehearsals for the Schumann Piano Concerto in Vancouver in November 2015, performed splendidly indeed (see review)
ON JANÁČEK AND DVOŘÁK 
Geoffrey Newman: So what brings you to the Czechs for seemingly the first time?
Stephen Hough: Perhaps this is more of a coincidence than anything else: I didn't really look to perform Czech music. I just happened to record the Dvořák concerto (coupled with the Schumann) and the Janáček solo pieces (coupled with Scriabin) in close proximity. I particularly love the concerto, and I know Janáček's solo writing definitely casts a spell over me, not so much its sound but its spirit. When I hear Janáček's music, I feel like composing: it just has so much energy. It's like the sap in a tree; you feel like it's always creating something.
GN: In interpreting this repertoire, do you start by looking backward to the tradition of pianist Rudolf Firkusny and others?
SH: Not initially. I don't like to listen to other pianists until I've got some of my own ideas circulating. I think it's dangerous to listen to a lot of recordings of a piece you don't know very well. I like to sit down with the score and 'reinvent the wheel', because then you have a chance of coming up with something genuinely original and honestly original, rather than saying Firkusny does this and somebody else does that, so I'm going to do something different.  Maybe my performance will turn out the same in some ways but my first step was actually thinking back to what performances must have been like in Janáček's time: what he actually heard and probably did himself. Prior to World War II, the playing was very, very free – and one thing that all pianists loved to do was to arpeggiate and roll the chords between the two hands. I wanted to see if I could find something of a historically authentic voice in this repertoire. You think of yourself sitting down not at a Steinway, but at a Bluthner or Bechstein, where the sound is a little bit more mellow. And you roll the chords. You play the music in a way that's like improvisation or folk music, deeply in the Romantic tradition. At least, that's the way I imagined it.
GN: Perhaps you are moving in the opposite direction from pianists who want to make Janáček sound more 'modern'?
SH: Janáček's music has often been taken up by 'modernists' for all sorts of good reasons and of course he did influence future generations of composers. A lot of pianists who don't play, say, Chopin but do play a lot of later 20th century music have taken Janáček into their repertoire, and it does come out sounding modern, objective and polished. So, yes, I am going in the reverse direction, asking what the music would sound like if it were more from Dvořák's time, and was permeated with its own ethnic aura. I also think this music needs to sound improvised and alone: I've never played Janáček's shorter pieces in public! I feel it's similar to Mompou: the emotions are so incredibly private and painful. In other words, perfect CD music.
GN: A distinctive aspect of your Janáček CD is that it couples pieces by this composer with those of Scriabin. How did that arise?
SH: There was originally supposed to be 2 CDs – one of just Scriabin and one of just Janáček.  I was going to do all the poems of Scriabin, but as I was working through them, I found that I didn't like them all equally.  Some of them sounded the same, and I couldn't tell one from the other. So I thought it would be interesting to 'weirdly' combine these compositions with the Janáček – an eccentric combination of two eccentric composers with Slavic backgrounds. I love the fact that the composers are virtual contemporaries: Scriabin is all about twisty and sensuous horizontal lines and Janáček is all about verticals.
GN: Maybe they're really trying to project the same emotions? 
SH: I think they are! There is something erotic about both composers, and yet, it's expressed in a completely different way. I love the way Janáček's 'overgrown path' just sinks into the Scriabin. It's such a different world. The order is the Scriabin 5th, On the Overgrown Path, then 2 poems including Vers La Flamme, then the Janacek sonata, then the 4th Scriabin sonata. 
GN: I take it that rustic charm and ethnic colour are also central to the way you see the Dvořák Piano Concerto?
SH: Yes, absolutely. Forgive me for saying so, but I think the very famous recording with Sviatoslav Richter and Carlos Kleiber has done the work a lot of harm because it introduces the wrong character to the piece. Richter actually writes in his diary that he felt it missed the mark because it's too sophisticated – it lacks innocence and charm. Richter is clearly one of the greatest pianists of all time, but maybe charm was not part of his spirit or style. I think the big problem is that, you mention the piece to someone and they say, 'I don't know that piece at all, I must go listen to it'. They go and listen to this performance and they come back saying, 'I don't think I like it very much'.
GN: But don't you think that the criticisms of the concerto as being 'un-pianistic' are valid?
SH: True, Dvořák's concerto is one of the hardest pieces I've ever learned. Nothing fits under the hand; I don't know how it could be so awkward. How could a composer miss every single time; it doesn't seem to fit the law of averages? Yet, for me, the work is such a lyrical beauty, and it was worth every effort to record it. The conductor was Andris Nelsons, and it was his last recorded project in Birmingham before he left for Boston. You need someone who can bring this concerto to life, and he's one of the best 'bringer-to-life' conductors I've worked with – and we've done a number of things together. The instant he picks up the baton, something happens. The lights switch on, and it's very thrilling to be part of that.
ON PIANO SONATA NO. 3 AND THE PROCESS OF COMPOSING
GN: Let's move to the new piano sonata. I'm happy to say that I did see your 2nd Sonata in concert (and actually bought the score), but what intrigued me is for all you wrote many variations, say, that used all black notes, there was a strong core of tonality that the work always seemed to gravitate to. In what ways does your Sonata No. 3 differ?
SH: Sonata No. 3 is different. In fact, I wanted to write a 12-tone piece, which is what it is. But there was something else that I regarded as a challenge: I wanted to try and find a way to dismantle atonality through a 12-note row and thus reverse the constructional practice common at the beginning of the 20th century. This note row actually appears once in my cello sonata, and I was going to use it more, but I had enough material so I didn't need to. You wouldn't even realize it's a note row. It's there right in the beginning, pizzicato in the cello, but I thought it had potential in the piano sonata because it has tonality weaved into it. The first two notes are C and E, which are sort of C major, and the last 3 notes are G, D, and B, which is G major. So each time the row appears, it ends in a way that implies a tonal resolution. The first two sections are pretty strictly using the row. It's always in sequence. At the end of the second, the scramble leads to a great big C major chord, and then the third section (which is half the piece) dismantles everything and it becomes very eclectic. I use the row as a ground bass, and there is a minimalist variation. Then I quote a hymn tune, 'Nicea' (a result of the sonata's subtitle 'Trinitas'), and I put the row underneath the hymn, which makes for a sour, anguished section. The whole piece lasts about 16 minutes.
GN: But the affirmation of tonality is still an objective?
SH: Yes, tonality is what I live for, it's my oxygen! I think all music is sort of searching for that resolution. I think if something is purely atonal, it's impossible to resolve anything because it doesn't return home. It's always on the move, and it never comes back. I think however complex a tonal system is, we all want that. It's something planted in the womb.
GN: Some micro-tonal composers of today might suggest that the emotional enrichment from tonality is only a 'trained' response.  Do you think that is possible?
SH: I don't think that's true. It is a neuroscientific fact that the brain reacts in different ways to different rhythms and to different tonal constellations. The brain reacts in a different way to a major and a minor chord. It is the natural system of harmonics that you can't get away from: you can play the most atonal chord, but the individual notes that it comprises still fit within this natural system. You can't get away from that unless you stop playing notes altogether. The brain wants those sounds, the sounds that are pleasant for us. And the brain doesn't just want simple sounds, but it reacts to challenge, to the bending of rhythms and tonality. It likes that, because we are sophisticated, we are not just wanting black and white.  But we always seem to want to return home after all is said and done.
GN: It is interesting that, in this third sonata, you seemed to start with a definite constructional 'form' in your mind. Is that the way you normally compose?
SH: I suppose it depends on context. Most pieces have been commissions thus far, so the contexts can vary considerably. My most recent piece is actually a test piece for the National Flute Convention's piccolo competition next year, where I believe 25 piccolo players will be involved. When I got the email suggesting this, I instantly had a concept for the work, though no particular tunes or anything were there. I wanted to write a passionately romantic piece for piccolo and piano, quite different from the all spiky, high-notes, jokey, and zesty things which are usually assigned to the instrument. I thought, what would it be like to have this tiny little, size-challenged instrument be the great Don Juan in this particular drama? So that was the basic design, and I then had an idea of a certain splash of colour, not dissimilar to the opening of my 2nd piano sonata. Out of that came a motive, and it started to flower. I wrote a lot of it quite quickly, which is often what happens, but then the refining process takes a long time. The 3rd sonata ultimately took 18 months to write, though I remember that when I got the idea of using the row, I instantly wrote eight pages in one night in a hotel room.
GN: So what else are you currently working on?
SH: At the moment, I don't have anything particularly new. I have to do another version of a song cycle that was commissioned for recorder, cello, and countertenor, if you can imagine! I'm going to do a transcription for just piano and countertenor of that cycle for Wigmore Hall. They are doing an evening of my songs. They also commissioned a song cycle from me for baritone and piano, which I've written and is to be premiered next autumn. Jacques Imbrailo, the South African baritone who played Billy Budd at Glyndebourne last year, is going to sing. It's a cycle of six English settings I've written, called Dappled Things, weaving together 3 poems of Hopkins with 3 poems of Oscar Wilde.
GN: Just out of interest, as a British composer, do you see yourself linked to British composers of the previous generation, like John McCabe?
SH: We actually studied with the same teacher, Gordon Green, at different times. John McCabe was a wonderful composer, but there's no one I look to particularly as a model.
ON CATHOLIC COMPOSERS
GN: I thought it was interesting the way you programmed the premiere of your new sonata at the Barbican.  What concept underlay the works you put together?
SH: It's a programme I'm actually playing a lot now: the Schubert A minor, D. 784, Prelude, Chorale, and Fugue of Cesar Franck, then my Sonata No. 3 and a Liszt group after the intermission. There's a Catholic theme, I suppose. All of the composers were Catholic, but they all had complicated relationships with Catholicism: Schubert very much so, while Franck was the most faithful of the four in a way. Nonetheless, Franck only started writing great music when he fell in love with a student, so there's a complication for you. It was commissioned by The Tablet, the International Catholic Weekly (founded in 1840), and the Barbican Centre as a joint venture – cultural and theological.
GN: The Franck Prelude used to be quite an obscure work, though I know Witold Malcuzynski and Aldo Ciccolini championed it the old days. Now even young Benjamin Grosvenor takes it on tour! What was your entrance point into this composer?
SH: I first played Franck's organ music when I studied the organ at the Royal Northern College of Music in Manchester. My teacher was Eric Chadwick, who was the one-time Chorusmaster of the famed Huddersfield Choral Society and who worked with many classic conductors, Sir John Barbirolli and Sir Malcolm Sargent, to name but two. I loved my lessons with him, and he was an absolutely brilliant musician. But he was a strange and sad man in some ways too. He was very jolly, slightly plump, a Billy Bunter kind of figure – but such an incredibly passionate player. But of course you didn't see any of this: it was all very English, and nothing showed. One day when I first studied with him, we were in the concert hall at the RNCM where they had a big organ, and I said, 'Can you show me a few of the different ways this organ can sound'? So he sat down and played the whole Ruebke Sonata on the 94th Psalm from memory. It was an absolutely steaming performance, and my jaw just dropped. It was simply unbelievable. He finished and, in an instant, he was jolly all over again. He had a job in a small church, lived with this mother, and never appeared to have any kind of relationship. I just felt that there was something incredibly sad about him because there was such passion underneath that never really got a chance to express itself. He died young as well. I learned a lot about Franck from him because we did the 3 Chorales together, and they still remain some of my favourite music. I've recorded a whole CD of Franck's piano music.
ON RECORDING AND REPERTOIRE
GN: You obviously love recording as well as giving live performances. How large do you find the difference between the two?
SH: I think making records is a technique, and it's quite different from playing concerts. People think that all you do when recording is sit down and play through the piece, and if nothing goes wrong, that's it. But actually, recording is a process, and I really came across this clearly when I saw a fascinating documentary on the making of the film The Shining. Perhaps I would have thought that a year before filming, the script finished, everything done, that it would just be a simple task of putting it into action. But it turned out that Kubrick was still creating in the moment, finding new ideas, angles and even words right as the cameras were filming. This is very much like what happens in a recording. You play a piece, you listen to the playback, then you think of modifying it in a variety of directions. You think, 'That was okay, but let's try this, let's try that…'  I remember recording the Liszt Bénédiction de Dieu dans la Solitude from Harmonies poétiques, which happened to be scheduled for 11AM in the morning. I just couldn't get into the feeling of complete serenity at that hour. So what I ended up doing was playing the piece in a constant loop, over and over again. I must have played for an hour, and at the end, somehow we got something from all this. Maybe we took the final section from a little earlier loop and the beginning from a later one, but eventually we created something that worked. It was not necessarily how I played it later in a concert.
This is exactly what makes a studio recording different from a concert. It's not just capturing a performance in the moment but also the artist's deliberation on, and experiments with, that performance. It yields something more permanent and perhaps multi-faceted. Every time you play, you are (and should be) changing and learning and, no matter how prepared you think you are, your interpretation of a piece seldom reaches its final form right away. I certainly hadn't recognized this in my first recording: I was very nervous and just hoped that I could get through the pieces in one attempt!
GN: This 'constructional' approach to recording certainly goes against those who believe that long takes and live performances are the way to go.
SH: I don't think that I have any rule about long takes. I think the only thing that is not acceptable is that you record something that you can't really play, then it's pieced together later. That doesn't seem fair to me, almost dishonest. But if you can play something, and to get the best out of you it takes 100 takes, then I couldn't care less. What I care about is how the CD sounds. If the CD sounds alive and exciting, then all is right. I don't think this is the Olympics – who can jump furthest or run most quickly. There are some artists and recordings that can be successful with very few takes, others require many more.
GN: One thing I do know is that you are difficult for the 'completist' CD collector. I have your single CDs of the Brahms Op. 5 Sonata and Schubert Sonatas, and have waited 15 years for anything else by these composers.
SH: Well, there are a few complete things – the Rachmaninoff, Tchaikovsky, Saint-Saens, Mendelssohn, and Brahms concertos, the last in fact twice. But the fact remains that I want to only record pieces I feel passionate about. I understand how attractive it is for a CD collector to have the complete Schubert or Beethoven sonatas, or the complete piano works of Schumann and Brahms, but it strikes me that there are very few complete cycles where everything is equally good. I can't bear the thought of recording a CD where some of the tracks aren't my best. And if you have a 10-CD set of something, it's almost certain to happen. I want to make sure that every single item in the case is a 'jewel' – the absolute best facet of my expression. That said, what I do personally enjoy is box sets of all the recordings that a famous artist has done for a given company over time, which is perhaps 'completist' in a different sense. I would be quite happy if, at some point, Hyperion decided to box together all the recordings that we've done, which is about 30 at the moment.
GN: Your Saint-Saens concerto cycle is one of the most widely-praised recordings of the past few decades. Somehow I suspect that doing all five concertos was not your original intent?
SH: I have long loved the 5th concerto, which I debuted back with the London Symphony Orchestra a year or so after I had won the Naumburg Competition in 1983. Actually, it was the LSO that wanted me to play it. I had never heard it before, but I picked it up and thought it was fun. As you correctly surmised, originally I wanted to record that with the 2nd and 4th only, but Hyperion said that they really wanted Nos.1 and 3 and the other pieces too. So they persuaded me to do everything.
I admire Saint-Saens.  He was a great inspiration for later composers like Ravel and Fauré. He was a major intellectual and was also very diverse in his interests. He was fascinated with, and wrote about, astronomy. He was a very cultured man musically and in most other ways. His music is so beautifully written for the instrument. There is almost no one who understood figuration better than Saint-Saens: the beautiful way that the pieces cascade in arpeggios and how beautifully they lie in the hands. Indeed, the very opposite of Dvořák!
ON BEETHOVEN
GN: One seeming gap in your recordings has been Beethoven. Do you have less interest in him, or think he should be left to an artist's full maturity, or what?
SH: I actually have recorded Beethoven, but few would know about it. I did all the violin sonatas with Robert Mann of the Juilliard Quartet back in the 1980s. He's still alive today – in his mid-90s. The recording was originally issued on MusicMasters and I think it is still around, reissued on Nimbus. That was one of the great learning experiences of my early career, since I had only been familiar with one of the sonatas previously. Robert Mann was the chairman of the Naumburg competition, and when I won, he really wanted to play and record the full cycle with me. So I thought, wasn't this great. Of course, I had to learn 9 sonatas – it was a huge project – yet I learned so much from working with him. We originally did these 'live' at the 92nd Street Y. I regard Robert Mann as one of my true teachers: a great musician and an incredible artist to play with. Just think of all the musicians that went through his studio: the Emerson's, the Tokyo's, Yo-Yo Ma, Itzhak Perlman, just to name a few.
GN: So Beethoven really is one of your cherished composers?
SH: I feel as close to Beethoven's spiritual world as anyone else. I was doing the complete concerto cycle earlier this year in Australia and Singapore, and I thought to myself that his music moves me like very little else. I was reading at the same time this huge new biography of Napoleon, which I really enjoyed. Even if you have the slightest interest, it's such a great book! It's by Andrew Roberts, about 900 pages, and called Napoleon the Great. Reading it is thrilling and really got me thinking about how a composer could do so much in such a short space of time. How could Beethoven write 2 supreme symphonies, the 4th piano concerto and other great works in just one year?
GN: I see that you are performing the Beethoven Concertos quite regularly these days? Are you going to record them?
SH: We actually had a plan to record the complete concertos with the CBSO and Andris Nelsons. Unfortunately, when he got the job in Boston and wasn't going to be in Birmingham as much, the project was about to fall through. We had one week in the diary, so I suggested that we do the Dvořák and Schumann concertos instead – one CD instead of 3. I'm still planning to do a Beethoven cycle for Hyperion in the future.
ON ARTISTIC DIVERSITY
GN: It must be interesting to be both a performer and composer, seeing composition both from the inside and outside, so to speak. Do you ever find that composing becomes a more major inspiration?
SH: I love all the different activities in my life. I do love playing the piano so much: just a single chord can cast an unforgettable spell. I adore the very sound of the piano. A chord goes into the air like perfume, then it's gone, but at that moment, there was something happening in the vibrations in the air that was really important. Yet I admit there is something about creating directly that goes very, very deep for me. It is the freedom to make something entirely from scratch which, for me, is like conjuring up a spell or rubbing a magic lantern.
GN: Composing requires analytical skills perhaps a bit like mathematics. Do you find a link?
SH: I think that both of them are reaching beyond what we know – there's a quest. The only difference for me is that, presumably, mathematics is on a quest to simplify and clarify, never to make a concept more complicated than it needs to be. Ambiguity is not a virtue in math, but it is what fascinates me in music.
GN: Do you find the same 'spell' when writing a novel?
SH: Actually, I'm in the final stages of writing my very first novel. It's been going on for all this year and been a lot of fun: I've always loved words and the poetry and music of words. And, yes, I think it's the same: it's like finding a wavelength – a vibration in the air. If you can find the right sentence or phrase, it can conjure up something far beyond the meaning of the words as such.
GN: And painting?
SH: Painting is just something I do when no one's looking. I dabble around and I've now done quite a few pieces. I first decided to use them when my website was being redesigned a few years ago, uncredited in the background. They were abstract, so they fitted very well. Then, a gallery owner in London saw them and asked who they were by, and I said they were mine. He asked if I would like to do a show. My instant reaction was, 'No, you're crazy', but he came to look at them in my studio and said that he really liked them and wanted to exhibit them. So I agreed, and he did, and that was that. We sold about half of them. I still paint when I have time, but I don't consider myself a painter. I suppose I simply enjoy working with texture and colour.
GN: I have talked to other pianists who fuse painting and music through 'colour' associations, but 'texture' seems to be a particularly important concern for you.
SH: True, I don't think of a colour reference directly: for example, that a certain key implies a certain colour or something. It is texture that concerns me more, because I'm really interested in transparency on the piano. A lot of 'tonal' texture involves how one uses the pedal. I'm not interested in, say, just a great big red square – pedal down or pedal up. It's the combination of fingers and pedal that ultimately creates the subtlety of texture and, as an offshoot, more complex colouration. The elbow is so crucial too, because it's the fulcrum underneath the weight and balance of the hands. Then there is the use of the shoulders and back – never just the fingers and wrists. As I think about it, the pedal is sort of like white paint that's changing the shade of every other colour. But it's not so much that I think of painting when I'm playing the piano; more that when I'm painting, I'm thinking of music. I'm always thinking of texture and of counterpoint. I love music that has counterpoint, even though I don't play any Bach!
ON PERFORMING AND THE MUSICAL PUBLIC
GN: One thing I have noted is that you are exactly the opposite from an artist who takes a 'set' programme on tour, and performs this everywhere. How do you perform so many different programmes at the same time?
SH: I was doing the Dvořák concerto last week, the Schumann for you this week, and next week is both Saint-Saens 5 and the Barbican recital programme of my third sonata with Schubert, Franck, and Liszt. So it's all very different. I don't find this a problem. It's just about how you are able to enter into the spirit of the different composers.
GN: For all you are entwined with social media, another thing that has struck me clearly is that, when you come on stage, you are very austere and serious. I cannot see you engaging your audience in a comfortable manner or chit-chatting with them. Is that true?
SH: Perhaps I look to someone like Olivier for a model, someone who could perform the most serious roles of Shakespeare, yet could also be so irresistible in a camp, lightweight movie like Sleuth (1972). Acting is incredibly inspiring for me as a performer. It is not just the idea that the great actor walks on stage, and just by the movement of an eyebrow creates something memorable, but also the sense of never flagging and never settling for routine. When you're doing a play, you might be on for 6 months, 8 shows a week, but how is it that on a Tuesday matinee, you're still as much on fire as you were two months ago on a Saturday evening? And that to me is a great inspiration. Olivier spoke about the fire in the stomach from which he always drew energy. I think that is very relevant to musicians and to performers. Olivier, of course, had many styles, and I don't think that doing Sleuth made his Hamlet any less good. There are some people who only have one style, and that's fine too.
GN: So you really can't do casual concerts?
SH: I find it very difficult. I sometimes say a couple of things before an encore, though sometimes I like to throw in a surprise that people don't know.  I really like and need the formality of the concert stage. I think it's a piece of theatre: people coming in, waiting, lights going low, you sitting at a piano…  I think coming out in your jeans and saying, 'Hi everyone, how was your day?' simply spoils the magic before anything begins. Yet some artists can do this, and make it work.
One thing I really can't do is play in people's homes; I need the artifice of the stage. I can come out and play a Beethoven concerto and a Saint-Saens concerto, then a Mozart and a Rachmaninoff, one after another, on the stage. That's the Olivier thing. But I can't do a monologue in your living room. I freeze; I just hate doing that. Godowsky was the opposite: he was the best in people's homes, and it is well known that he could do the most incredible things while playing for friends. But on stage, he froze, and on recordings, he froze. So you could never hear in public what he could really do. Also, on the radio, I can't do interviews and then play the piano alongside because I find it difficult to snap from one mode to the other.
I went to a weird show in London, in a tiny little theatre. There was a very dressed-up entertainer doing some karaoke thing – really very silly. Coming out into the bar after performing, I went to start a conversation, but they wouldn't engage, implying 'I'm in theatre, I'm in costume. Wait until I've taken it off. This is me on stage'. The audience was only about 10 people, and I thought, 'I admire that. There's a sense of professionalism involved here. You don't just come out in costume and talk, because you're a different person when you are wearing a costume'. Just like I cannot play a Chopin Ballade and immediately turn around and talk to someone.
GN: What are your general feelings on social media after being involved for considerable years now?
SH: Well, it's been 6 years writing the blog; I don't do Facebook. In a way, I regret the latter, because sometimes it would be actually nice to see a distant school friend's Christmas photos. But I fear I would waste a lot of time with it, because I already waste a lot of time. Facebook tends to be an intimate and friendly thing; Twitter seems better to me because it allows a little more distance. (Maybe Twitter is a form of modern poetry – Oscar Wilde would be an amazing Tweeter!)  I think that an element of privacy is essential when I'm not performing, but I really do like people. I'm not a hermit at all! I've made a lot of interesting contacts and friends on Twitter – writers and all sorts of people, even politicians. I think it's a nice way to make oneself 'available' with control in the public domain.
In this respect, Lang Lang has created a wonderful and unique path – I'm not one of those who criticize him. I think he's remarkable, and I don't think anyone else could do it quite like him. We've occasionally communicated on Twitter. I should say that the only context that I don't like people's 'tweets' is when all they talk about is their own reviews and the like. I draw the line there: if someone says something nice about me – 'I thought that was wonderful last night' – I won't retweet it. I prefer to retweet only postings that are more of the interview/ descriptive type.
GN: I have always had the (bad?) habit of asking British artists if they think of themselves as perpetuating a British legacy. I am sure if I asked a famous British artist of 60 years ago, they would unambiguously say 'yes'. Yet when I raised this question with two other well-known British artists in recent interviews, they were more equivocal than I would have imagined.  What's your feeling?
SH: I can't think of a list of 'British' attributes that I could write down, but I feel my basic 'attitude' is British in that I don't feel the necessity be one thing, or hold only one viewpoint. I think that one thing that the British have been throughout the centuries is flexible or nimble with ideas. One can see this in the early development of democratic thought, and in the strange way that the Reformation happened in England and not the continent. Perhaps in Germany and France you tend to get something very clear and brilliant, but it's one view of something. In Britain, it's always, 'Yes, but what about this and what about that?'
I can't speak for other pianists, but when you say, 'Do you feel British when you play', I think I do in a way, but for reasons quite contrary to the familiar British stereotype. If you think of the most famous British composers, they are really not the 'stiff and formal and wearing a tie all the time' personalities you might think. Elgar, for example, was one of the most passionate composers you can imagine. If you look at Benjamin Britten, there's an absolutely turbulent violence going on underneath the surface. I identify with these composers, and I don't think the kind of Britishness that's stiff and boring is 'true'. You know the saying, 'Heaven will be where the Italians are the lovers and the Germans build the cars; and Hell is where the English are the lovers and the French build the cars'. I can't speak about my qualities as a lover, but I think there's a strong passion in the English way which isn't always fully acknowledged.
I dedicate this article to my aunt, Dorothy Margison, a life-long pianist and lover of the piano, who passed away recently just short of her 100th birthday.
I am grateful to Kelly Bao for recording and transcriptional assistance.
Geoffrey Newman
Previously published in a slightly different form on http://www.vanclassicalmusic.com