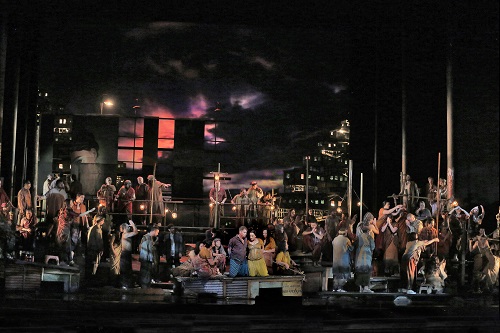 United States Bizet, Les Pêcheurs de Perles (The Pearl Fishers): Soloists, Chorus and Orchestra of the Metropolitan Opera / Gianandrea Noseda (conductor). Broadcast live to the Empire Cinema, Basildon, Essex, from the Metropolitan Opera, New York, 17.1.16. (JPr)
Bizet, Les Pêcheurs de Perles
Cast:
Leïla: Diana Damrau
Nadir: Matthew Polenzani
Zurga: Mariusz Kwiecien
Nourabad: Nicolas Testé
Production:
Director: Penny Woolcock
Set Designer: Dick Bird
Costume Designer: Kevin Pollard
Lighting Designer: Jen Schriever
Video Designer: 59 Productions
Choreographer: Andrew Dawson
Live in HD Director: Matthew Diamond
Live in HD Host: Pactricia Racette
Around the time her new production was first put on at London's English National Opera in 2010 the director, Penny Woolcock, wrote this about her vision of the Les Pêcheurs de Perles (The Pearl Fishers) opera: 'At its heart there is a painful love triangle, a tale of lust and rejection, loss and longing, religious strictures, forbidden sex and lonely nights. This dark story takes place against the backdrop of extreme poverty, flimsy shacks easily washed away at any second by the colossal power of the sea. The private desires of Leïla, Nadir and Zurga are played out in a ramshackled fishing village inhabited by destitute families pinning their hopes on the songs of a priestess to defend them as they try and scrap a living diving for pearls on a breath. There is no mention of a pearl ever being found.'
I did not see this production in 2010 but saw it when it was revived in 2014. It seemed very cinematic then and this was confirmed by this Live in HD broadcast of Les Pêcheurs de Perles from New York's Metropolitan Opera. Very realistically during the Prelude three pearl divers are shown 'swimming' down from the flies surrounded by bubbles and at the end of Act II the basic coastal shanty-town setting we have seen (designed by Dick Bird) is engulfed by a catastrophic tsunami event. The water was shown in such dramatic foment (courtesy of video from 59 Productions) that anyone prone to seasickness should have been warned to look away at that moment! At the end we also get some real fire on stage as Zurga sets light to what has been left of the village in order to save Leïla (who had rescued him when he was a young fugitive) and his friend, Nadir, who have been dowsed in petrol from being set alight. The 'special effects' add a bit of subtlety to a plot that is all rather implausible (even for opera!) and indeed the librettists, Eugène Cormon and Michel Carré, apologised to Bizet during his short lifetime about how sorry they were not to have given him one of their better effort.
Penny Woolcock clearly wanted to tweak our collective consciences over the effects of global warming, the pollution of the seas and the exploitation of the poorer nations for third world consumerism but in the end the opera isn't substantial enough to sustain this. Anyway it all seems to be a toned-down version of Woolcock's original concept; and actually the Met seems always able to take a 'young' production and make it appear – like here – as if it has been around for decades. Even though some darkness still remains what we actually see still hints – even more than before – at the orientalism the director expressed she despises. Its saving grace now at the Met – as before at English National Opera – is that despite a lot of stock operatic gestures we hear some enchanting music and accomplished singing. The excellent conductor, Gianandrea Noseda, described the music as 'Full of pearls, I really felt like a fisher diving into the score and finding them.'
Also perhaps someone more intelligent than me can explain why a fuss is made over having a white Otello at the Met in blackface when there is nothing 'wrong' in having a chorus and principal singers made-up deeply tanned. For twenty-first century sensibilities there was much too much to question both on stage and in the libretto where we read in translation lots about 'dark-eyed beauties' and how Nadir, a hunter, gloried in his slaughter of Tiger, Jaguar and Panther!
Despite the map of Columbo in Zuniga's office the action is supposedly no longer in ancient Ceylon but updated to 'a village in the Far East'. There is a large billboard in the background along with small wooden hovels on different levels and several oil drum floats. Leila is clearly still a priestess of Brahma and Nourabad, a high priest, quite who Zurga and Nadir are I wasn't so sure. Zurga seems to be a westerner exploiting the villagers in some way, he distributes face masks and money in order to be elected their leader. As for Nadir he looks like a tourist who has just returned to the village during a stop-off on his round-the-world cruise. I was never sure before and was more at a loss now at what was going on in Act II when as Leïla is in the foreground reflecting on former times when she and Nadir would meet together secretly ('Comme autrefois dans la nuit sombre' 'In the dark night as in days gone by') – and as Nadir is supposedly scaling a cliff to get to her – a figure is again shown swimming down the back of stage!
This was the centenary of the last appearance of Les Pêcheurs de Perles at the Met when Enrico Caruso sang in it. It needs at least three star singers as Leïla, Nadir and Zurga giving it – as the great tenor Alberto Remedios describes it – 'some welly', and a conductor able as here to do justice to a lyrically beautiful, richly coloured but highly melodramatic score. In order to fill the Met with sound it appears to have been cast with heavier voices than are probably strictly needed for this opera; Matthew Polenzani as Nadir is 'a bit of a drip' as John Tessier was for ENO and this fine singer has only one facial expression whether in love or about to die: I never really felt the heat of his passion for Diana Damrau's Leïla. However, there did seem a genuine feeling of 'bromance' with his best buddy – at least for a short while – Mariusz Kwiecien's Zurga, his rival for Leïla's affections. As a backstage interview with Live in HD host Pactricia Racette revealed this partly stemmed from their years knowing each other at the Met. The famous 'Au fond du temple saint' duet was glorious and throughout Kwiecien's forthright sound brought as much real emotion to his character's dilemma as Bizet allows him. Someone really should tell him to stop shutting his eyes or singing to the floor as this prevents him creating a 'real' character on stage. Nicolas Testé as Nourabad has little to sing but was a formidable presence. Diana Damrau's emoting as Leïla seemed to come from a Bollywood film and from an entirely different production altogether. She was less a chaste – and chased both by Nadir and Zurga – Hindu priestess than a feisty Carmen-in-a-sari! I would have preferred more beguiling singing from a more limpid voice, but Diana Damrau – with accurate control of the brief coloratura elements – had an intense sound that was full of weight and emotion. The chorus are very important in this work and excelled throughout, though they are given nothing to do but to just sit or stand about before going offstage in order to come back later.
Jim Pritchard
For information about The Met: Live in HD for the remainder of this season visit http://www.metopera.org/Season/In-Cinemas/.