Canada Buhr, Tchaikovsky and Zemlinsky: Augustin Hadelich (violin), Vancouver Symphony Orchestra, John Storgårds (conductor), Orpheum Theatre, Vancouver, 16.1. 2016. (GN)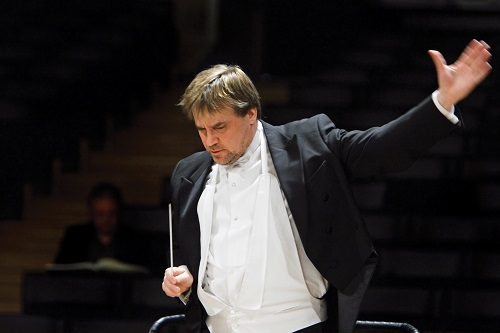 Glenn Buhr: …this is the murmur of yearning (2009)
Tchaikovsky: Violin Concerto in D major, Op. 35
Zemlinsky: Die Seejungfrau (The Little Mermaid)
It is always exciting to have an appearance by two artists whose stars are very much on the rise. Such is the case with violinist Augustin Hadelich and conductor John Storgårds. There are few young violinists who display the fineness of articulation and unaffected musicianship of Hadelich and, judging by his recent concerts with the BBC Philharmonic, there are few conductors around who are more riveting and involving in performance than Storgårds (review). The Finnish conductor has also broken new ground with his Chandos recordings of both the complete Nielsen and Sibelius symphonies, just in time to commemorate the 150th anniversary of the births of both composers.
I have followed Hadelich closely since his early Haydn concerto disc for Naxos, and he has already given a number of fine performances here. This time the undertaking was one of the 'big' concertos that all violinists must face: the Tchaikovsky.  I did have some concern that this work might be slightly too big for Hadelich's wonderfully refined, but slightly small-scale output; and also because he is not an artist prone to luxuriance and excesses of romantic flourish. I think my presumption was correct: the performance was not a heaven-storming show of feeling and bravura, but more a thoughtful and tightly-knit rendering of the solo part, exhibiting a clean and beautifully-felt rendering of the famous theme of the opening movement and a lovely spring-like innocence in the following Canzonetta. While there were almost none of the customary swoops and slides, there were still many moments of virtuosity (especially in the last movement), though, with this violinist, you hardly notice the demands on the instrument, since he brings off the fast passage work so easily and unassumingly.
While this might have been one of the least self-consciously 'soloistic' performances I have encountered, it also turned out to be one of the most exciting, integrated and eye-opening. The other part of the equation of course was conductor John Storgårds, who gave an incredibly detailed account of the orchestral score, bringing wonderful variety to the string textures, an overarching beauty to the winds (especially at the end of the Canzonetta) and great Slavic fervour and anticipation to the dramatic, driving moments. The brass had remarkable 'bite'. With this conducting, it seemed that a sense of musical space and natural motion just opened out as the work progressed – and the interaction and timing of soloist and conductor was impeccable. Hadelich's more cooperative and less effusive treatment of the solo part doubtlessly became a key input into creating a fresh and vital view of the work in which the orchestra has a lot more to say. I really thought this approach was richer in musical ideas, and more fertile in imagination, than those we usually hear.
Most of the audience might have been unfamiliar with the music of Alexander Zemlinsky, let alone known that we are in the middle of a Zemlinsky 'revolution' of sorts. This was started by conductors Riccardo Chailly and James Conlon a few decades ago, and has been more recently carried on by Anthony Beaumont and Thomas Dausgaard. Now, John Storgårds has come to champion this composer's distinctive voice, performing here perhaps the composer's greatest purely orchestral score, Die Seejungfrau. The conductor recorded this for Ondine only last year and he follows Beaumont's new critical performing edition which restores five minutes of excised material from the second movement. It is noted that the three original movements were not retrieved and put together until 1984.
There is clearly some thinking to be done on whether to interpret this work as a set of tone poems or as a three movement 'symphony.' As the former, there may be a reason to heighten the fantasy and volatile drama of this sometimes dark tale, perhaps also to see strong parallels with Richard Strauss' Ein Heldenleben (with all its violin solos) or the early post-romantic experiments of Arnold Schoenberg. While Storgårds maintains the opulent textures found in these contemporaneous scores, in many respects he seems to want to go in the other direction  ̶ sacrificing some of the narrative but building the symphonic integrity of the pieces in a deliberate and uncompromising fashion. I found his pacing somewhat Brucknerian in its solidity and amplitude (perhaps also with a hint of the symphonies of Franz Schmidt), always giving the work's vast lyrical complexity time to unfold but seeking symphonic coherence through the structural weight of the climaxes.
The benefits of this approach are that the work seems less fragmented and arbitrary than it often does, though possibly less 'weird' and personal. Thus the poignant violin solos often seemed to be more subservient to the requirements of the symphonic whole, admirably played as they were by Dale Barltrop. But Storgårds did get the startling idiosyncrasies of the second movement to come across strongly, and he consistently achieved telling orchestral textures for the 'shadowy' interludes. Were these sounds recognizable from Wagner, Strauss or Mahler? In some ways, but were they not sometimes more forbidding than any that these composers produced: Zemlinsky's very own? That is why this music is fascinating: it reminds you of so many composers but remains stubbornly of itself. This was pretty commanding conducting and the orchestra acquitted itself admirably. My only hope might have been for even greater weight at the climaxes.
Glenn Buhr's …this is the murmer of yearning might have fitted in well with the 'mermaid' story, but it in fact opened the concert. This is a very short piece, artfully constructed and atmospheric, starting and ending with quiet, refined textures from the strings, punctuated first by disquieting piccolo and flute and, later, by bursting ostinato strings (very Sibelian). Quite pleasant overall but I probably felt a need for it to develop more.
Geoffrey Newman 
Previously published in a slightly different form on http://www.vanclassicalmusic.com