United Kingdom Various composers, Resolution 2016 – Spun Through Shadows; I'mperfect; People We Didn't Quite Meet: Spun Through Shadows Collective/Mahar & Mielech/Jayne Port, The Place, London, 27.01.2016. (J.O'D)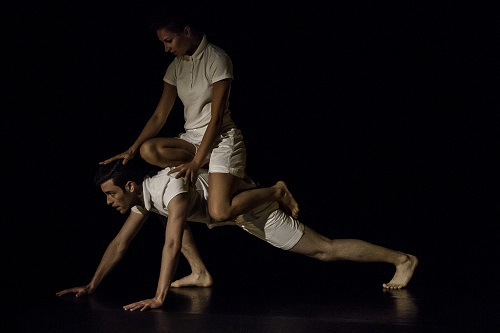 Spun Through Shadows
Performers: Gordon Raeburn, Verena Schneider
John Garner, Julian Fish, Marie Schreer, Sergio Serra
Choreographer: Thea Stanton
Composer:Cameron Graham
Sound Design: Oliver Doyle, Cameron Graham
I'mperfect
Performers: Oliver Mahar, Gosia Mielech
Music & Editing: Ray Wilson
Music: Module 7 by Alva Noto 
People We Didn't Quite Meet
Performers: Sammy Furnival, Ruth Pugh, Natalie Sloth Richter, Christopher Spraggs, Beatrice Viviani
Choreographer: Jayne Port
Costume Design: Sidonie Roberts
Sound Design: Dom Bouffard
Lighting Design: Ben Jacobs
In Resolution! 2014 (it had an exclamation mark then), choreographer Thea Stanton presented a work that left the audience guessing, at the end, whether or not it had ended. The same thing happens in the piece she presents this year with the Spun Through Shadows Collective, and which is called Spun Through Shadows. Its two dancers lie at the back of the stage. Two musicians from the (onstage) string quartet stand up and walk to the front. They play. They go on playing. The audience sits not knowing what to do. It sits for so long that one of the musicians looks at the other, uncertain. Even the dancers, flat out and in semi-darkness, begin to show worried faces.
Whatever the reason for it, this uncomfortable ending marred what had gone before. Cameron Graham's score, interesting in itself, is as much a protagonist as the choreography. The twenty-minute-long duet focuses on breathing, weight and counterweight. In bare feet, with bare arms catching the light, the two dancers push and pull each other's hips and shoulders. They support each other with different parts of their bodies, then suddenly withdraw that support. It is one of the least tender duets between a male and female dancer I have seen. The programme note refers to Jung, and to the side of our personality that can be obscured and repressed. Each dancer is 'The Shadow' for the other. Yet there is the suggestion (in the choreography, and in the music when it begins to sound like Schoenberg's Verklärte Nacht) that a synthesis of the two sides of the personality can be achieved.
The second work of the evening, Mahar & Mielech's I'mperfect, is also a duet for male and female dancer. An investigation, according to the programme note, into perfection, it shows them as jeunesse dorée, perhaps, in white polo-shirts and shorts. From standing side by side, the dancers progress to walking in straight lines, but always apart, as if on a very large grid; then to walking as if on two smaller grids (one for each dancer); then to walking on the diagonal. Soon after that, they break out from their rigidly upright postures into pliés and bends. Finally, they dance together.
It is remarkable to see two dancers who have been rigidly upright begin to move their bodies in looser ways. It is especially remarkable when the woman sits proudly on the crouching man's back, and strokes his hair as if it were a horse's mane. Or when she climbs from his ankle to his shoulder, to sit there in exultation. But something about the movement, or the music, makes the piece more like a very well worked out and perfectly executed dance routine than a work of contemporary dance.
Jayne Port's People We Didn't Quite Meet was, rather thankfully, not a duet but a series of 'sketches' for five performers in which movement and speech (live and recorded) are mixed. Each sketch has a title, projected onto a backstage screen. Each one deals with an aspect of contemporary life in London. Sometimes it is a question of straightforward mime: commuters on an overcrowded Tube; people dodging the free newspapers given out at stations. Sometimes it is the representation of something less easily decipherable: the woman who begins and ends the piece crawling on to the stage, feet first and very slowly, with a hat on her back.
The recorded anecdotes can sound comically inconsequential, absurd or banal. But for the speaker, they seem to have significance and meaning. The likeable performers, four women and one man, do not judge. In grey suits of different shades, but with silver linings to all the jackets, they simply capture with their bodies (more successfully in some sketches than in others) a little of what it's like to live in the 'London labyrinth' of 2016.
John O'Dwyer